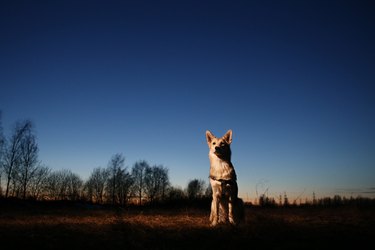 The mystical image of a wolf, the ancestor of your dog, barking at the moon is legendary, but is there any truth to the notion that canines of any kind howl and bark at the moon? While dogs may be a bit more vocal when the moon is full, they are not truly barking at the moon but rather what the full moon has illuminated around them.
A full moon helps to light up the night much like a giant spotlight, which allows your dog to see all of the interesting creatures that are stirring in the later hours, leading to some excited barking. This barking will also alert other dogs in the area, who will start barking too.
Why do dogs go crazy during a full moon?
On nights with a full moon, does your dog seem to lose her mind and bark up a storm? There are actually several reasons that this happens, but the most glaring is the light that the moon emits. That giant, round moon is illuminating the night in a way that doesn't happen when it isn't as visible. With all that light, your dog is able to see all of the wildlife that roams around at night.
Once your dog is able to spot those squirrels, possums, raccoons, rabbits, and other critters running around your yard, she will likely begin barking up a storm. That's because she's so excited to see all of these interesting creatures and may even want to chase them. So, if your dog starts acting crazy trying to get outside and is barking up a storm, it's because she sees all of the wildlife outside that she wants to chase.
Does a full moon affect dogs?
Dogs bark and howl as a means of communication with other dogs, especially over long distances. It's a behavior that applies to wolves too. But you may see more howling and barking during full moons because dogs get so excited by the light that the moon provides that they bark out of excitement. This in turn causes other dogs in the area to bark and howl back.
Think of nights with full moons as a giant party for dogs. Your dog will see all of the critters around and bark to let you and other dogs know that they're out there. This will cause other dogs in the area to bark back because they are excited too. It's like a domino effect in the neighborhood.
Your dog's ancestor, the wolf, is a nocturnal animal who does most of his hunting — and howling to other wolves nearby — at night. This usually coincides with the moon being in the sky, full or not. This is how the myth of dogs howling at the moon likely came to be.
Unlike wolves, dogs are not nocturnal, but if you see your dog looking up at the moon and barking, it might be because the light at night is making your dog anxious. Perhaps it's keeping her from sleeping, or perhaps you've just noticed her barking more because it's usually quieter at night. Whatever the case, it's not the moon itself that your dog is barking at.
If your dog seems to bark at night primarily when there is a full moon, it might drive you or your neighbors crazy. Yelling at your dog will simply negatively reinforce this behavior. Instead, take a few steps to ensure your dog stays quiet at night.
Close all of your curtains and blinds to block out the moon's light and keep your dog's bed in a quiet part of your home. When your dog starts barking, ignore the behavior until it stops and then praise and treat your dog. Eventually, you can say "quiet" and wait for silence before rewarding your dog. Extend the period of silence needed for a reward each time to teach your dog to be quiet on command.