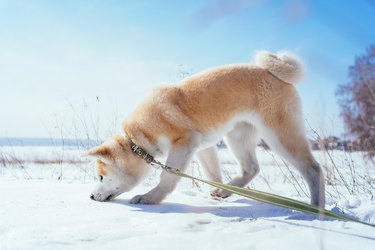 Why do dogs smell the ground when they are outside? While people navigate the world primarily through the sense of sight, a dog's scent receptors are much stronger, and those scents may be easier to follow in colder temperatures. There are several other factors to consider that also affect how well a dog can detect scents in the air.
Why do dogs smell the ground?
Why do dogs smell when they go outside? This is a completely natural behavior. Smells are the main way that dogs explore and get information from the world around them. Most dogs have at least 100 million scent receptors, and some breeds, like bloodhounds, have as many as 300 million. To give you an idea of how many this is, human beings only have 5 to 6 million scent receptors.
While all dogs will smell the air and the ground as they move through their day, some breeds are even better at scenting things. Some breeds with the best sense of smell include bloodhounds, basset hounds, beagles, coonhounds, and Labrador retrievers.
When dogs pick up a scent, they are actually sensing molecules in the air. The density and location of these particles can vary based on a number of factors, including the air temperature. As you probably know, warm air rises, and scent molecules follow the air. In warmer temperatures, scent molecules tend to be more dispersed and higher above the ground.
When temperatures drop, however, the cold air falls closer to the ground. The scent molecules also fall closer to ground level and are generally closer together. So, while the amount of scent molecules does not change, dogs often have an easier time following scents when it is cooler.
The air temperature also affects the way that dogs breathe. When the temperatures are warm, dogs must pant to keep their body temperature cool. However, in order to detect scents, they must sniff the molecules through their nose. A panting dog is less able to pause and pull in scents through her nose, and on the exhale of the pant, she is pushing the scent molecules away. Panting and overheating is not a concern in cooler weather, which increases their scenting ability.
Factors that affect scent
Air temperature is not the only factor that affects how dogs detect scents. Windy conditions dissipate scent molecules, which can make it more difficult for your dog to trace them back to their source. Humidity, rain, and snow also make it easier for your dog to detect smells.
There are some exceptions, though. Heavy snow or rain can prevent the scent from dissipating into the air where your dog can follow it, and in freezing conditions, the water in the air freezes and suppresses the scents.
While breeds like bloodhounds and basset hounds are well known for their tracking ability and are often used by professionals, any breed of dog can learn to track scents. Whether you teach the skill for your own enjoyment or decide to compete in scent trials, there are many benefits for your dog. Not only does the activity help your dog get the daily exercise he needs but it also provides mental stimulation. When you do scent training with positive reinforcement, the activity is fun for your dog and can help boost his confidence.