The cost of a dog groomer will depend on what services you want provided, where you're located, the breed and size of your dog, and whether you're a regular customer. The lowest-priced groomer is not always the best option, and you'll need to deal with your dog's potential anxiety of being washed, trimmed, blown dry, or clipped.
Learning what to look for in a dog groomer and how much mobile dog grooming costs will help you compare your options in your area and find the right combination of price, service, and pet-friendliness.
What services are offered?
Grooming is important for dogs beyond having your pet look nice. Long, tangled, and dirty coats can cause skin problems for your dog. Fleas and ticks can hide in dirty fur. Some breeds are prone to ear infections, so regular cleanings are important.
When shopping for a mobile pet groomer, the first thing you'll want to know is what services the groomer offers. Services can include:
Bath
Shampoo
Blow dry
Brush out
De-shedding
Nail trim
Ear cleaning
Feet cleaning
Facial hair trimming

Tooth brushing
Flea and tick treatments
You will want to know what chemicals the service uses when it shampoos, conditions, and cleans your pet. For example, you might prefer organic and/or hypoallergenic shampoos and conditioners.
If you also need dog walking or pet sitting, look for a groomer who offers those services as well. This will save you time in scheduling and will help your groomer develop a closer bond with your pet.
Is the groomer credentialed and insured?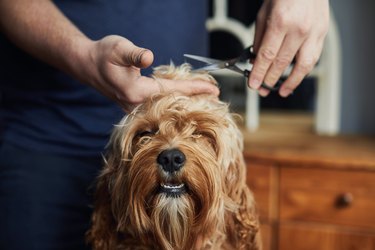 Find out the groomer's education, training, and experience. If the grooming service has a number of employees it uses, find out which one will treat your pet and get her credentials. In addition to education, training, and experience, you'll want to know if your groomer is a member of a trade association and if she carries insurance.
Find out if any of the grooming service's staff are vet techs or professional pet sitters (versus dog walkers). Look for certified and insured pet sitters if possible.
Different types of insurance that pet professionals carry can protect your home in the event that the groomer causes damage and can protect your pet in case he gets loose or is injured during grooming.
Once you know all of the services you want performed on your pet and the type of qualifications you want your groomer to have, you can start searching online for dog grooming services. It's important to make apples-to-apples comparisons, so have a checklist that you apply to each grooming company to see who offers what.
HomeGuide gives a $75 average price for a mobile dog groomer to groom a medium-size dog. The site breaks down prices by individual services, such as shampooing, cutting, and nail clipping. PetSide suggests that you tack $10 to $20 onto the price of a non-mobile grooming session to find out what you'll pay for someone to come to your home. The site gives a range of $60 to $100 for standard services.
You might find prices for complete grooming services and prices for a la carte selections. For example, you might only want a brush, wash, and dry. You might get a lower price if you're a regular customer, especially if you have a breed that needs grooming more often.
Choosing a mobile dog groomer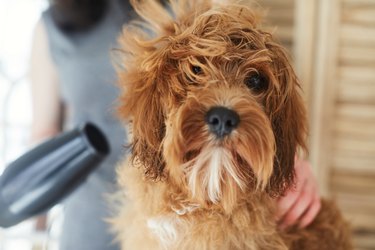 Make sure to check online reviews. The more reviews the groomer has, the more accurate they tend to be. Use your social media pages to ask if anyone knows of a good local groomer. Your veterinarian and pet sitter should also be good sources for leads as well. To prepare for the mobile groomer's visit to your home, find out what you will need at your home for the groomer to be able to perform the services, such as a driveway, parking lot, access to water, etc.