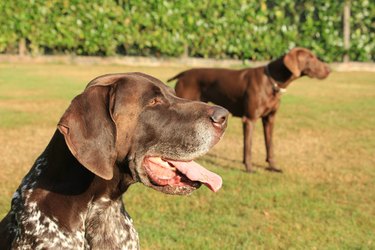 If you're hoping to adopt or rescue a sporting dog, the German shorthaired pointer, or GSP, should be on your list. Smart, attractive, and eager to please their master, these pups would make a wonderful addition to a family or solo owner with the right living situation. As you check out various dogs in your area, it's a good idea to learn the differences between a male German shorthaired pointer and a female German shorthaired pointer. While subtle, these nuances could matter in terms of the size of animal you're able to handle.
Male and female GSP weight
This canine type is considered a medium-size dog, with male German shorthaired pointers ranging between 23 and 25 inches in height and weighing between 55 and 70 pounds. Female German shorthaired pointers will stand a bit smaller from the shoulder, about 21 to 23 inches high, and weigh a little less too, in the range of 45 to 60 pounds. As a result, a GSP male may appear more muscular, while a female GSP tends to sport a sleeker, more streamlined physique.
GSP personality and exercise needs
Bringing a dog into your home and life is a big step, of course, and it starts with the details of a particular breed's temperament. If you're seeking a GSP and you have a family, these canines are a winner since they are known to be loving family dogs as well as affectionate and tolerant of young kids. GSPs are energetic, which means they could knock into small tots, but as long as children respect this pet, a harmonious household is likely. This animal also gets along well with other canines, making the addition of a GSP to your home possible if you already own other pets.
GSPs need regular exercise to keep them satisfied and in shape. Active and athletic owners are best, as this pup needs a vigorous walk twice a day for at least a half hour. Swimming, running, fetching a ball, and other agility work is also welcome for this lively dog breed.
Take advantage of this dog's smarts with early obedience and training at home. With consistent commands and challenging games and toys, your new pet will channel energy toward appropriate fun inside the house and out instead of engaging in destructive chewing.
The GSP is German in origin, though it's not clear exactly how this breed came about. It could be that they're related to other pointer types, like the Spanish and English varieties. GSPs are known for keen hunting abilities, both as a pointer and a scent hound. They are very capable swimmers and can track down all kinds of prey, including deer, raccoons, birds, and rabbits. German shorthaired pointers made their way to the United States in the 1920s, landing in Montana first before proliferating across the country.
Male and female German shorthaired pointer names
Picking a name for your GSP, whether male or female, is part of the fun when it comes to bringing home this type of dog. As you think of cute monikers, you could lean hard on the breed's Germanic roots and opt for female names like Helga, Hilda, Ingrid, Ilse, or Ursula.
For male GSP names, the same avenue makes sense, of course, including Karl, Klaus, Hans, and Gunther. This dog's coloring could also help inspire German shorthaired pointer names, such as Patches, Fawn, Coco, Freckles, Dot, or Dusty. But if Frank or Eddie seem to fit your pup's personality, don't hesitate!