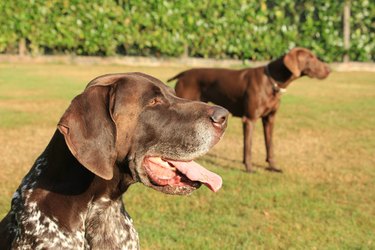 German shorthaired pointers (GSPs) were bred to be ideal hunting dogs, but they also make loyal and loving pets for people willing to give them lots of exercise. There are some differences between the males and females.
Male GSPs are noticeably larger than the females, according to "Encyclopedia of Dog Breeds." Males grow to an average of 24 inches high at the top of the shoulder while females only grow to be an average of 22 inches high.
Male GSPs have an average weight range of 55 to 70 pounds while females tip the scales at only 45 to 60 pounds.
Overall, an ideal male GSP looks like a masculine dog with more muscle, a thicker body and heavy jowls. The female looks sleeker, with a thinner neck and no jowls.
Male GSPs have more problems with mouth injuries, infections or tumors while females are more prone to urinary and kidney problems, according to the 2005 German Shorthaired Pointer Health Survey.
Pet stores and GSP rescues usually have more males than females up for sale or adoption because puppy mills and breeders prefer to hold on to females. This is common with many popular purebreds like the GSP.
---
About the Author
Rena Sherwood is a writer and Peter Gabriel fan who has lived in America and England. She has studied animals most of her life through direct observation and maintaining a personal library about pets. She has earned an associate degree in liberal arts from Delaware County Community College and a bachelor's degree in English from Millersville University.