Cats are natural born climbers. They love to find a perch and survey their territory or sprawl out and snooze. Hunting and chasing their toys (and human caretakers) is programmed into their DNA, so why not provide some cat friendly spaces?
Having some cat trees and hidey holes around the house will satisfy some of these natural kitty instincts--and save your furniture from becoming scratching posts. But what kinds of feline-friendly furnishings should you get? From an Eiffel cat tower to a comfy cat couch, here is some of the coolest cat furniture the internet has to offer.
1. Dream of Paris with an Eiffel Cat Tower
When you can't take your cat to Paris, bring Paris to your cat. For those who have jetsetting dreams, and the desire to climb, this chic Eiffel Cat Tower is a great spot to surveil the living room.
"If you can live in Paris, maybe you should." — Alan Furst
2. Kill two birds with one tree.
For a gorgeous cat tower that has incredible aesthetic appeal, check out the "Reading Cat" by German design company Wohnblock. This customizable modern piece is functional on two levels: it has scratching posts and kitty perches for your cat, and doubles as a bookshelf for you!
3. Build the purrfect kitty playground.
Do you have a naked wall that is just begging for furnishings? This incredible modular marvel turns your wall from blank canvas to kitty playground, with cubbies, stairs, and shelves perfect for your cat to explore and climb.
4. Class up a cardboard box.
For the feline who loves cardboard and the human who doesn't want to have an assortment of boxes cluttering up the living room, this corrugated cat rocket is the solution. This simple space is ideal for curling up and napping or stretching out and scratching, and won't break the bank.
5. Decorate with a mid-century modern cat scratcher.
Another climbing option from Wohnblock, this retro scratcher looks more like a piece of art than a cat tower. With a few color options, you can personalize it to fit your home's decor, and your kitty will appreciate being able to peek through the squares.
6. Climb a stairway to nowhere.
Accommodate your cat's climbing instincts with this modular spiral staircase that leads, well, nowhere. But your furry feline will enjoy being able to scamper up and down. Don't be surprised if this easy to assemble structure leads to some surprise attacks from above!
7. Provide your pet with a premier pagoda.
Place this carpet covered pagoda near a window for your cat to climb, scratch and observe the world outside. Climbing up and down the ladder and jumping from one level to the next is great activity for an indoor cat. Since this tower isn't quite as colossal as other options, it can be easily tucked into a corner.
8.  Mount a wall-hanging raceway and hammock.
This canvas wall mounted raceway is a great place for your cat to hang out. The fabric shelves are sturdy enough to run and jump on, and have just enough give for some super hammock action. As a plus, these bracket mounted stretched fabric runways don't use up a whole lot of space and will provide your cat with hours of entertainment.
9. Bring the feel of the great outdoors inside.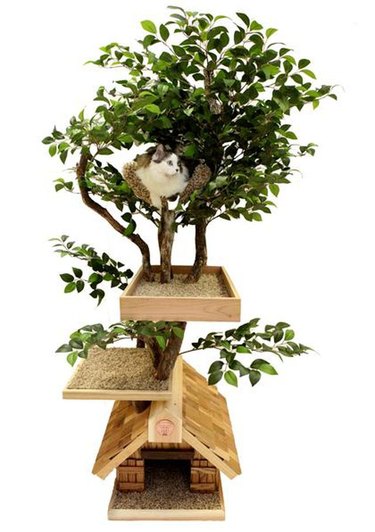 When your climbing cat wants to nap high up in the branches, but you don't want to have to call the fire department every time he wants to get down from the tree, consider this cedar and silk indoor treehouse.
10. Lounge around on a cat tunnel couch.
Living room decor designed with your cat in mind that is also practical? This cat tunnel couch will do the trick. The simple modern couch is a sleek addition for any sitting room, with tunnels for scampering in and playing. Your cat will love popping in and out of the hidey-holes while you curl up on the couch.