White boxers are often confused for being albino. Though boxers can be either white-colored or albino, there are some important distinctions between the two. What are these differences, and how can you tell them apart?
Boxers come in three different coat colors: fawn, brindle, and white. Around 25 percent of boxer puppies are born all white or almost all white, making this coat color fairly common.
White boxers are genetically prone to deafness, and it's estimated that 25 to 30 percent of all white boxer dogs are deaf in one or both ears. A dog's ability to hear is made possible by a special layer of cells within the inner ear. This layer of cells and the cells that determine a dog's coat color come from the same source of stem cells. Without these stem cells, the dog's body is unable to produce this specialized layer of auditory cells and is likely to have a white coat.
White boxers are more likely to have skin conditions, though this may be due to the breed's short coat in general and not necessarily specific to white coloration. White boxers are also prone to sunburn due to their short, light-colored coats. Sun exposure should be limited for these pups, and dog sunscreen can offer extra protection.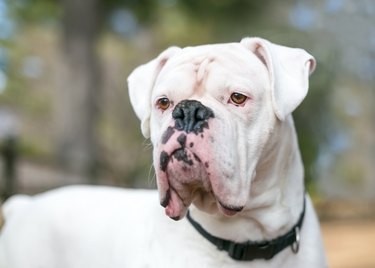 Albinism is a genetic mutation in which pigmentation of the eyes, coat, and skin is completely absent. Albinism can occur in dogs, cats, humans, rabbits, and other animals, though it is an extremely rare condition. Albinism can be either full (tyrosinase-negative) or partial (tyrosinase-positive). Tyrosinase is an enzyme that is partly responsible for the production of melanin, which gives color to the eyes, skin, and hair. Albinism is a lack or defect of tyrosinase and is caused by a recessive gene that is inherited from both parents.
Albinism occurs more frequently in some dog breeds than others, though it is still very uncommon. Dog breeds that are genetically more likely to produce full or partial albino pups are Great Danes, boxers, bull terriers, Dalmatians, corgis, border collies, and sheepdogs.
Two other genes can cause partial albinism: the merle and piebald genes, which usually result in a partially white, partially pigmented coat. Dogs with the merle or piebald genes are also at a higher likelihood of having problems with their vision or hearing.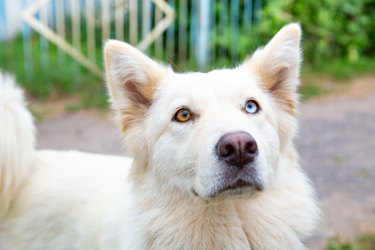 True albino boxers will have a white coat, but unlike boxers who simply have white coloration, albino dogs' coloring is due to a lack of pigmentation. Since albinism also affects the pigment of the skin and eyes, albino boxers will have pink skin (visible on the mouth, nose, and around the eyes). Both eyes will be light blue, or they may have heterochromia, which is two different-colored eyes. Only genetic testing can determine whether a boxer is truly albino.
Like white boxers, albino boxers are at a greater risk for deafness due to this genetic condition. However, since albinism can also affect the eyes, albino boxers are more likely to have eye conditions as well. Boxers with albinism may have poor eyesight, partial or total blindness, and/or light sensitivity.
Because of their short white coat, albino boxers are susceptible to sunburn. They may be more likely to develop skin cancer if they frequently spend too much time in the sun without protection. Albino boxers should have their sun exposure limited, particularly during the hottest months of the year. Products like dog sunscreen, sun-protective shirts, and dog sunglasses or goggles can be helpful for protecting an albino pup, not to mention showing off a great sense of style.