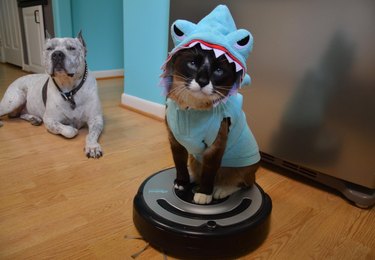 The sad news was shared last night on Facebook, where Max's human, Helen Jurlau Arnold, penned a heartfelt goodbye to her beloved pet.
According to the memoriam, the striking snowshoe/siamese mouser succumbed to cancer just shy of his 16th birthday.
One of YouTube's first cat stars to build a mass following, Max rose to internet fame after he was cast as a supporting player in videos featuring his "brother" Sharky, a lovable pit bull who passed away himself in 2014.
The duo would routinely cuddle with a unlikely menagerie of fuzzy critters — baby chicks, bunnies, lizards, and more — and YouTubers eagerly lapped it up.
Max stepped into a leading role in 2008 when he was recorded casually chilling atop a spinning robo-vac. Viewed more than 3.6+ million times, that clip (embedded below) would spawn a raft of parodies, copy cats, and cat-on-Roomba memes.
Below: Some additional pictures of the dearly departed.
With his human mom, Helen.
In a box, on his Roomba.
Sitting where he isn't really fitting.
RIP Max the Roomba shark cat, we'll miss your adorable antics!