The two biggest dogs in the on-demand pet walking and pet sitting space are joining the same pack: Rover.com has announced a deal to acquire its chief rival, DogVacay.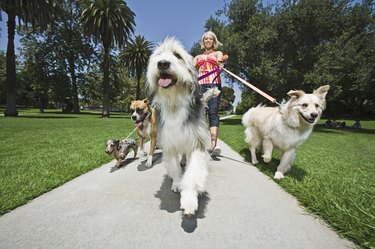 Though price and terms were not revealed, TechCrunch pegs the companies' combined annual revenues at about $150 million.
In a statement released to the media and posted to Rover.com's and DogVacay's social feeds, the companies suggested that the union would lead to "better care" for pet parents and "better resources" for pet sitters:
"We've shared a common mission since day one: making life better for dogs and dog people nationwide. We determined we can make an even bigger impact by coming together. That means better care for dogs, and that's always the right choice in our book."
According to The Seattle Times, both sites will continue to operate their respective websites and apps that act as platforms for pet owners in major U.S. and Canadian markets to find trusted service providers to walk, care, and feed for their animals.
While some analysts are speculating that DogVacay will eventually be sunsetted, the service's popularity in Canadian markets could give it a new lease — leash? — on life.
It is estimated that up to 100,000 dog walkers and dog sitters list their services on the two platforms, who typically keep 20 percent of the booking fee. Much like on-demand rideshare services like Uber and Lyft, a good number of the service providers are cross-listed at both sites.
If the merger promises to dramatically reshape a segment of the economy estimated to be worth nearly $15 billion, it also has broader implications for consumers and service providers.
The reaction on Facebook to the news was mixed. Some customers bemoaned the loss of DogVacay; others struck a more optimistic note, saying the deal held promise for pet owners, but might also reduce the leverage of the dog walkers and sitters.
One such sitter, James Slo-Fox, claimed that Rover's app was the better of the two, a sentiment echoed by others in the same thread: "I sit with both and Rover definitely is the better of the 2. The ease of the app is what really makes the difference."
Ultimately, the soft consensus that more time was needed to accurately judge how much things would change — and if that change would be for the better.
Do you use Rover.com or DogVacay? Share your experiences in the comments below!