If you and your BFF are like long-lost twins, then we have an inspirational pair of besties that you need to know about.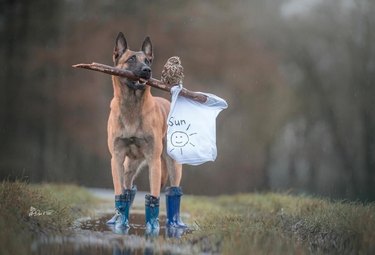 Meet Ingo. She's a Belgian shepherd with a tiny little owl named Poldie as a best friend, and these two cuties do nearly everything together.
Their human is a professional photographer and falconer named Tanja Brandt who naturally takes beautiful and inspiring pictures of Ingo and Poldie's day-to-day life in Germany.
Adventures in the rain...
Snuggling up in the springtime...
The baby owlet hatched later than his siblings and was extremely vulnerable to predators, reports Little Things. The big Belgian shepherd somehow sensed Ingo's weakness and adopted the helpless baby owl in an inspirational protector-protected relationship that is uncommon in the animal kingdom.
Ingo has many beautiful friends of other species, including birds of prey and the (unseen) Gandalf, hiding in the carrier.  On her Instagram, Brandt describes how her sweet and loyal Ingo and Poldi are as they watch over Gandalf on their travels.
Brandt's Instagram feed is also too adorable for words; in addition to beautiful and compelling photography, she also captures Ingo and Poldi at the sweetest moments, and often captions with inspiring and positive words, bringing encouragement to her followers.
In Brandt's new book, Where Love Flies, you can read about the inseparable relationship between Ingo and Poldie, and how their friendship began. Brandt's voice is filled with humor and a bright, sparkling wit. The book is filled with beautiful photos and delightful stories and adventures like Ingo's jealousy when Poldi makes a friend with a village girl, the owl's mischievous ways, and is just a sweet slice-of-life of this beautiful and unusual friendship.
Does your pet have an unusual best friend? Tell us about it in the comments!