Great news: Cuteness has found the top three dog adoption apps! Bad news, they work so well you'll be tempted to adopt a pup even if you're not currently in the market for one.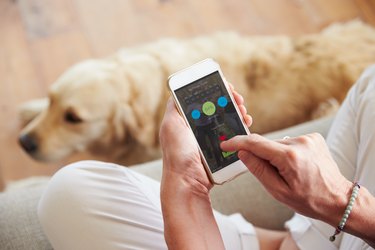 These apps have changed the dog adoption game. It used to be the family would hop in the station wagon, head on down to the local shelter or adoption fair, and rely on fate and serendipity to pair them with their new best friend. If the family knew the breed of dog they wanted, this technique would often result in a tireless multi-month search. If they didn't know the breed, this would often lead to a "wild card" adoption that sometimes worked out great and sometimes didn't.
Luckily, this dilemma has been eliminated with modern technology. Dog adoption apps have hundreds of available dogs cataloged and sorted for pup lovers to sift through with ease. Whether you're currently looking for a new buddy, or just want to window shop, here are the top three apps we recommend for connecting you and your new best friend.
Bark Buddy – Adopt a Dog Near You
The Bark Buddy iPhone app is brought to you by the good folks at Bark&Co. (They're the ones responsible for Bark Box and Bark Post.) This app has the exact same interface as Tinder. You swipe right for dogs you like and left for dogs you don't like. (HA! Like that would ever happen.) It basically has the convenience and selection of online dating without the "discouraged spiral" afterward.
Plus, you can be pre-approved for adoption through the app! There's a questionnaire that asks about your lifestyle, thoughts about training, and the type of dog you would like to adopt. According to the maker of the app, approval is a relatively painless process. Once you are pre-approved, you can send your profile to rescue groups inquiring about the dog you are interested in.
Bark Buddy lets you browse through tons of puppy profiles and you can share and save your favorites. One of the coolest features is that the app recognizes the kinds of profiles you're most interested in, and it gives you more suggestions.
PawsLike Me
If you love personality quizzes, then this app is the app for you! The PawsLikeMe app has created algorithms that identify the most important factors that determine compatibility between people and pets. According to the app, they beta tested their algorithm with over 3000 participants for over six months before launching and achieved an average 91 percent match accuracy.
The PawsLikeMe website explains that it "creates a complex matching score by combining four core personality quadrants for dogs and humans and then applying scoring weights based on environmental and special factors combined with pre-filtering based on your specific needs."
Already have a pooch? Great! You can enter their information in the app too and see their compatibility rating with a new dog. Or, if you've hit a rough patch and need to rehome your dog, you and enter their information and find the most compatible new family.
3. AllPaws
AllPaws may have the biggest data base of all the apps. This one lets you search 200,000 dogs available for adoption nationwide. The AllPaws platform also features an online dating style interface with over 30 different search filters to help you find your perfect pup. You can send and receive messages, save searches, and set up your personal favorites list of possible dogs to adopt.
A delightful/brutal feature of this app is the notifications/reminders function. After you pick your favorite pets, the app will send you little love notes throughout the day that "Ginger is still up for adoption!"
You can filter your pet search with qualities such as breed, age, energy level, and temperament so that you can feel sure your new best friend will fit right into your family! Thier website encourages users that AllPaws isn't just a place to adopt a pet; it's a great resource if you're looking to learn more about the animal adoption process too. The message feature allows you to ask questions to the pertaining shelters and rescues.
Plus! This app isn't just limited to dogs. They have cats, rabbits, birds, horses, pigs, reptiles ... you name it! You can share prospective pets on Twitter or Facebook and who knows ... maybe an animal will find a new home because it's furry face was shared from your social media profile!
With three great options to choose from, dog adoption has never been easier or more fun.