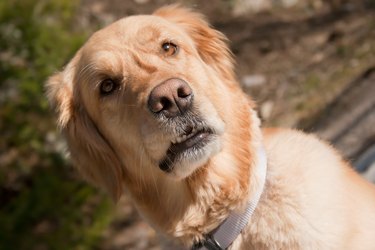 There's nothing better than being greeted with snuggles by your loving canine or feline companion, but what if she doesn't seem to recognize you at all? If your pet seems to have forgotten who you are, it could be due to an unusual smell, a change in your appearance, or even an illness, like dementia.
It's important to give your furry friend a chance to recognize you, especially if something about your appearance, your scent, or even your voice has changed. Then, if your pet still seems confused, you'll want to visit the vet to rule out a medical cause as the reason behind her forgetfulness.
My dog didn't recognize me after vacation
For those who have recently come back from vacation sporting a new haircut, a funny hat, or perhaps even a tan, these physical changes can confuse your pet. Keep in mind that both cats and dogs do have some recognition of human faces, though in cats, it's not as good. Therefore, if you've done something that alters your appearance even just slightly, it can cause a lot of confusion for them.
Say you've grown a beard during the time you've been away, you've lost some weight, or you've gotten a spiffy new pixie cut to replace your long locks. These changes alone, especially after a period of a few days to a few weeks, can confuse your pup about who you are. Fortunately, within a day, your pup should be able to recognize you by the sound of your voice or your unique scent.
Cat or dog doesn't recognize his owner
Perhaps you've noticed that your cats or dogs are wary of other pets in the home when they come home from a visit to the veterinarian. That's because they smell unfamiliar to them. The same principle applies to people.
Say you've been in the hospital or in a hotel. You will probably smell funny to your pet, who may not initially recognize you. Give him a day or two to adjust to your scent, and he should recognize you eventually.
How does a dog recognize her owner?
Dogs and cats use a variety of senses to recognize their owner. That means they can recognize you by your voice in addition to your appearance, mannerisms, and scent. But if your pet hasn't heard your voice in a while or your voice has changed due to illness, she may be initially confused when she sees you.
Patiently speak to your dog or cat in a calming tone using her name when you first see her. This will give her a chance to come closer to you to inspect your appearance and get a good whiff of your scent to fully remember you.
Will my dog forget me after a month?
While your dog's short-term memory isn't great, dogs and cats do have the ability to remember you for a longer period of time if you've been with them for most of their life. However, if you have a young puppy or kitten, that memory of you may not be as permanently ingrained in him yet, and he could forget you after a period of a month or more.
Does my dog or cat have dementia?
Dogs and cats, like humans, can develop a form of dementia called cognitive dysfunction in their senior years, usually when they are 7 years or older. If you've noticed symptoms, like your pet regularly forgetting who you are, crying in the night, or becoming less responsive to her name, then your pet could be dealing with dementia.
Your veterinarian can perform tests to determine if your pet's forgetfulness is due to dementia or another illness. While there is no cure for dementia, medication can help alleviate its symptoms.