In case you needed another reason to adopt rather than shop, know that you're in pretty star-studded company. Because just this week, celebrity couple Olivia Wilde and Jason Sudeikis adopted their second dog and OMG what a cutie.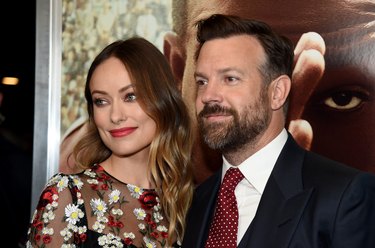 Olivia announced the arrival of Elvis to their family with the sweetest Instagram post.
Elvis, formerly Maxamillion, is 3-years-old and seriously looks like a real, live teddy bear. He's the latest addition to the family of the Tron Legacy and Last Man on Earth actors. Olivia and Jason already have a 3-year-old son, Otis; 9-month-old daughter, Daisy; and their first rescue pup, Paco. Otis named the new pup Elvis, and we can see why — he's definitely from the heartbreak hotel, come to make us swoon at his adorableness.
Olivia explained in her post, "This is our second adopted furry son and we cannot recommend it enough. There are so many animals looking for homes. This little guy was next on the kill list at a shelter in Texas not too long ago! 😫 Please consider saving a dog today. ❤"
Olivia rescued Elvis from Barc Shelter in Brooklyn, New York.
We're so excited to see her using her platform to encourage others to adopt their new bundle of fur. Olivia and her new pup look SO happy together. She definitely couldn't help falling in love with this little cutie.
Elvis already looks right at home with his new dog brother, Paco.
We can't wait to see the adorable mischief these two get up to together. And Olivia already seems to be loving her new pup. Just look at him up to some classic Instagram silliness.
What can he say? He ain't nothin' but a hound dog. Elvis looks so giant next to that adorable tiny statue of his new human dad, Jason Sudeikis. We can tell already that this adorable family of dogs and humans will definitely live happily ever after. Another dog adoption fairy tale that makes us all say, "awww!"