Being a pet owner is one of the most rewarding experiences in the world, but for some people, it just proves to be too much. Unfortunately, not everyone handles the decision to rehome a pet the best way. That's what happened with Solo, a dog who was found tied to a stop sign and left with a bag of food and a note that read, "Please take care of me."
As The Dodo reports, best friends Tania Cheek and Tracalyn Roberts were chatting on the phone, when Tracalyn, who was driving at the time, spotted the dog and knew she had to stop.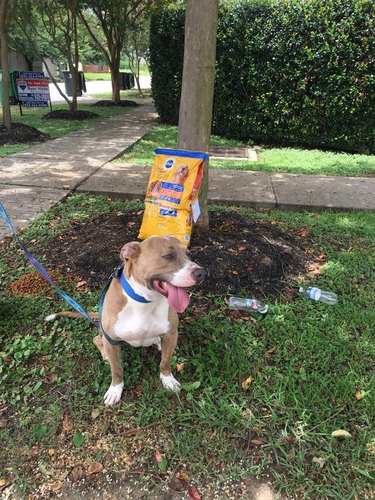 "She said, 'Oh my god, Tania—there's a dog tied to a stop sign,'" Tania, who owns a dog-walking business in Houston, explained. "I said, 'You have no option, Tracalyn—you have to get him.'"
That's exactly what Tracalyn did. When she saw the note, she knew it was no accident that the pup had been left out in the heat (it was around 95-98 degrees out at the time, Tania says).
The note itself was written on the back of a check stub, but the personal information had been scribbled over and, as some people on Facebook have pointed out, there's no way of knowing that the check recipient is even the person who left the pup.
Tracalyn picked up the dog and took him to stay with her friend Chris, who agreed to act as a very temporary foster. Still, Solo (as he was named after being picked up) needed a forever home.
Tania worked with Love and Rescue, a group that helps find homes for dogs, and vetted the people who were applying to take Solo in after reading about his story on social media. Ultimately, though, she ended up placing the abandonded dog with some people she knew would care for him: her parents.
"The people who ended up taking him in were actually my mom and stepdad," she said. "I told them everything about my experience of trying to find him a home, and they said, 'We can just take him.'"
Her parents were looking for a new dog to keep their other dog company and say Solo has been a great addition to the family. We're so glad this story has a happy ending.