Do you have a dog who is a doofus and/or a goofball? If you're not sure, take a look at them right now. Is their tongue hanging out? Do their eyes seem to go in two different directions? Are they running around and barking excitedly at nothing? If so, you have a certified goofball on your hands.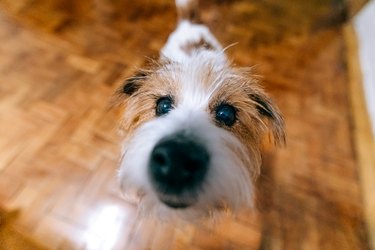 In the case that you have a new goofball in your life and need help naming them, we've put together some suggestions for you to consider. Of course, you can give your silly dog a Shakespearean name or a name inspired by a mathematician, but why not take advantage of their silly nature with a funny name that could make any one smile? Enjoy this list of 200 funny dog names. And please share tons and tons of pics!
Funny dog names inspired by food
One of the cutest and easiest ways to signify that your dog is a silly girl or boy is to give them a funny dog name inspired by food, like any of the examples on this list! You can choose from foods that everyone love, like Cupcake, or foods that may be special to you. Perhaps you are a perpetual winner in a chili cook off (Here, Chili!). Or you are the best dim sum maker of any of your friends (Sit, Dumpling!). Maybe you just love sweets (C'mon Candy!). Of course, it could be that you just love food and that's fine too.
Angus

Arugula

Banana

Basil

Biscuit

Brussels Sprout

Butters

Candy

Cannoli
Cashew

Chesnut

Chicken

Chickpea

Chili

Clementine

Cocoa

Coffee

Corn

Corona

Croissant

Cucumber

Cupcake

Curry

Donut

Dumpling

Enchilada

Espresso

Falafel

Fish Stick

French Fry

Fudge

Gelato

Gouda

Guava

Hamburger

Hash Brown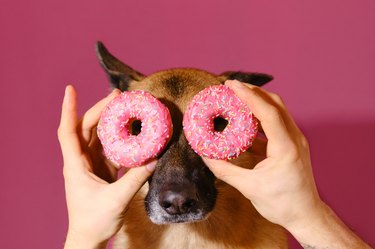 Hershey

Honey

Hotdog

Huckleberry

Hummus

Jello

Jellybean

Juice

Kale

Koolaid

Kumquat

Lasgna

Lemon

Lime

Macaroni

Mango

Maple

Marshmellow

Meatball

Meatloaf

Mousse

Mustard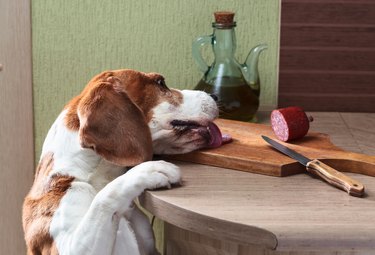 Nacho

Noodle

Nutella

Nutmeg

Oatmeal

Okra

Olive

Oreo

Pancake

Papaya

Parsnip

Peach

Peanut

Peperoni

Pepper

Pesto

Pickle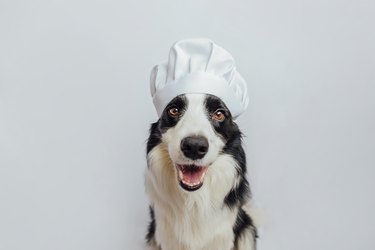 Pita

Porkchop

Potato

Pudding

Pumpkin

Quinoa

Raisin

Ramen

Ranch

Ratatouille

Sage

Sausage

Schapps

Shortcake

Skittle

Snowcone

Sorbet

Sprinkles

Squash

Sriracha

Strawberry

String Bean

Sugar

Sushi

Sweet Potato

Taco

Taffy

Tater Tot

Tiramisu

Tomato

Turnip

Twinkie

Whiskey

Wonton

Yam
Ziti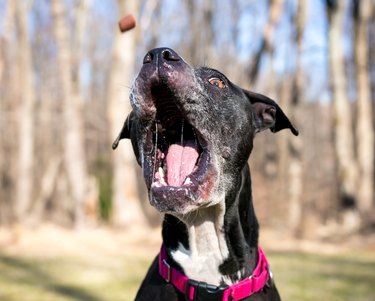 Funny dog names for boys and girls inspired by inanimate objects
Another hallmark of a goofy dog is having a name that's so seemingly random it can't help but make you pause and chuckle when you hear it. For a not-so-average funny dog name, this list might inspire you! Think about names inspired by inanimate objects that are so commonplace you just don't typically think of them as names, but why not? Why not Bulldozer, Slippers, or Zipper? Actually . . . Zipper is pretty good!
8-Ball

Amp

Antenna

Arrow

Badge

Banjo

Bath Tub

Beanie

Bike

Blade

Booger

Boots

Boxcar

Bristles

Broom

Buckles

Bulldozer

Bullet

Bumper

Button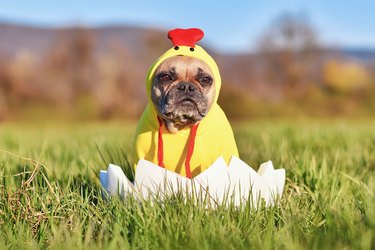 Calendar

Cash

Clapper

Coats

Credenza

Dandelion

Decker

Diary

Dumpster

Hairspray

High Top

Jeans

Jet

Lamp

Lilac

Lunch Box

Mac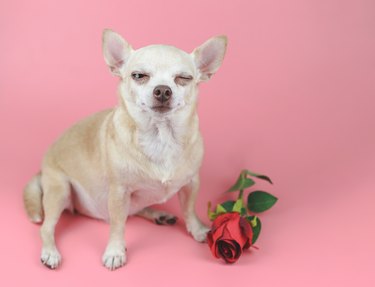 Microwave

Mittens

Mug

Nails

Napkin

Nickle

Notebook

PC

Pebble

Poker

Pots

Quarter

Ragdoll

Roomba

Rug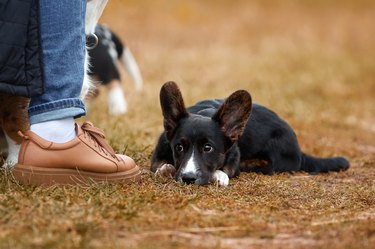 Scooter

Sharpie

Shell

Shoes

Shrub

Slippers

Socks

Sponge

Steamboat

Stitch

Suede

Swiffer

Thermos

Tissue

Toaster

Tugboat

Tulip

Twig

Uno

Wallet

Yahtzee

Zipper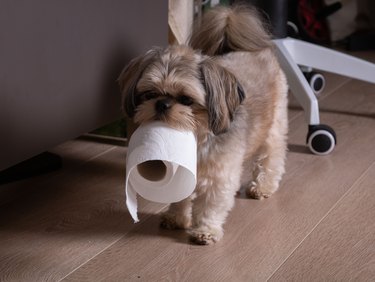 Funny dog names and their meanings
Just because a dog has a cute or funny name doesn't mean it's meaningless or given for no reason. If you're looking to find a name that really speaks to your goofy dog, check out this list of choices, complete with their meanings.Binky: A slang term for a pacifier, blanket, or other item that often soothes babies.
Binky: A term for a pacifier, blanket, or other item used to soothe a baby.
Britches: Pants.
Calzone: This literally means "trouser" in Italian, but most Americans know a calzone to be a type of pizza that's folded and stuffed with savory ingredients like cheese, ham, pepperoni, or peppers.
Crepé: A French sweet pastry that resembles a thin pancake.
Flapjack: A pancake (this is the thicker variety.)
Gadget: A mechanical device or tool.
Ham Hock: The bottom half of a pork leg.
Latke: A potato pancake in Jewish cuisine.
Pierogi: A polish dumpling made with unleavened dough and stuffed with items like potato, onion, sauerkraut, or fruit.
Polo: A game that's sort of like field hockey only played on horseback.
Queso: The Spanish word for "cheese," and also a dip made from melted cheese and chilis.
Scrapple: Pork scraps stewed with cornmeal to make a loaf that you can slice and fry.
Spork: A plastic utensil that's a cross between a fork and a spoon.
Tofu: Mashed soybeans.
Zeppelin: A German airship used in WW1.
Do you need more inspiration for your new pet's name?
Pets are like our children. We love them, care for them, and we get to dress them up in adorable outfits — if that's a thing we feel like doing! So it's extra important that we take time to find the perfect name that reflects our new pet's personality and potential. Naming can be hard, which is why we've gathered nine pet-naming techniques to find the perfect fit, as well as assembled a handful of our most beloved lists of pet names!