Ain't nothing wrong with being a nerd. In fact, if you're a nerd and proudly identify yourself as such (which you should!) AND you also happen to be racking your brain for a name for your new fur-kid, fear not. We've compiled a list of some of the most nerdy names for dogs and cats to be found anywhere.
Nerdy Names for Dogs and Cats
We've got name ideas for: Computer & Graphic Design Nerds, Math & Science Nerds, Film & TV Nerds, Gamer Nerds, and Comic Book Nerds. We realize that this is in no way an exhaustive list of categories—for example, we're missing History Nerds and Music Nerds—but if we included every single kind we could think of, this list would go on for days. Even if you can't find the perfect moniker on this list, we're sure that it'll take your brainstorm to even greater heights of geekery.
Names for geeks inspired by computer & graphic design
Just a few decades ago, a book would be synonymous with nerdy pursuits, but today, it's all digital. For anyone inspired by the Zuckerbergs or Jobs' out there, these nerdy pet names for your canine or feline friends are sure to catch the eye of fellow nerds. Any of these names make great options for both boys and girls, dogs and cats. If none of these names suit your fancy, they might make a good starting point, so take a look and see if you aren't inspired by any of these nerdy names.
Ajax

Apple

Beta

Bing

Bug

Boot

Cache

Chroma: Chroma refers to the color content of a video image, so if you work with visuals or images, Chroma could be the most perfect of all nerdy names.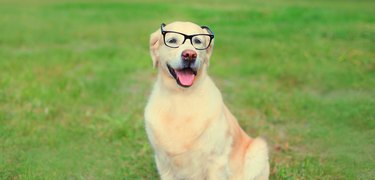 Data

dOS

dongle

dot matrix

Gif

Google

Glitch

Java

Mac

Megabyte

Node

Pixel: A pixel is one of the millions of illuminated areas that make an image, or piece of text, on a screen, and could be a perfect name for a small dog or cat.
Raster

Render

Ruby (On Rails)

Vector

Widget

Wysiwyg

Zip

Math & science-inspired nerdy names for pets
Perhaps math and science are more your thing. In addition to a bunch of math and science references that could make great nerdy names for pets, like Digit or Gizmo, this list is filled with names of notable scientists that any dog or cat would be happy to share a name with. Look for names like Faraday and Bunsen, and let your imagination go from there!
Bunsen

Beaker

Dalton
Digit
Faraday

Fractal

Gadget
Gizmo: If you're an inventor, or just a Gremlins fan, this name, which refers to a small gadget, could be a great pic for your pet!
Kelvin
Laser

Nebula
Pi

Quark
Sputnik

Sirius

Watson & Crick (For a pair of pets)

Nerdy dog and cat names inspired by literary characters
Of course, you don't have to be math-brained to be a nerd—the bookworms can be just as much of a geek as any scientist or inventor. A nerd is defined as anyone who's enthusiastic about a particular subject, and literature is certainly a subject filled with endless material and inspiration to obsess over. This long list is filled with nerdy male and female pet name ideas, but if you don't see one here that's the perfect match, just think of your favorite book or character to start brainstorming.
Ajax (Greek Mythology)

Agamemnon (Greek Mythology)

Albus (Harry Potter Series)

Aragorn (The Lord of the Rings)
Argos (The Odyssey)

Art3mis (Ready Player One)
Atticus: Atticus Finch is Scout's father in the Harper Lee novel, To Kill a Mockingbird. His character is a lawyer, and could be a great pet name for canines or felines who strive for fairness.
Bilbo (The Lord of the Rings)
Blue (The Sound and the Fury)

Brett (The Sun Also Rises)

Buck (The Call of the Wild)

Cerberus (3-headed dog of Greek Mythology)

Cujo (Cujo)

Darcy (Pride & Prejudice)

Dr. Jekyll (The Strange Case of Dr. Jekyll and Mr. Hyde)

Frodo (The Lord of the Rings)
Gandalf (The Lord of the Rings)
Gimli (The Lord of the Rings)
Gollum (The Lord of the Rings)
Hercules (Greek Mythology)

Hagrid (Harry Potter Series)

Hermione (Harry Potter Series)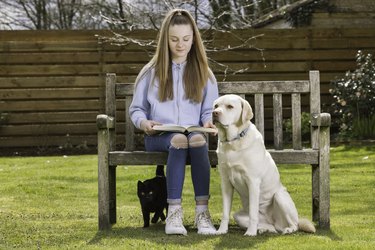 Ibsen

Electra (Greek Mythology)

Dalloway (Mrs. Dalloway)

Dante

Dorian (The Picture of Dorian Gray)

Gregor (The Metamorphosis)

Hamlet (Hamlet)

Holden (The Catcher in the Rye)

Heathcliff (Wuthering Heights)

Kurtz (Heart of Darkness)

Legolas (The Lord of the Rings)
Lolita: Lolita (real name, Dolores) is the main character of the Vladimir Nabokov novel, Lolita, which could make a pretty, and possibly eyebrow-raising, name for a female dog or cat.
MacBeth (MacBeth)

Marlowe (The Big Sleep)

Mr. Hyde (The Strange Case of Dr. Jekyll and Mr. Hyde)

Moby (Moby Dick)

Nana (Peter Pan)

Neville (Harry Potter Series)

Parzival (Ready Player One)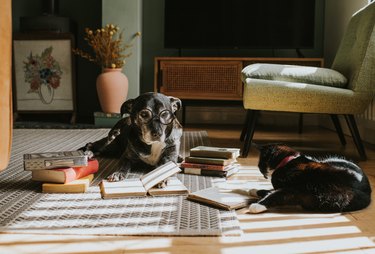 Pilot (Jane Eyre)

Pip (Great Expectations)

Quixote (Don Quixote)

Potter (Harry Potter Series)

Santiago (The Old Man and the Sea)

Sancho Panza (Don Quixote)

Sauron (The Lord of the Rings)
Scout (To Kill a Mockingbird)

Sherlock (The Sherlock Holmes Series)

Snape (Harry Potter Series)

Yossarian (Catch 22)

Names for geek dogs and cats based on film & TV
Now that streaming is a thing, who isn't a film or TV nerd these days? Whether you have a favorite series that you keep watching over and over (hello, The Office fans,) or you just have a standout character that your pet reminds you of, considering a film or TV-inspired pet name can be fun! Not only will you think if your favorite movie or television moments when you call your companion, but it can also make great dog park conversation starters, especially if it's a super niche reference.
Adama (Battlestar Galactica)

Alvy (Annie Hall)

Amelie

Anakin (Star Wars)

Arya (Game of Thrones)

Astro (Jetsons)

Bella (Twilight)

Bones (Star Trek)

Bender (Futurama)

Buffy (Buffy the Vampire Slayer): It started as a movie, and was then adapted into a television series years later, Buffy could be a fun name for a female pet with a little bit of an edge to her.
Cersei (Game of Thrones)
Daenerys (Game of Thrones)
Darth (Star Wars)

Donna (Dr. Who)
Drogo (Game of Thrones)

Ewok (Star Wars)

Falkor (The Neverending Story)

Finn (Star Wars)
Ghost (Game of Thrones)
Gizmo (Gremlins)

Guido (8½)
Hal (2001 A Space Odyssey): Because this character is an AI character, this name could fit boys or girls with a nerdy side.
Han Solo (Star Wars)
Hedwig (Harry Potter; Hedwig and the Angry Inch)

Hodor (Game of Thrones)

Khaleesi (Game of Thrones)

Kubrick (Director, Stanley Kubrick)

Kylo Ren (Star Wars)
Lando (Star Wars)
Leela (Futurama)
Luke (Star Wars)
Neo (The Matrix)

Nibbler (Futurama)
Orson (Welles)

Poe (Star Wars)
Princess Leia (Star Wars)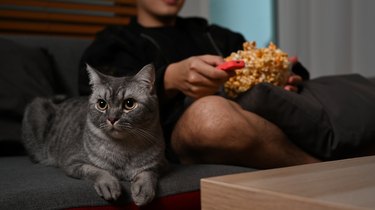 Wookie (Star Wars)

Chewy (Star Wars)

Tardis (Dr. Who)

Tyrion (Game of Thrones)

Rey (Star Wars)
Rocky (Rocky)

Rose (Dr. Who)
Rosebud (Citizen Kane)
Spock (Star Trek): Dr. Spock, played by Leonard Nimoy, is one of the most recognizable Star Trek characters thanks to those pointed brows, and is a pet name that's sure to turn some heads.
Toto (Wizard of Oz)

Tron (Tron)

Yoda (Star Wars)

Vader (Star Wars)

Xena (Xena Warrior Princess)

Zoidberg (Futurama)
Gamer nerd names for dogs and cats
Maybe gaming is the thing you nerd out over? If that is the case, you have a ton of nerdy pet name ideas to choose from! You could go with something inspired by an old-school classic, like Atari, or one of your favorite video game characters, like Raiden from Mortal Kombat. Video game names have a ton of potential as there are so many to choose from, each with their own rich world of characters, so look to your favorites to get inspired!
Atari

Banjo

Bowser

Biggs

Cid

Chi
Cloud
Genesis: '90s kids rejoice! Genesis is the name of the Sega gaming console that sparked a ton of great games like Sonic the Hedgehog.
Kazooie

Kirby

Jax

Johnny Cage

Mario
Halo

Luigi

Link

Peach

Pong

Eve

Drake

Raiden

Ryu

Sonic

Sub-Zero: Also known as Kuai-Lang, Sub-Zero is a character from Mortal Kombat who's signature finishing move is the ice freeze, perfect for dogs or cats who love the cold.
Yoshi

Wedge

Varian

Zelda

ZugZug

Comic book & anime nerd names for dogs and cats
Are you the "Comic Book Guy" of your friend group? You don't have to be an insufferable know-it-all to be a comic book nerd, anyone who's into comics or anime can claim their nerd-dom with pride! If Comic Con is your favorite time of year, or if you just like to flip through the pages of classic comics (or even make your own!) then check out this list of comic-inspired nerdy names for dogs and cats. If you don't see a character you like enough to name your pet after, you can always create one of your own!
Akira

Bizarro

Black Widow

Clark (Kent)

Deadpool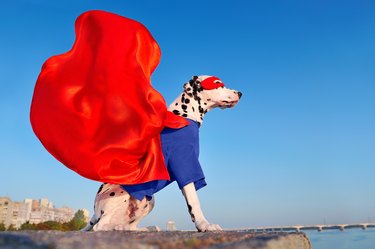 Dr. Doom

Galactus

Goku
Hellboy

Hulk

Kal-El

Lex (Luther)

Loki: Loki is a Marvel Universe character created by Stan Lee, and is also known as the "trickster god" in Norse mythology, perfect for your favorite furry trouble maker.
Magneto

The Maxx

Oracle

Mystique

Pepper (Potts)

Professor X

Rocket

Rorschach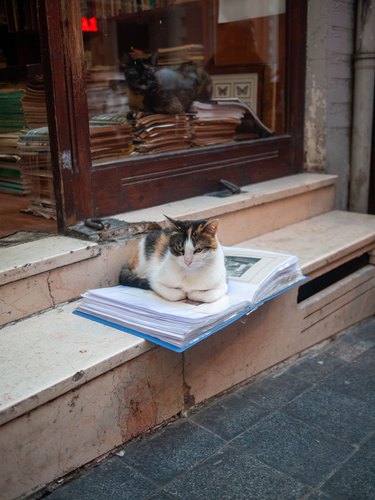 Sabertooth

Sakamoto

Sasquatch

Storm

Taiga

Thing

Thor

Zod

Nerd names for pets based on historical figures in science
Back to the science-inspired drawing board. This list is filled with nerdy names for dogs and cats inspired by living, or once-alive, science heroes, and it features names of scientists from across the span of the subject, from astronomy to mathematics to computer science. Historial figures make great name choices for what contributions they represent, and to showcase your interests while blessing your dog with a high-achieving moniker.
Archimedes

Aristotle

Billy Nye

Bohr (Niels Bohr)

Cerf (Vincent Gray Cerf)

Copernicus

Da Vinci

Darwin (great for finches!)

Edison

Edith Clarke

Einstein: Or Albert. Perfect for any critter with wild, shaggy locks.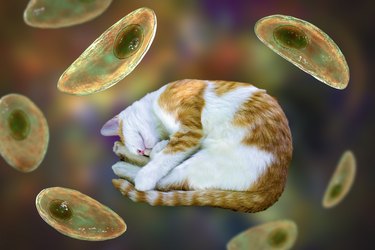 Erwin. As in Schrödinger — for cats, of course.
Freud (or Sigmund)

Galileo

Gates (Bill Gates)
Goddard (Robert Hutchings Goddard)

Hawking

Heisenberg (not Walter White!)

Higgs (perhaps for a shy, elusive cat?)

Hopper (Grace Hopper)

Hubble

Jobs (Steve Jobs)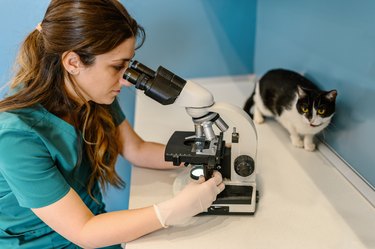 Kepler (Johannes Kepler)

Khan (Bob Khan)

Laika

Lovelace (Ada Lovelace)

Marie Curie

Neil deGrasse Tyson

Newton (or Sir Isaac)

Pascal

Pasteur (Louis Pasteur)

Pavlov. For the operant conditioning fans! This is a great name for dogs ... or cats —they drool, too.
Pelton (Lester Allan Pelton)

Rosalind (Rosalind Franklin)

Sagan

Tesla (or Nikola)

Tycho (Tycho Brahe)

Woz (Steve Wozniak)
Nerdy pet names for geeks
Still haven't seen anything on this list that strikes you? Check out this long list of terms just for the science geeks out there. It covers everything from atomic particles to outer space, and everything in between. The best nerdy name for a dog or cat will likely showcase some part of their personality, so be watchful of their quirks, interests, and dislikes, then get a little creative by combining your own preferences to find the perfect match.
Amp

Apache

Apollo

Aquarius

Argon

Asteroid

Astra

Atom

Aurora: As in aurora borealis, this is an electrical phenomenon that makes the sky appear to be filled with glowing ribbons of light, and is a great name choice for the girl who lights up your world.
Axis
Boron

Byte

Carbon

Chet
Cipher

Comet

Cosmo

Cyber
Delta
Dob (Dobsonian)

Doppler

Eclipse

Equinox

Flare

Flurry

Galaxy

Gamma

Geo

Gibbous
Gram: This is not only a unit of measurement, but also sounds just like the men's name spelled Graham, making it a cute, cheeky way to show off your nerdy side.
Gravity
Hedron

Helix

Iris

Isotope

Jet

Jupiter

Kernal

Kilo (kilogram)
Linux

Luna
Mars

Mercury

Meteor

Micron

Moon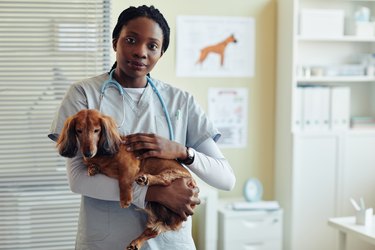 Nano

Nebula

Neon

Neptune

Neutron

Nitro

Nova

Orbit

Photon
Pipette
Pluto

Polar

Quark: This is not only a subatomic particle, but also the cutest and most fitting name for any quirky boy or girl.
Quasar

Radar
Saturn

Solstice
Spark

Star

Sunny

Tetra

Titan

Twilight

Vector

Venus

Volt
Zinc

Zodiac

Do you need more inspiration for your new pet's name?
Pets are like our children. We love them, care for them, and we get to dress them up in adorable outfits — if that's a thing we feel like doing! So it's extra important that we take time to find the perfect name that reflects our new pet's personality and potential. Naming can be hard, which is why we've gathered nine pet-naming techniques to find the perfect fit, as well as assembled a handful of our most beloved lists of pet names!