Sometimes it can be hard to know if you have a goofball dog, or a dog who deserves a distinguished Southern name. But if you have a big dog, you know. And you know that big dogs need special big dog names that celebrates his or her bigness. So without further ado, here are 270 big dog names for big dogs who are larger than life.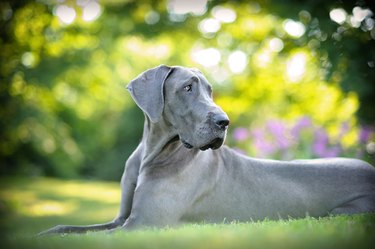 Big dog names for giant girls and boys
If you have a big dog in your life, you can go one of two ways in choosing a name — find a big name to compliment their sizable stature, or go super small and cute for an ironic twist. Whatever your preference, any of the big dog names for giant girls and boys on this list are a good place to start drawing inspiration, whether you have a big boy or a gigantic girl.
Alaska
Alta
Andromedia
Atilla
Axel
Aztec
Bangkok
Big Mac
Blimp
Bones
Boomer
Brighton
Buffalo
Bug
Bulldozer
Burbank
Chief
Cheyenne
Cibola
Commander
Congo
Denali
Dinky
Eggroll

El Nino
Fjord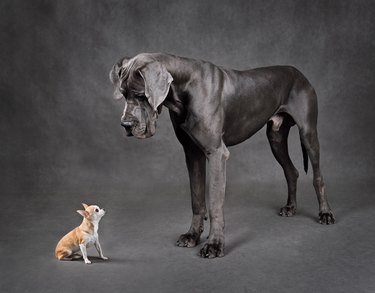 Galaxy
Giant
Harlem
Harley
Hindu
Humboldt
Indus
Jumbo
Kodiak
Kunlun
Leviathan
Majestic
Mammoth
Meatball
Meatloaf
Mekong
Midnight
Montana
Moose
Mystery
Nitro
Octane
Odyssey
Omega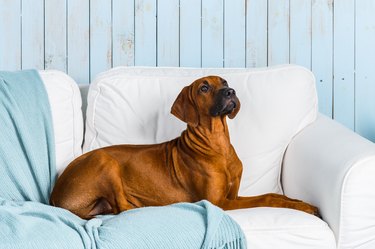 Pebbles
Pint-sized
Polaris
Rama
Rocket
Rome
Saguaro
Scar
Shrimp
Smalls
Teeny
Thunder
Tiber
Tiger
Trinity

Uintah
Vulcan
Wasatch
Zeppelin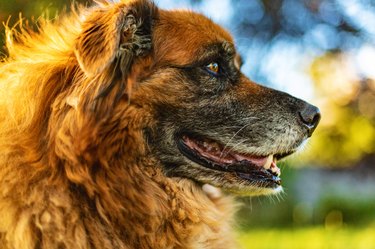 Big dog names for male dogs
Big boys command attention wherever they go, even when they're a bit shy in nature. To complement their large stature, here's a list of strong, confident names for male dogs of bigger proportions.
Ace
Admiral
Adonis
Andre the Giant
Balto
Bandit
Baskerville
Bear
Beck
Beowulf
Biggie Smalls
Bluto
Bono
Boots
Bruce Lee
Bruiser
Buck
Buckshot
Butch
Cassius
Chopper
Colossus
Crumbs
Czar
Danny Devito
Dash
Diesel
Dodge
Durango
Everest
Fang
Frankenstein
Frodo
Gandalf
Gary Coleman
General
Genghis
Godzilla
Goliath
Hagrid
Hakeem
Hannibal
Hooch
Hoss
Jericho
King
Kong
Lazarus
Leo
Mac
Major
Manny
Marmaduke
Mars
Moby
Mufasa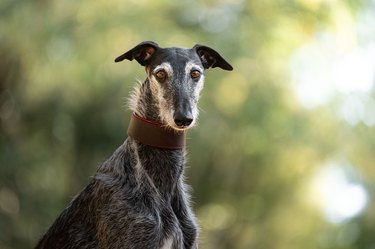 Napoleon
Ninja
Paul Bunyan
Radar
Ragnarok
Raider
Ram
Ranger
Remington
Roo
Rhino
Saber
Spike
Spud
Stag
Stallone
Sumo
T-Rex
Tank
Tanker
Terminator
Tex
Titan
Viking
Winston
Yao Ming
Yuri
Zander
Zeus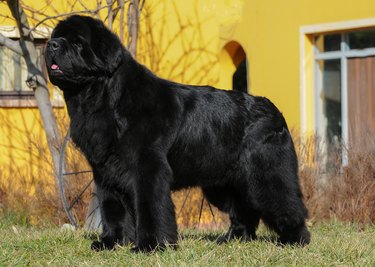 Big dog names for female dogs
If you have a big dog who's a girl, chances are most people are going to assume she's a boy based on her looks alone. For anyone looking to let the world know that their dog is a girl, here's a list of big dog names for female dogs that won't have people mistaking otherwise for long.
Abigail
Acadia
Agagate
Alexa
Amaris
Amazon
Anka
Athena
Aurora
Babe
Banshee
Baroness
Belle
Bertha
Betsy
Bitsie
Bobbi
Bridget Jones
Brooklyn
Brünhilde
Cairo
Candy
Cersei
Chai
Cherry
Cinder
Cups
Daisy Duke
Dana Scully
Darkness
Diva
Dot
Duchess
Echo
Electra
Elle
Erin Brockovich
Eureka
Eve
Fergi
Fern
Frida
Gaia
Galactica
Gracie
Gorgeous
Hera
Hermoine
Hope
Joy
Juno
Kay
Lady Bug
Lakota
Leia
Lil' Kim
Lipstick
Liv
Lolita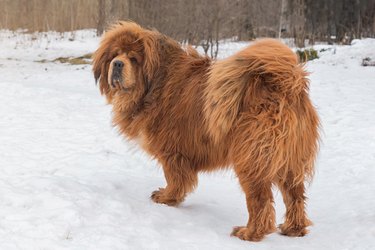 Malibu
Marge Gunderson
Mary-Kate
May
Medusa
Mia
Missy
Nakita
Natasha
Nayla
Octavia
Olive
Page
Pandora
Paris
Persephone
Phoebe
Princess
Puma
Queenie
Rayne
Reese
Ripley
Roo
Sahara
Scout
Scrappy
Sequoia
Shiva
Sugar
Sweetpea
Swift
Taka
Tess
Tinkerbelle
Venus
Vixen
Xena
Zoey
Zuul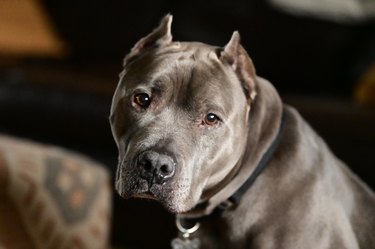 Top big dog names for girls and boys and their meanings
Like big dogs, a big name really stands for something, and understanding the meaning behind them can help you and your dog feel that much more connected to their given moniker.
Clifford: This literally means "a ford by a cliff," but many people associate it with the big, red dog from the children's book series
Dozer: A shortened name for "bulldozer"
Galadriel: Maiden crowned with a garland of bright radiance
Gemini: Twin
Hercules: A Greek mythological hero known for his feats of strength
Hulk: The massive main character of the comic, The Hulk. This term also describes a large ship that's been stripped and permanently docked
Manhattan: A borough in New York City, and a Munsee Lenape term meaning "gather"
Thor: the Norse god of thunder
Tiny: Very small
Valkyrie: Chooser of the Slain
Do you need more inspiration for your new pet's name?
Pets are like our children. We love them, care for them, and we get to dress them up in adorable outfits — if that's a thing we feel like doing! So it's extra important that we take time to find the perfect name that reflects our new pet's personality and potential. Naming can be hard, which is why we've gathered nine pet-naming techniques to find the perfect fit, as well as assembled a handful of our most beloved lists of pet names!