Unusual & Unique Pet Names
Spot, Rover, Fido: Good names, all. But sometimes a fancy pup calls for something more, well, distinguished or off the beaten path. Enter the list below, which collects 250 unique and unusual dog names for your scrolling pleasure.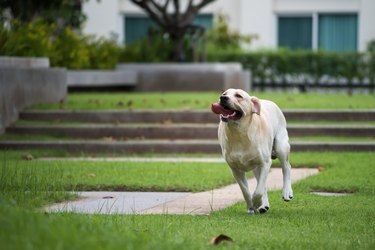 Drawing inspiration from food, places, pop culture, and more, our list of unique and unusual pet names is guaranteed to help you match your new four-legged BFF with a fab name that reflects their personality and just how special they are. Plus, you won't get stampeded at the dog park when you call out to them!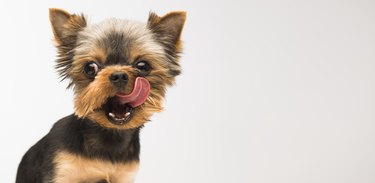 Unique dog names for male dogs
Got a not-so-average boy best friend on your hands? Then you'll want to give him a unique and unusual dog name that says to the world, "I'm no ordinary canine!" Unique male dog names don't have to be too far out, they could just be uncommon, funny, or point to a specific quirk about them. For example: If your puppy is constantly underfoot and tripping you, consider naming him Tripp or Stumbles. Names like this are great conversation starters, and will set your dog apart from the rest of the pack.
Axel

Bash

Biden

Blade

Bolo

Bolts

Bono

Boots
Brighton

Clooney

Codex

Corky or Corks

Curby

Czar

Dibbs

Dillinger

Dinky: Dinky Dog is an Australian cartoon, and also the nickname for Dinkum, the troublesome canine from the comedy classic, Vacation.
Dino

Dozer

Dozer

Drax

Dredd

Droop

Durango

Dutch

Exley

Fenway

Frex

Griffin

Grimsby

Hans

Hobbs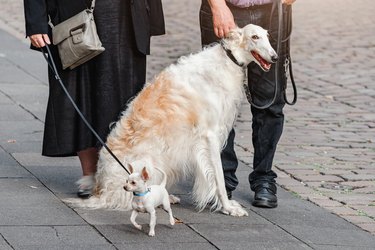 Hoss

Hutch

Indus

Irving

Jagger

Jax

Kai

Kane

Krypto

Kutcher

Lamot

Landon

Latka

Leopold

Leviathan
Merlin

Mookie

Mulder: The truth is out there. If you get this reference, this X-Files-inspired name might be the perfect fit for your canine companion!
Oswald

Randle

Ree

Reginald

Revis

Ritz
Royston

Talfryn

Tank

Taron

Tonks

Tuba

Vortimer

Zander

Zeek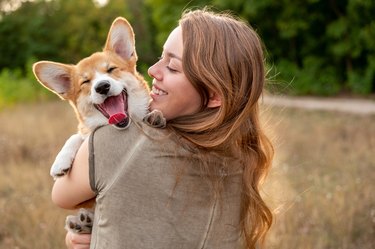 Special girls deserve special names, like any of the options on this list. When choosing an unusual female dog name for your perfect pooch, consider special things about her personality that make her who she is. Maybe she has a personality that shines like Glitter, or made she was definitely a witty diner waitress in a past lift, in which case a name like Midge might be appropriate. Play around and have fun with the process, and see if any of these names might inspire you!
Aja
Alta
Amaris
Beebee
Bertha
Bertie
Catia
Denali: Denali is not only the tallest mountain in Alaska, it's meaning also translates to "The High One" in Athabascan, and can be gender-neutral.
Fabs
Fern
Glitter
Godiva
Kay
Keke
Lottie
Mabel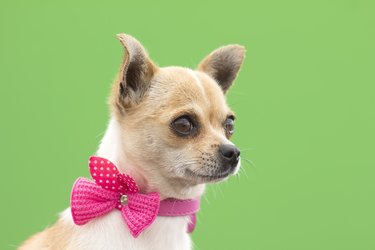 Mallory
Maripol
Midge
Nalla
Page
Rama: Rama is a Sanskrit name meaning "pleasing" and "charming," and can be a gender-neutral option for any dog who fits that bill (read: every single dog ever created.)
Rosamund
Sheena
Shiva
Tawny
Umber
Vivi
Wren
Yuri
Unique and unusual gender-neutral dog names
Maybe one thing that's unique about your dog is that they won't have a name that's typically feminine or masculine. After all, pets are commonly named after everyday things, like musical instruments, food, locations, and other things that don't outright say "I'm a boy," or "I'm a girl." If you want to give your best boy or girl a name that defies gender, check out this long list of gender-neutral dog names that are sure to garner a few smiles.
Acorn
Arrow
Banana
Banjo
Bantam
Biloxi
Birch
Bixby
Blimp
Blink
Brooklyn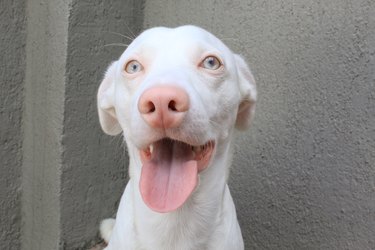 Bug: Could there possibly be a cuter name on Earth than "Bug?" Suitable for all dogs, big or small, Bug is a silly and sweet name, and a term of endearment for some.
Bunny
Burbank
Busy
Chalky
Chinook
Chopper
Cibola
Cinder
Cirrus
Clue
Cramps
Crayon
Crumbs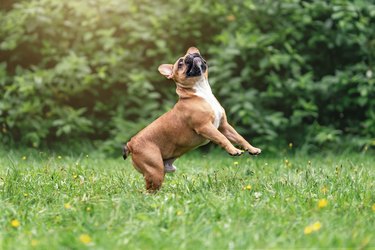 Cry
Cups
Doodle
Fjord
Flea
Gadget
Giblet
Harper
Henna
Hiccup
Huxley
Jericho
Jet: Maybe it's the name of a plane, maybe it's the name of your favorite "Wings" song, either way, Jet is a great choice for a fast dog, or possible a dog with pointed features.
Jezzy
Kees
Kelby
Kindle
Kisses
Kodiak
Kolpin
Komet
Kunlun
Laces
Legos
Magpie
Marble
Navi
Neutron
Noop or Noopers
Notes
Nova
Odyssey
Onyx
Paget
Peaque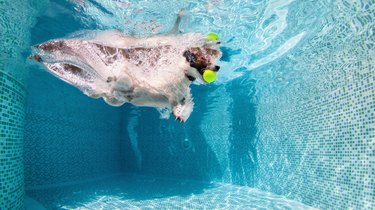 Pico
Pip
Pockets
Polaris
Polk
Porb
Powder
Prunella: Prunella plants are commonly grown as ground cover, and also means "small plum" in Latin, perfect for little girls, or fruit-loving females.
Puck
Puck
Pudge
Quigley
Radar
Radley
Rayne
Ridgewell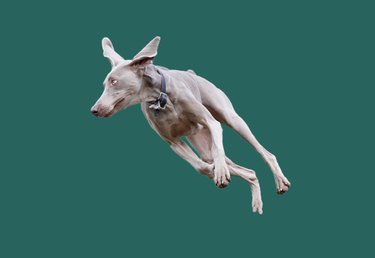 Roo
Rooney
Rusky
Ryder
Saber
Sable
Salty
Samus
Sepia
Shrub
Soho: Well-known neighborhoods in both NYC and London, Soho is name with a bit of a cosmopolitan twist, great for well-traveled dogs or canines with a fashionable sense about them.
Somerset
Soy
Specs
Spigs
Spoons
Stag
Starling
Suede
Sumo
Sutton
Sylph
Tadpole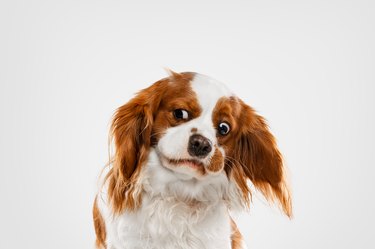 Taka
Thermos
Thimble
Turtle
Tycho
Utah
Vertigo: Whether your dog has a dizzying personality, or you're jus a fan of Hitchcock classics, Vertigo is a very unique pet name that we're sure you won't run into often.
Weensy
Wriggles
Wrinx
Xabat
Yack
Yeats
Zee
Zinc
Zippers
Zuul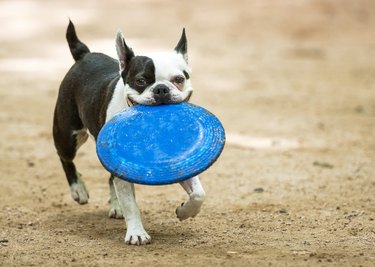 Unique pet names inspired by food
For the food lovers out there, what better way to honor your pet and your favorite dish or snack than by giving your dog or cat a name that would make anyone drool. Giving your pet a unique food-inspired name is, well, it's just plain cute. Who wouldn't chuckle upon meeting a dog named Eggroll or Tofu? The best part? Any of these names will work with male or female dogs, so have some fun with a food-inspired name for your pet!
Brauts: A great name for a hot dog, or any dog with a sausage-type body, "Brauts" refers to "brats," the German sausages.
Cannoli
Cashew
Chablis
Chai
Coconut
Crackers
Crumpet
Eggroll
Espresso
Gravy
Hershey
Lipton: Looking for a food name that's a bit more subtle? Lipton is one of the most popular tea companies out there, and would make a great name for any dog!
Marzipan
Mayo
Molasses
Moscato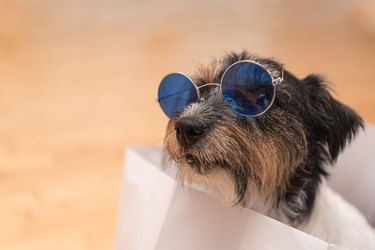 Noodle
Nutella
Nutmeg
Parsnip
Pasta
Pepsi
Pistachio
Pizza
Potato
Queso
Rolo: Might be a good fit for a roly-poly little dog, or just a fan of the candy. Rolos are chocolate-covered caramel candies that are bite-sized and very sweet.
Root Beer
Sorrel
Stoli
Syrup
Taco
Toast
Tofu
Truffle
Yogurt
Do you need more inspiration for your new pet's name?
Pets are like our children. We love them, care for them, and we get to dress them up in adorable outfits — if that's a thing we feel like doing! So it's extra important that we take time to find the perfect name that reflects our new pet's personality and potential. Naming can be hard, which is why we've gathered nine pet-naming techniques to find the perfect fit, as well as assembled a handful of our most beloved lists of pet names!