Everything sounds sweeter in a Romance language — and pet names, for either your partner or four-legged BFF, are no exception.
If you're looking to give your furbaby a distinctive, Old World moniker that rolls off the tongue with a measure of panache and can be accompanied by expressive gesticulations, consider dipping into the Italian playbook. Choosing from Italian dog names can help you showcase their personality, bless them with what you hope they experience in life, and might even help set them apart from other dogs in their daycare play groups.
From Popes to pastries, we've found inspo in the 220+ wildly colorful handles below, some for gentiluomos (gents), some for damas (dames), and others applicable to any doggo gender.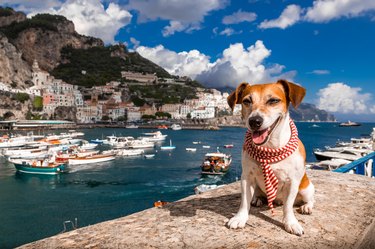 Italian dog names for male dogs (bello boys)
If you're looking for a name for your male canine pal, it's hard to go wrong with Italian dog names, like any of the excellent options on this list.
Adolfo

Alessandro

Alessio

Angelo
Arturo
Bartolomeo
Christian

Cicero

Dante

Davide

Diego

Domenico
Elio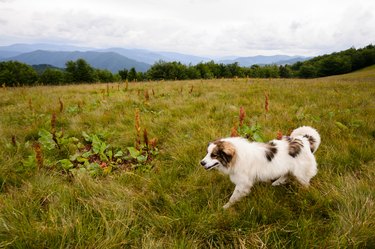 Emilio
Fausto

Fido

Francesco

Giacomo

Giancarlo

Gioele
Hannibal

Julius

Leonardo

Lorenzo

Luca

Luciano
Lupo
Massimo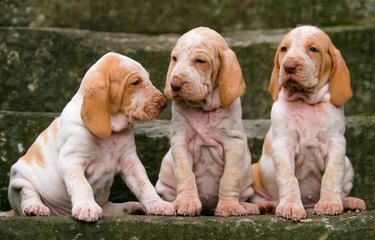 Matteo
Nano

Nicolo

Paolo

Pietro
Renato

Riccardo

Roberto

Rocco

Rocky
Salvatore
Stefano

Thomas

Tito

Tommaso

Toro

Ugo
Vincenzo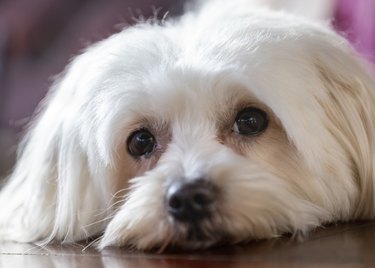 Italian dog names for sweet signorinas (female dogs)
Choosing from Italian dog names for female dogs is also a great choice as the names are beautiful, strong, and make a statement, just like your favorite canine pal.
Alessia

Andria

Angelica

Aria
Beatrice

Bella
Celeste

Charity

Chiara
Donatella

Elda

Elena

Elisa

Elisabetta

Emily

Emma

Florence
Francesca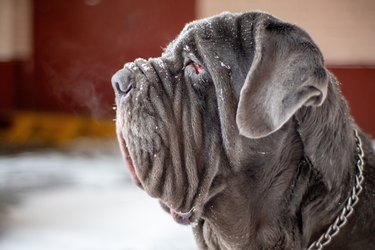 Frida

Gaia

Gemma
Giorgia

Giuliana

Greta

Ilaria

Iniga

Irene
Laura

Leona

Liliana
Maria

Marta

Martina

Matilde
Mia

Miriam

Mona

Nicola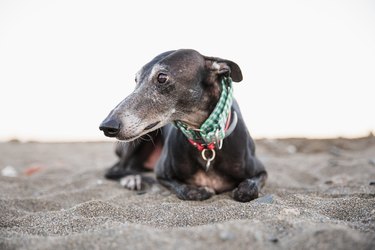 Nives
Olivia

Olympia

Perla

Pietra

Pippa

Puci

Ramona

Renata

Rossella

Sara

Serena
Stella

Teresa
Valentina

Valeria

Viola

Vittoria
Zaza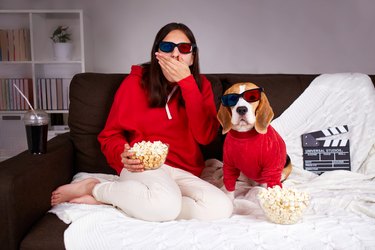 Italian dog names inspired by Italian food
What's more enjoyable than spending quality time with your favorite pet pal? Enjoying delicious Italian cuisine (that's a fact, and it's true for everyone, we checked.) If you're a lover of Italian treats, sweet and savory, check out this list of Italian dog name ideas inspired by Italian food.
Agilata

Agnolotti

Amore

Arancini

Asiago

Bari

Biscotto

Boreto

Braciole

Bresaola

Bruschetta

Calzone

Cannoli

Capocollo

Caprese

Caramello

Carbonara

Chitarra

Ciabatta

Ciriola

Crostini

Culatello

Ditalini

Dolce

Espresso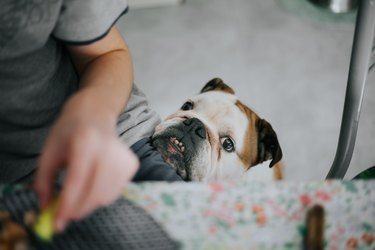 Farinata

Focaccia

Fonduta

Fontina

Fragunno

Ghirardelli

Ginestrata

Gnocchi

Lasagna

Macaroni

Maccu

Margherita

Marinara

Meatball
Minestrone

Noodle

Olive

Oro

Orzo

Pancetta

Pandoro

Panino

Penia

Penne

Peperoni

Pesto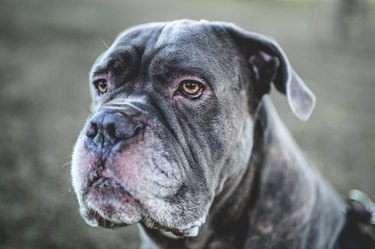 Piadina

Piccolo

Pisa

Pisello

Pita

Prosciutto

Ragù

Ravioli

Rigatoni

Risotto

Rosetta

Salame

Sausage

Scampi
Spaghetti

Taralli

Tortellini

Trevi

Uffizi

Venice

Vermicelli

Vespa

Vitello

Ziti

Popular Italian dog names and their meanings
If you're not an Italian speaker, it's helpful to know the meanings of the names you're considering, which can help you make the right choice for your pet. Here are some popular Italian dog names for boys and girls, along with their meanings in English.
Antonio: Beyond praise
Apollo: Destroyer
Augustus: Great, magnificent
Aurora: Dawn
Baronessa: Baroness
Benito: Blessed
Bianca: White, pure
Brando: Sword
Bruno: Brown
Camila: Helper to the priest
Cesare: Long-haired
Contessa: Countess, royalty
Desdemona: Unlucky
Donatello: Given, gift from God
Drago: Dragon
Eduardo: Rich guardian
Enzo: Home ruler
Fabio: Bean farmer
Fortuna: Lucky
Giada: Jade, precious stone
Giorgio: Farmer, earthworker
Giovanni: God is gracious
Giuseppe: God will add
Isabella: Devoted to God
Luigi: Renowned warrior
Lunetta: Little moon
Madonna: My lady
Marco: Warlike, of Mars
Mario: Mars, manly
Mercedes: Wages
Michelangelo: God-like messenger
Nocciolina: Peanut
Pluto: The Roman god of the underworld
Raphael: God has healed
Romeo: Pilgrim to Rome
Sergio: Servant, guardian
Silvana: Of the forest
Sofia: Wisdom
Trista: Sad
Valentino: Strength, health
Viviana: Alive, likely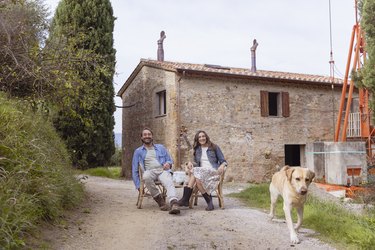 Do you need more inspiration for your new pet's name?
Pets are like our children. We love them, care for them, and we get to dress them up in adorable outfits — if that's a thing we feel like doing! So it's extra important that we take time to find the perfect name that reflects our new pet's personality and potential. Naming can be hard, which is why we've gathered nine pet-naming techniques to find the perfect fit, as well as assembled a handful of our most beloved lists of pet names!