We all love a cuddly brown pup or a distinguished white poodle, but there's something simply gorgeous about the shiny mane of a black dog that makes all passersby stop and stare. Black dogs gleam with beauty, pride, strength, and power. Unfortunately, they're also the least likely to be adopted of their lighter-haired counterparts, especially if they're on the older side. If you've invited a black canine companion into your life, congrats! You have a unique, loyal, and beautiful companion for life! Here are 200 black dog names perfect for your wonderful black Lab or any black pet.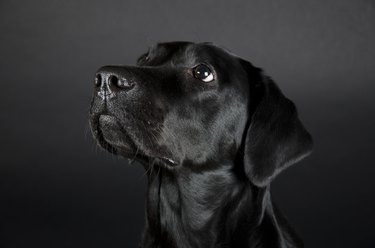 Black dog names that are solid, silly, and serious for boys
Finding the right name for your black dog will depend on a few things, like your dog's personality, both your and your furry friend's style, and what word you'll want to be repeating over and over for years to come. There are so many ways you can go with choosing a black dog name. You could go with the obvious and name them Shadow, or Charcoal. Or go with something classy, like Tuxedo. A cute name for a black boy dog could be Button, or you could go silly with a name like Sharpie.
Angus: a strong black dog name
An Angus is a type of cow, but it is a type that is traditionally black, so this makes sense for any dog. Plus, if you're an AC/DC fan, it's got that going for it too.
Blackberry: glossy and black name for a glossy black dog
Blackberry is a great name for a dog because it represents summer, wholesomeness, sweetness, and beautiful color.
Blackjack

Blimp

Bono

Boomer

Bruiser

Buba

Bucky

Button

Captain

Cassius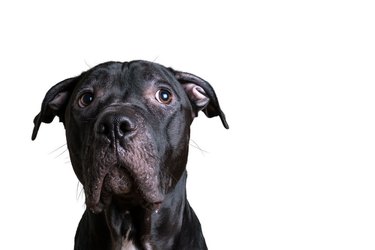 Chomp

Colossus

Crowe

Darth

Dash

Donnie (Darko)
Gadget

Goliath
Guinness: a tall dark drink of a dog
Guinness is the name of a dark stout beer. It's got advantages even if you don't drink beer (or drink stouts) because it's recognizable by just about anybody, it is easy to say, and it probably matches the coat color perfectly, especially if there's just a touch ofbrown on your dog.
Gunner

Hercules
Hulk

Ink

Jett

Kane

King

Kingston

Kitt

Kylo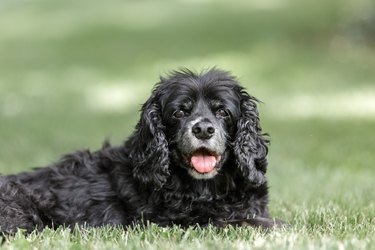 Lego

Major

Manny

Maverick

Mookie

Nash
Nova

Othello
Peter

Pharoah

Pip

Poe
Porter: Classy name perfect for a black dog
So, like Guinness, this one is also named after a dark beer, but it works really well as a classy and sophisticated-sounding name for a black dog.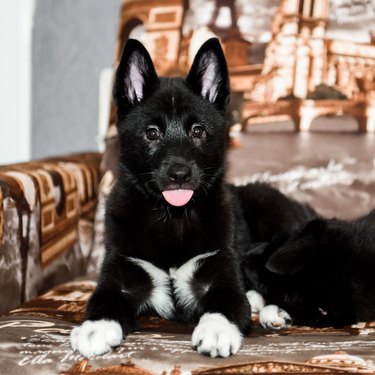 Reeses

Rex

Rich

Rocket

Rolo

Rorschach
Shades
Sharpie
Slim
Soldier

Spike
Stitch

Stout

Tank

Teddy

Thrash

Vadar

Washington

Woody

Zorro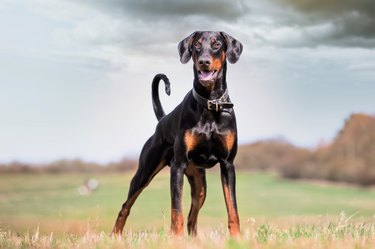 Striking and strong female black dog names
Does your lovely lady have glossy black hair? If you're witchy and you have a female black dog, a good name might be Elvira, or Morticia. A cute name for a black lab female dog could be Shimmer, or Shade. You could go in the ironic direction with a name like Snowdrop. For the new lovely lady in your life, here's a list of stunning female black dog names to get you started on your naming journey.
Artemis: Mythological-inspired name for a black female dog
Artemis is the Greek name for the goddess who is known as Diana in the Roman pantheon. Artemis is the goddess of the hunt, of nature and animals. She is fierce and wise.
Bailey

Batty

Beauty

Belle
Boots

Brooklyn
Crown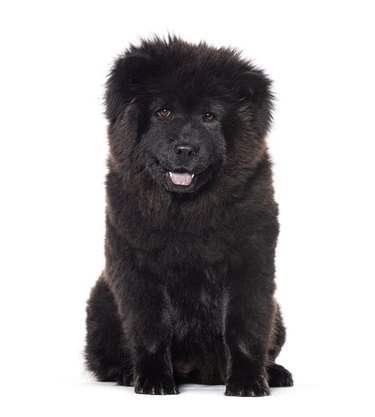 Elvira: a dog name for campy horror fans
Elvira is a character also known as "Mistress of the Night." While that sounds dark and scary, she was actually a campy, funny figure with a high hairdo and a silly personality. She hosted horror movies on TV that were also silly and campy.
Eve
Gigi

Grace

Harley

Hope

Joy
Kuro

Laces

Leila
Lolita
Majesty

Mamba

May

Mia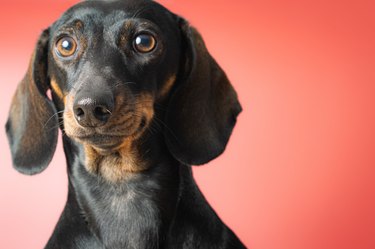 Missy

Ms. Ink

Nimbus

Nisha
Page
Princess
Queen

Queen of Spades

Queen Shadow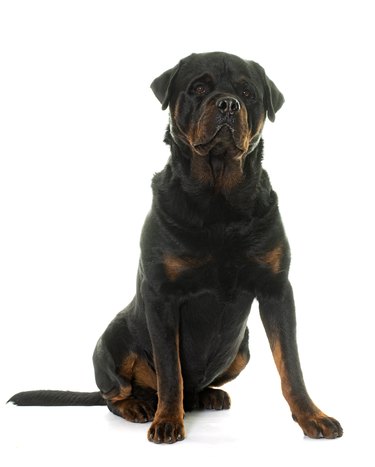 Ripley
Royal

Sable

Sadie

Scout

Shimmer

Silhouette

Slay

Smize

Soot
Tiny

Tootsie

Velvet

Wednesday

Zoey
Nature-inspired black dog names
Nature-inspired black dog names are strong and powerful. They can sound rustic, or comforting, or beautiful in the way of a majestic landscape. Whether calming and serene, or a powerful force to be reckoned with, these black dog names inspired by nature, animals, and the elements can be a great fit for adventurous canines. Any of these nature-inspired names for your black dog could be good.
Amber
Anise
Ash
Bean
Bear
Black Widow
Bran
Bug
Caviar
Char

Chip
Cinder
Coal (or Cole)
Dahlia
Eclipse
Flint
Kodiak
Luna
Marble
Midnight: Nature-inspired black dog name
While it is kind of obvious for a black dog, it's also true that names like this are among the most popular. consider naming a black cat Shadow, for instance. It just works, and makes sense.
Mud
Night

Noir
Onyx
Opal
Oso
Panther
Pearl
Puma
Rain
Raven
Rose
Rocky
Rusty
Shadow
Slate
Smokey
Smudge
Spud
Stallion
Star
Starling
Storm
Food-inspired black dog names
Finally, food inspired by the best things on earth — sweet treats and savory snacks. You already know you love black licorice, so why not make that known (everyone knows black licorice is the best flavor!). OK, maybe Licorice isn't right for you, but what about Oreo? That's a classic name for a dog who that might have a little bit of white on them somewhere. Pepsi? Pudding? there are so many possibilities. One way to think about choose a name is just to think about what you like, and go from there.
Candy
Cherry
Clove
Cocoa
Coconut
Coffee
Cola
Cookie
Cupcake: cute and sweet name for a male or female dog name
Cupcake, Cookie, Muffin, or any of these names are sweet and classic. They really do work for either a male or female dog because they just simply represent things that everyone loves.
Espresso
Falafel
Fudgie
Hershey
Kahlua
Licorice
Meatball
Muffin
Olive
Oreo
Pepper
Pepsi
Plum
Poppy
Pudding
Raisin
Sugar
Sweetie
Syrup
Do you need more inspiration for your new black dog's name?
Pets are like our children. We love them, care for them, and we get to dress them up in adorable outfits — if that's a thing we feel like doing! So it's extra important that we take time to find the perfect name that reflects our new pet's personality and potential. Naming can be hard, which is why we've gathered nine pet-naming techniques to find the perfect fit, as well as assembled a handful of our most beloved lists of pet names!