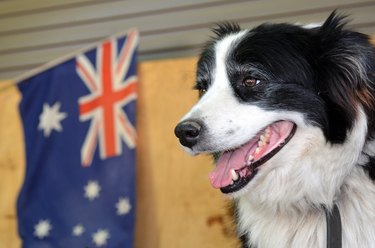 G'day, mates! We've provided hundreds of dog names here at Cuteness from German to British inspired and now it's time to travel down under!
Whether you are the proud parent of an Australian Shepherd or a random mutt you found in an alley, here are 100 Aussie names that are perfectly suited for any precious pup and will have you yelling "crikey!"
Ace

Adelaide

Anzac

Archie

Aussie

Bambam

Barbie (short for Bar-B-Q)

Barramundi

Bikkie

Bindi

Bitzer

Bolt

Bondi

Boomer

Boonie (one of those hats people wear on safari)

Brindabella

Brizzie (for Brisbane)

Brumby

Byron

Canberra

Cate (like Oscar-winner Cate Blanchett)

Chaser

Chiko

Chipper

Choccy

Copper

Coral

Croc

Damper

Dart

Darwin

Dasher

Deffo

Didgeridoo

Digger

Dingo

Dundee

Emu

Flynn

Fraser

Grommet

Grubs

Gunner

Gurge (after The Gurge, every Aussie's favorite band)

Hobart

Hopper

Hugh (like Hugh Jackman)

Hunter

Indy

Irwin

Jack

Jackman

Jaffa

Joey

Kakadu

Kanga

Kango

Lamington

Ledger

Lightning

Lutana

Mate (you can say G'day, Mate and really mean it!)

Mel (short for Melbourne)

Mite

Orchy (an Australian juice brand... this on is reserved for the sweetest pups)

Ozzie

Perth

Pikelet (Aussie slang for 'a small pancake'. Adorable!)

Ranga (for the redheaded beauties of the dog world)

Ranger

Roo

Safarfar (pet name for a dog officially named 'Safari')

Saltie (a saltwater crocodile)

Sheila

Shep

Shred (sick waves, bro)

Skippy

Snag

Snapper

Speedy

Syd (in honor of one amazing city)

Tasmania

Taz

Terror (but pronounce it Tara... cute and badass at the same time)

Tidda (a female bestie...man's bestie that is)

Tim Tams

Toowoomba

Trek

Trucka

Uluru

Vegemite

Victoria

VoVo

Wagga

Wallaby

Watts

Wave

Weet-Bix

Wombat

Zippy

Do you need more inspiration for your new pet's name?
Pets are like our children. We love them, care for them, and we get to dress them up in adorable outfits — if that's a thing we feel like doing! So it's extra important that we take time to find the perfect name that reflects our new pet's personality and potential. Naming can be hard, which is why we've gathered nine pet-naming techniques to find the perfect fit, as well as assembled a handful of our most beloved lists of pet names!