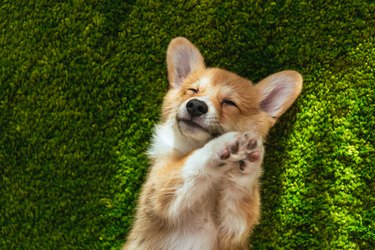 Bringing a furry friend into your home as a new family member is an exciting event. You look forward to picking the perfect name and playing with your adorable new pup. To make sure your first weeks are fun and safe, take the time to go through your home and yard to completely puppy-proof your house. Just as small children will get into everything, your curious puppy will enjoy exploring and testing his boundaries. Be sure to get rid of or secure anything that is poisonous or may otherwise harm your dog and purchase the supplies to set your new pet up for success.
Remove access to toxic materials
The first step in puppy proofing is to go through your home and secure or remove anything that is toxic to your dog. Use childproof latches to secure cabinets. This ensures your puppy can't get into any toxic cleaning supplies like bleach. If your dog will have access to the garage or you keep products like pesticides, insecticides, gas, or antifreeze in a cabinet in the home, make sure these are secure as well.
Many houseplants are also toxic to pets. Some examples of poisonous plants include lilies, snake plants, areca palms, and weeping figs. If you aren't sure if a plant is safe, check the list of toxic plants published by the ASPCA. Either get rid of these toxic plants or move them to high shelves that are out of your dog's reach.
Don't forget to store your personal medications and supplements in a cabinet or on a high shelf. Make sure your food is secured in your kitchen as well. Although most people food isn't toxic to dogs, even if it isn't the healthiest option, some toxic foods that you may have on your shelves include chocolate, raisins, and sugarless gum.
Create a safe environment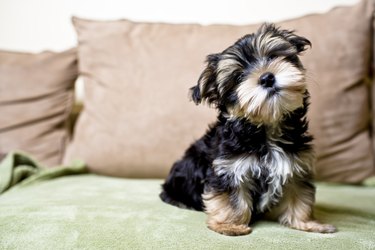 Next, remove anything that is unsafe for your new puppy to chew on. This includes batteries and sharp objects such as razors. Electrical cords are also very dangerous. Keep electronics unplugged and cords out of reach when possible. For things you use frequently, use a cord concealer to keep your dog away. Clean up small objects like paper clips, rubber bands, and spare change. These items may seem harmless, but they can actually be a strangulation hazard.
Make sure your trash cans have a secure lid. The smelly trash is quite attractive to dogs but may contain things that are harmful. Make it a house rule to keep the toilet lid down or the bathroom door closed. Puppies may fall in and hurt themselves or even drown trying to get a drink. If you also have a cat in the home, make sure her litter box is in a location where she can access it easily but your new pup cannot.
The next step for a new pet parent is to clean up the yard to create a dog-friendly space where your puppy can play and go potty safely. Review the list of toxic plants and make sure that any harmful plants in your yard are removed or fenced off so your dog can't get into them.
Make sure the fence is tall enough that your dog can't jump out and that there are no holes he can squeeze through and escape. If you have a pool, fence it if possible or supervise your puppy to make sure he doesn't fall in. Avoid using chemicals such as insecticides and fertilizers that are unsafe for dogs.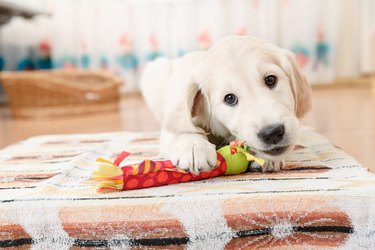 Before you bring your puppy home, make a puppy checklist of supplies you need and purchase the necessary items. You will need puppy food, food and water dishes, a collar and leash, a crate, and bedding for your new pup. Puppies are chewers, especially while they are teething. Make sure to pick up plenty of safe chew toys. This will also help prevent your pup from resorting to chewing on your shoes or furniture.
Consider getting baby gates to contain your puppy to certain rooms. This can help you supervise him, especially during potty training.