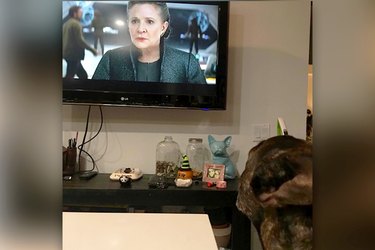 In fact, according to Youtube, it's been viewed more than 20,000,000+ times in around 36 hours, which is an incredible figure in this or any other galaxy.
And while most fans were excited to get closer looks at Rey, Kylo, and the adorable, penguin-like porgs (a new addition to the franchise), the premiere had a deeper and more personal significance for one four-legged viewer.
Gary Fisher, he of the verified Instagram account and 151,000+ followers, took to the photo-sharing platform to share his reaction after seeing footage of his former human mom, actress and author Carrie Fisher, who, of course, rocketed to fame playing Princess Leia in the original trilogy before passing away from cardiac arrest late in 2016.
(Befitting of her status as a foundational, OG character in the Star Wars universe, she had since stepped into a larger role as General Leia Organa, one of the leaders of the Rebel Alliance.)
"Just watched the new trailer of The Last Jedi and my mom looks more beautiful than ever. #garymisseshismom #garyloveshismom #garyloveshisfans #garyfisher #thelastjedi #starwars", the pup captioned his tearjerking picture. (* REACHES FOR KLEENEX *)
From the red carpet to the studio backlot, the brindle-coated therapy canine was a fixture at Fisher's side — and he became something of an internet sensation during her interviews with the media and at conventions.
In an interview with The Herald Tribune in 2015, Carrie revealed that the pug-mix played an important role in keeping her even-keeled during bouts of depression: "Gary is very devoted to me and that calms me down. He's anxious when he's away from me."
Though Gary was initially adopted by Fisher's daughter, Billie, in the wake of Carrie's passing, he is said to be living these days with Corby McCoin, Carrie's longtime personal assistant, whereby all appearances, he seems to be enjoying lots of love and belly rubs.
In keeping with Star Wars canon, here's hoping that Fisher's Force ghost slips Gary the occasional treat from time to time.
Did you watch the new trailer for The Last Jedi? Share your thoughts in the comments below!