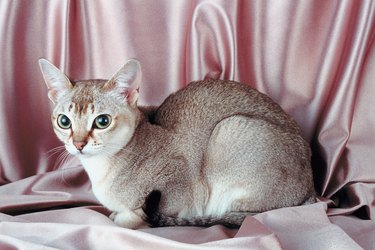 Singapura cats may be the smallest cat breed, but they are full of energy and personality. Originating from Singapore in Malaysia, these extroverted cats are perfect for a family with children and other pets. The Singapura cat was brought to the United States from southeast Asia in the 1970s. Singapura cats were accepted into the International Cat Association in 1979 and into the Cat Fanciers' Association for registration in 1982. Consider whether their personality and temperament are right for your family and lifestyle.
Singapura cat breed appearance
Singapura cats are quite small, with females weighing just 4 to 6 pounds. Male Singapura cat size is 6 to 8 pounds. Their small size doesn't mean they are fragile, however, as the breed has a compact and muscular build.
Their coat comes in a single color: sable with a ticked tabby pattern. The sable may be different shades and is similar to that of a cougar. There aren't long-haired Singapura cats in the breed; they have a short coat. Singapura cats have large ears and eyes. As adults, the eyes may be hazel, yellow, or green in color. A kitten's eye color does not predict her eye color as an adult.
It takes longer for a Singapura kitten to reach maturity than some other breeds. They grow into their full size when they are 15 to 24 months old.
Singapura temperament and personality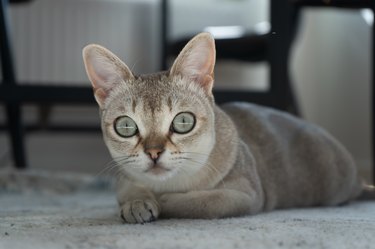 While breed is not a reliable indicator of temperament, there are some common characteristics you will find in most Singapura cats. They tend to be outgoing and curious. They enjoy a lot of attention and don't do well without the company of people, dogs, and other cats.
The breed is very intelligent and likes to explore, so expect these cats to get into drawers and on top of cabinets. Many Singapura cats are quite vocal in their communication. Singapura cats can't be described as couch potatoes, but that doesn't mean they won't stay close and even cuddle in your lap while you are watching TV or reading.
Care for Singapura cat breeds
How long do Singapura cats live? The breed's life expectancy is 11 to 18 years. There are some genetic conditions known to occur in the breed, so make sure the breeder is testing for these before you commit to purchasing a kitten. Some of these conditions include pyruvate kinase deficiency, which may cause anemia and progressive renal atrophy.
Feed your Singapura cat a diet that is high in protein and fat and make sure she always has fresh water available. Most cats will do well on a high-quality commercial dry or wet cat food. If your cat isn't drinking enough water, try moving the water dish several feet away from her food or introduce a drinking fountain that may help entice her to drink.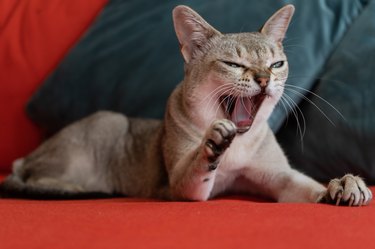 With their short coat, Singapura cats only need weekly brushing, although most cats will enjoy more frequent grooming. Check and trim their nails every three to four weeks. Make sure to provide suitable scratching posts for your cat. These high-energy cats are playful and enjoy playing with toys. Take care when playing with these cats, as they may be possessive of toys and may mistake your hand for a toy in the heat of the moment.