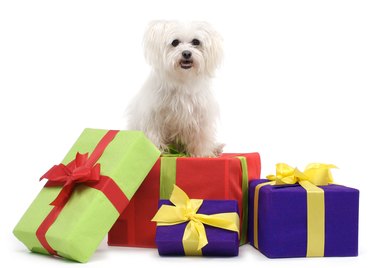 If you're looking for a great gift for the adorable dog in your life, then you no doubt have a long list of adorable and fun options to choose from. But one thing that we should also consider when buying presents for our pets is what it can do for their minds.
Some of the best toys for dogs are the ones that challenge your pups brain. Why? Because our dogs need mental stimulation, and when they don't get it, they tend to misbehave. Dogs who chew on your personal items like furniture or shoes are often acting out because they're bored.
Puzzle toys help occupy their brains while you're away, and they also tire dogs out. Here's a list of possible puzzle toys to get your favorite pooch to challenge their brain.
1. Kong Classic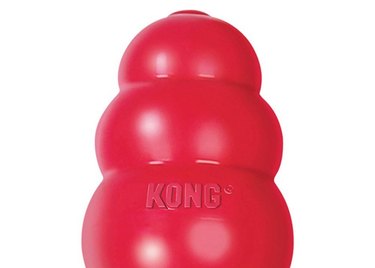 The first puzzle toy any dog owner should learn to love is the classic Kong toy. This durable toy can hold treats, peanut butter, or other delicious snacks to tempt your pup, and because of the Kong's shape, your dog will have to work hard to get at the goodies. Kongs are a great treat to help calm your dog during crate training or to give them right before you leave for the day. Find a Kong on Amazon starting at $3.69.
2. Chipmunks Hide-and-Seek
Your dog will have a blast trying to pull these adorable chipmunks out of their plush log. Each squirrel gives a squeak, which will give your dog extra stimulation. Find it on Amazon for $13.60.
3. Bob-A-Lot Treat Dispensing Toy
Fill this toy with treats and watch as your dog bobs the toy around trying to free them. The round bottom is constructed to keep the toy upright, so treats only fall out when your dog "bobs" it with its paw. Find it on Amazon starting at $11.40.
4. Buster Activity Mat
This fun mat is easy to wrap up and take anywhere. It features three different games that will keep your dog busy in any setting. Find it on Amazon for $42.98.
5. IQ Treat Ball
As your dog chews this brightly-colored ball filled with treats, she also gets a good teeth cleaning. Plus, the ball is very sturdy, even for tough chewers. Find it on Amazon for $9.99.
6. Interactive Puzzle Toy by Nina Ottosson
This puzzle game satisfies your dogs love of chasing treats with their love of digging. They'll have to bite and dig at the white bone-shaped covers to get at the treats beneath. Find this diverting puzzle pod on Amazon for $23.99.
7. Babble Ball
This fun ball will keep your pup occupied with its incessant babbling. The ball makes 20 funny declarations and sounds when it is touched to keep your pup engaged. Find it on Amazon in various sizes starting at $6.28.
8. Rock 'N Bowl Puzzle Feeder
There are a number of great food-serving options for pups that eat too fast, but this kibble holder is a winner. This bowl holds kibble and lets them tilt out a few kibbles at a time, forcing them to think while they eat. Find it on Amazon for $24.95.
9. Trixie Pet Poker Board
Does your dog like to gamble? Well, he or she might like to start with this fun board. The squares offer different ways for your pup to get at its treats, so there's plenty to figure out. Find it on Amazon for $13.59.
10. Busy Buddy Magic Mushroom
This toy's cuteness is matched only by its ability to keep your dog playing. The mushroom shape actually adds to the challenge, because your dog has to roll it around to get its treats out. Find it on Amazon for $14.95.
11. Pupper Pamper Flipping Treat Puzzle
This game will keep your dog playing to flip the treat dispenser over, and they will love it. Plus, it's very adorable to watch your dog play with it. Find it on Amazon for $28.99.