If you're looking to give your dog something fun to do, consider getting them a snuffle toy. These interactive puzzles are essentially smaller versions of snuffle mats, which tap into your dog's natural foraging instinct. They can help slow down your dog's eating at mealtimes or provide some much-needed enrichment on days when there's inclement weather. Dog owners can stuff the toys with treats or food, and then allow their dogs to sniff out the goodies hidden inside.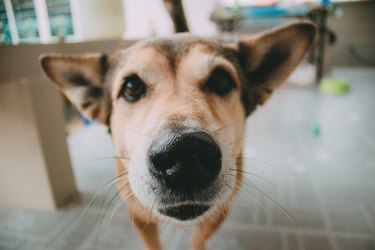 What to consider when purchasing a snuffle toy for your dog
‌Introductions:‌ Most dogs take to snuffle toys very quickly—after all, they smell like treats! To start, stuff the toy with treats or kibble in front of your dog so they know what to expect. Make it easy for your dog to retrieve the treats to prevent them from getting frustrated. Some snuffle toys are meant for beginners, while others are more advanced, so be sure to read the product reviews to understand what level the puzzle is intended for.
‌Size:‌ When selecting a soft snuffle toy for your dog, make sure that it is appropriately sized. Some snuffle toys are appropriate for all ages and breed sizes, while others are smaller and best suited for puppies and small adult dogs. A snuffle toy that is too small could be a choking hazard or it could be too difficult for your dog to retrieve the food from.
‌Supervision:‌ It's important to supervise your dog while they are using the snuffle toy, whether they're exploring, playing, or eating. Make sure that your dog is eating the treats and kibble that are dispensed from the toy, and not the toy itself. The soft snuffle toys on this list aren't made for heavy chewers. If your pup chews off small pieces of the snuffle ball they could become choking hazards, so it's best to remove the fragments or discard the toy altogether.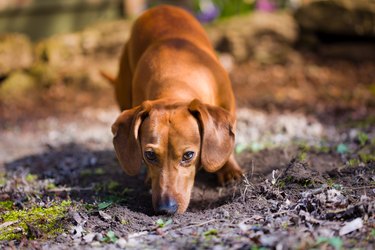 1. Spanomic Snail Snuffle Toy
This snail-shaped stuffed snuffle toy is designed to encourage small dogs to play and explore with their noses. The roll-up toy has two built-in squeakers and is durable enough for dogs to toss around as they access the treats. There are multiple slits for hiding treats or kibble all in one row. Once you've added them, you can roll up the snail and secure it with the hook and loop fastener. The snuffle toy has a nylon interior for durability and a soft fleece exterior to protect your dog's teeth and gums. It's ideal for dogs who are just getting used to snuffle toys as it has engaging sounds and multiple textures.
2. CUUOOT Potato Chips Snuffle Dog Toy
If your dog enjoys hide-and-seek toys, they'll love this treat puzzle even more. The chips have pockets where you can stuff treats or kibble, and they all fit inside an adorable potato chip bag with a see-through window. Give the toy to your dog and let them explore, forage, and find those hidden treats! The snuffle toy is made from a high-quality plush fabric that can be cleaned in the washing machine. The set includes a plush potato chip bag, and five plush potato chips in different shapes for your dog to play with.
3. Joyhound Classroom Snuffle Puzzle Sandwich Burrow & Play Mat Dog Toy
Now here's a unique take on the classic snuffle mat. This sandwich-inspired dog toy features six 'ingredients' like lettuce, tomato, and cucumber with pockets that you can tuck treats into. The snuffle puzzle is linear, too, so it doubles as a tug-of-war toy. It has a non-skid backing to make it easier for your pup to sniff and snack. The dog toy is made of 100% polyester and is suitable for all ages and breed sizes.
4. Ablechien Snuffle Ball
This snuffle ball features a variety of pockets and folds that treats or food can be hidden inside of. It's available in two sizes, medium (6 inches in diameter) or large (8 inches in diameter), and is made of nontoxic polar fleece that's soft and durable. Best of all, it's machine-washable and dryer-safe. The toy encourages dogs to use their senses to explore, play, and forage for their food as they roll the snuffle ball around the house revealing hidden treats.
5. FOSSA Dog Snuffle Toy With 8 Carrots
Taking the idea of foraging to the next level, this carrot garden requires your dog to use their senses to reveal yummy treats. The multi-dimensional search game is more advanced than other entries in this list as the dog has to remove each carrot to enjoy a treat. You can make the game even more engaging by stuffing extra treats inside the carrots. This toy is best for dogs that have longer noses, as flat-faced dogs may struggle to access the hidden treats in the cylindrical compartments.
6. iKiKin Duck Snuffle Toy
Introduce your small dog to treat-filled toys with this family of stuffed ducks. The mother duck has treat pockets on her wings and a built-in squeaker to get your dog's attention. The plush baby ducks, which can ride on their mother's back, have treat pockets and squeakers of their own. This interactive toy encourages dogs to sniff and explore, pulling the small ducks off the larger duck to reveal the hidden treats. The set is made from high-quality, nontoxic fleece fabric and is machine-washable.
7. ChoChoCho Ramen Noodle Cup Snuffle Toy
Stimulate your dog's brain and foraging instincts with this plush snuffle toy. Shaped like a cup of ramen, the toy has long, attached plush noodles where kibble and treats can be hidden for your dog to discover. There are also multicolored 'vegetable bits' where you can hide additional treats or kibble. Your pup will have a blast pulling the noodles out of the cup to reveal the hidden treasures. Because it's on the smaller side, this toy is best suited for small and medium-sized dogs.
8. Ablechien Snuffle Snake Toy
Medium- and large-sized dogs can have their own fun with this 26-inch-long snuffle snake. It features 210 pieces of 280g polar fleece to challenge your dog's foraging abilities. Hide treats or kibble in the crevices and then let your dog begin to search. This rainbow-hued snake is made with colors most visible to dogs to provide an added visual sensory experience. The plush toy can be tugged, tossed, and played with while your dog forages to reveal the hidden food. It's nontoxic and made with durable polar fleece for longevity. Plus, if it gets dirty, it can be thrown in the washing machine for easy cleaning.
9. GOOLA Treat-Dispensing Plush Dog Toy
This plush toy has a rubber center with teeth-cleaning spikes and an irresistible beef flavor. The plush sections of the mouse have built-in squeakers and crinkle paper to encourage dogs to interact with it. The rubber section in the middle can be filled with your dog's favorite kibble or treats. This durable snuffle toy is made with nontoxic, natural cotton and rubber, which are soft and elastic for your dog to gnaw on.
10. Larimuer Pet Snuffle Ball Toy
While rolling treats or kibble into each strip of polar fleece is a time-consuming process, this snuffle ball can keep your dog entertained for an hour or more. The inner ball is made of rubber and features hexagon cutouts that the fleece strips tuck into. It measures 7.87 inches in diameter and comes in two different color options, complete with multicolor fleece strips. Once your dog has finished retrieving all the treats, they'll enjoy tossing the toy around the house.