Do cats need baths? It may sound like a stupid question. Cats spend up to 50 percent of their waking time grooming themselves, so would they ever really need a bath?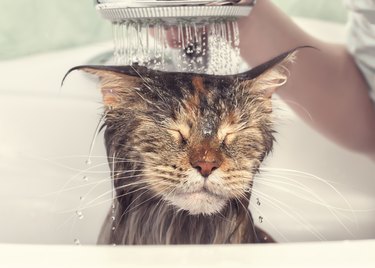 Most shorthaired cats don't need regular baths
The good news is this: under most circumstances, most shorthaired cats do not require regular baths. Because of their advanced grooming skills, domestic cats (at least, the shorthaired variety) don't generally require baths with any regularity.
However, special circumstances may arise that necessitate bathing your cat. For instance, your cat may have soiled themselves while using the litter box, or they may need a flea bath. Generally, a cat will only ever need a bath if it solves a problem (like being really dirty, or having fleas).
What about longhaired cats?
Additionally, certain types of cats may need regular or semi-regular baths. For example, longhaired cats may not be able to groom themselves as much as is needed to keep their coats clean. These cats may require more frequent bathing than their shorthaired counterparts. Certain health issues can also contribute to a greasier or matted coat, which can mean more regular bathing is needed.
If you do have to bathe your cat, don't worry, we're here to help. These tutorials on bathing both cats and kittens will guide you through the process quickly and (relatively) painlessly. Also, scroll through this checklist of safe soaps to use on cats and this DIY recipe for homemade cat shampoo.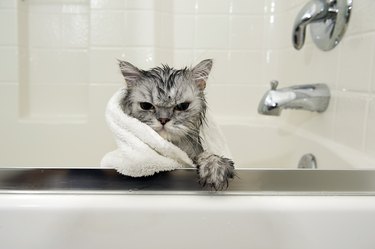 Be aware that excessive bathing is not only stressful for cats, it can also cause their skin to become dry, flaky and itchy. So don't give your cat a bath unless you're sure it's necessary.
If you're not sure how often your cat needs to be bathed, it's always a good idea to check with your veterinarian. They'll help you determine your cat's bathing needs based on coat type, health issues, and any other considerations you may have.
Under normal circumstances, most shorthaired cats don't need regular baths. They'll only need one if they become particularly dirty (for example, soiling themselves in their litter box), or if they need a flea bath. Longhaired cats may need baths more often, whose coats are prone to matting and grease, may need baths more often. Check with your vet if you're not sure how often to bathe your cat.