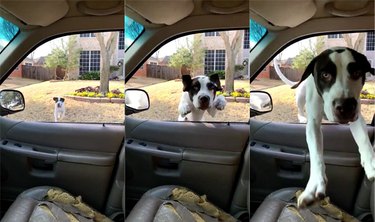 It used to be that vertical videos posted to the web were received with a measure of disdain and scorn.
While that stigma has largely faded (thanks Snapchat!), a new clip of an English pointer springing enthusiastically through an open car window — on command and at breakneck speed, no less — is here to bury the notion forever.
BEHOLD:
GIFs of the doggo flashing his mad hops — don't fret, the automobile was idling! — first surfaced last week on Twitter, where they rode a wave of retweets straight to the top of the microblogging platform's coveted trending tab.
"I thought it'd be cool to show off my dogs [sic] athleticism, until I realized he had no self control," wrote Roman Mitchell, of his brown-and-white pup, Oliver. (Hover over to play.)
Naturally, it didn't take long for keyboard comedians to bend the hilarious episode around an assortment of reaction memes and recurring joke formats.
"When your girl send that 'my parents just left' text", quipped one man.
"Boyfriend: lets go get food. Me:", added a woman.
"This is what I want to see right before I die", shared another.
But if Oliver looked at ease kangarooing into the passenger's seat, that's because he's done it many times before, something Mitchell copped to in a follow-up tweet:
"For those of you wondering, this is why my seat is all tore up 😂  thanks for reminding me! All roasts welcomed lol".
If the Texan man's Instagram, where Oliver is given pride of place, is any indication, he's likely not losing sleep over the tattered interior.
Even when he's static, you see, he's still a blur of excitement.
Never change, Oliver, never change.