"I thought he was the cutest cat," said Jackie, who showed Melvin's photo to her boyfriend, Ellison, who concurred: Melvin was pretty cute.
A few days after Jackie first saw Melvin's sweet face she couldn't get the cat out of her mind, and so she made her way to the center to meet him.
Jackie learned that Melvin had microphthalmia, a condition in which the eyeball is smaller than normal. In Melvin's case, when he arrived at the adoption center, the medical team determined that his vision was either limited or non-existent. He was also likely in pain, and a surgery to remove his eyes would make him feel a lot better.
Jackie and Ellison decided to take some time to imagine life with Melvin before making the decision to adopt him, and it was during that time Melvin had surgery to remove his eyes.
Samantha Bell DiGenova, cat behavior and enrichment lead at the adoption center, brought Melvin to her home after surgery so he could rest and heal in foster care. It took Melvin a few days to get used to Samantha's place, but he's a smart cat and he soon had the lay of the land.
Once Melvin started feeling confident, he began exploring the house using his whiskers and his senses to figure things out. "He'd hear and smell the other cats outside his door and walk toward them. I could see his ears and whiskers working overtime to compensate for the lack of sight," said Samantha.
She featured Melvin on her Instagram page, where he captured the attention of two very special followers: Jackie and Ellison.
After watching Melvin find his stride on Instagram, Jackie reached out to Samantha and set up a time to meet him at her place. Turns out, she'd never given up her plan to adopt him.
"When I saw him again there was the same expressiveness in his face," she says. "The surgery didn't change that much about him, and it didn't change anything for me either. He was as cute as ever."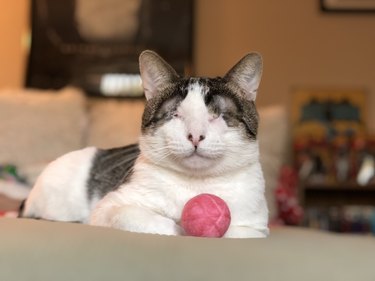 That day, the cat Jackie first saw in a Facebook post and couldn't get out of her mind had found his forever home.
Melvin is very playful these days and enjoys his toys and he even has his own Instagram page now. "When I first saw Melvin and learned about his eyes, I thought he'd be fine. And I was right," says Jackie.