Usually, when you think of firefighters rescuing a pet who got himself stuck somewhere high up, you think about cats. But, as it turns out, the heroes at fire departments are also there for dogs who end up in less-than-ideal situations — like this dog from Wells, Maine, who got himself stuck out on his owner's roof.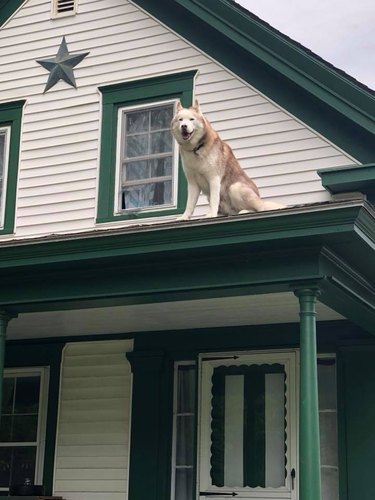 The dog got out through an upstairs window and was spotted sitting out on the roof by a concerned neighbor. The good citizen who saw the pup called the proper authorities immediately and stayed by the house until they arrived, just to make sure the dog was safe. If that doesn't give you hope for the world, nothing will.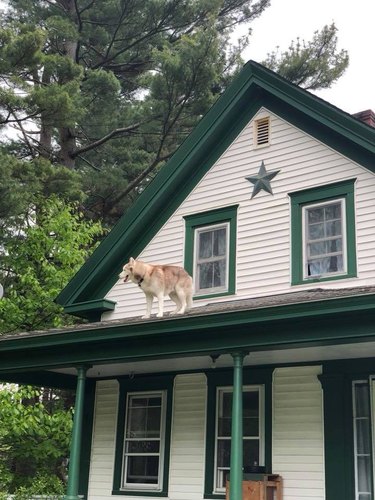 "Even doggies need to be saved sometimes!" the Wells Police wrote on Facebook. "This beautiful dog managed to get out onto the roof of his home thru an upstairs window. We received numerous calls but one concerned citizen, Phil Burke, discovered him early on and notified us. Another awesome citizen stood by with the dog until we could arrive on scene! Officer McDonald, in conjunction with the Wells Fire Department, worked together to rescue him! Thank you to all that called and helped save him."
When the firefighters arrived at the scene, Captain Nawfel climbed to the roof for the rescue mission and was rewarded with kisses of gratitude from his new furry friend.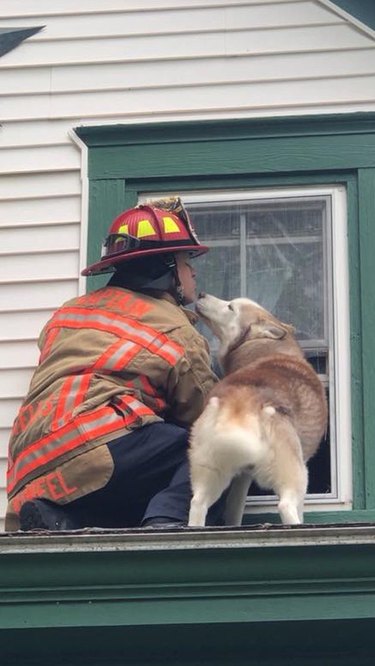 "It's pawsatively love! Is there anything more stunning than an animal expressing gratitude?!" wrote the Wells Police on Facebook.