All dogs shed to some degree, and some shed more than others. Some dog breeds shed seasonally, while others shed all year because of indoor living, which has altered their natural response to temperature change. Dog shedding is a natural process that is necessary to remove excess fur to keep pups cooler in summer and warmer in winter. However, shedding can be a housekeeping nightmare.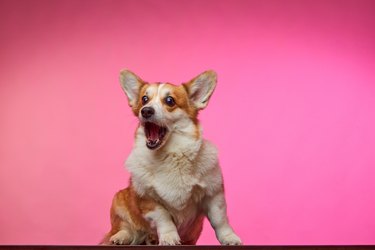 It doesn't have to be so. There's no need to dread the shed because there's a number of cleaning hacks that make it easier to remove dog hair from furniture, car seats, carpets, and more. Stock your shelves with tape, dryer sheets, rubber gloves, and a good-quality vacuum cleaner and learn how to get rid of dog hair throughout your home.
Removing dog hair from furniture
Some fabrics are easier to clean than others, especially with pets in the house. Leather couches can be easily wiped clean because fur rarely sticks to the smooth surface. However, canvas, denim, and even velour requires a bit more effort to get rid of dog hair. Spraying with anti-static spray can help keep fur off surfaces but patch test this first.
For velvet, velour, and microfiber upholstery, run a damp dryer sheet across the surface of the sofa and dog hair should clump, making it easier to vacuum. Similarly, lint rollers or duct tape looped around your hand effectively pulls fur from the fabric's surface, but you'll need a few rolls of tape. Instead, damp rubber kitchen gloves or a lightly moistened sponge (not wet enough to soak the couch) run across upholstery will also help the fur clump.
How to remove dog hair from car upholstery
To remove dog hair from the car, employ many of the same strategies used for the sofa. Clearly, vacuuming is the best idea if you can get the vacuum into this enclosed space. Many gas stations have coin-operated vacuums, but those don't often have attachments that help comb up dog fur.
Instead, a lint roller or sticky tape kept inside the glove compartment will work for quick cleaning and regular cleanups. However, they run out of stickiness. Oddly, a small squeegee with a rubber blade similar to those used in the bathroom can work if your seat is not too contoured. Likely, the best option is to keep a dedicated pet hair cleaning brush in the car designed for specifically this purpose.
How to remove dog hair from carpet
The best way to remove dog hair from carpet is with a heavy-duty vacuum designed for the job. Many major manufacturers are now adding models specially designed for removing pet fur from both carpets and floors, and some even have HEPA filters. Vacuuming in alternating directions helps loosen the most fur from fibers. Remember that static electricity works against fur cleanup, so using a humidifier in the winter to combat dry air helps keep the fur from sticking. Plus, humidified air is good for humans and plants.
Speaking of misting, when cleaning fur from smaller area carpets, try using a spray bottle filled with water to dampen the carpet slightly and then run a broom over the surface to sweep up tufts of fur. Following this with a quick vacuuming is even better, and if odor is a concern, sprinkle baking soda after sweeping and before vacuuming. Leave it for a few hours before vacuuming if possible.
You can also use a robot vacuum cleaner, which is good to use between major cleanings, but watch the dog near it. Some dogs hate robot cleaners as much as regular vacuum cleaners. Disdain for the household vacuum of any size is a common canine trait.