​Disclosure: At Cuteness, we are committed to being the go-to resource for pet owners and animal lovers. We only recommend products we think our audience will love. If you purchase something by clicking on one of these links, we may receive a small commission of the sale and the retailer might receive some data for accounting purposes.​
If you've ever tried training a dog, you've probably heard of the positive reinforcement technique. This method uses a reward system to help a dog associate certain behaviors with something positive: usually, a tasty treat.
But what happens if you're working with a dog who isn't terribly motivated by food?
Luckily, dogs value a variety of things, and training is definitely possible once you've identified what your dog is willing to work for.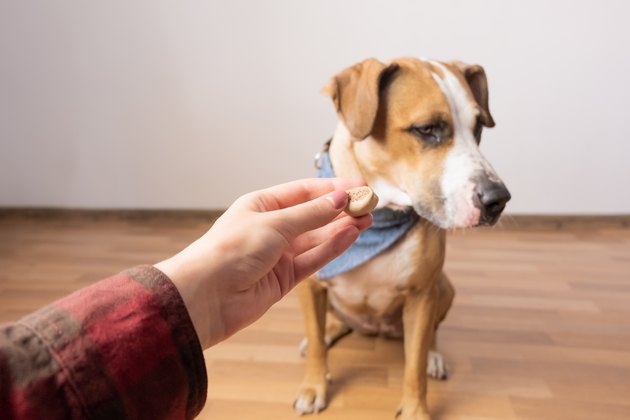 Before you start training your dog, you'll want to remove anything that may distract him from his lesson. This will help your dog focus on you and the task at hand, and will set him up to succeed — which will ultimately make learning fun and more successful! If it's toys or another pet inside the home that's got his eyes wandering, try moving him to a quiet area outdoors. Alternatively, if squirrels and passing cars tend to get him going, take your lesson indoors if possible.
Sometimes, distractions can come in the form of pent-up energy. While some trainers swear by exercising your dog until he is exhausted before you start training him, Dogster warns that doing so may result in a stressed-out dog who won't be able to focus on the task at hand. If your dog seems more interested in running laps than in his training lesson, they suggest warming up alternating exercising, like a few ball tosses, and practicing some commands your dog already knows and does well before you try teaching him anything new.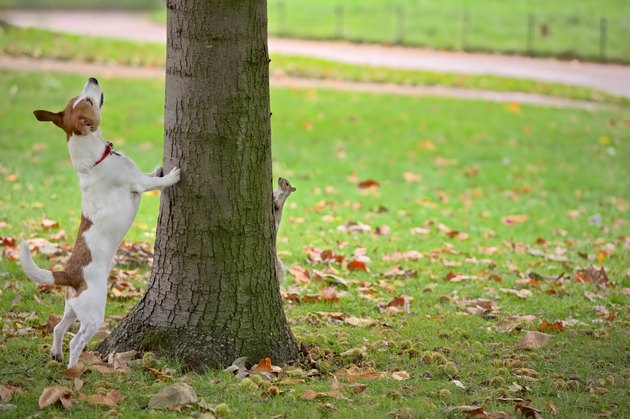 Try high value treats first
If your dog seems unmotivated by food, it could be that she just isn't motivated by the food she's being offered. Spring Forth Dog Academy recommends reaching for soft, chewy treats over hard biscuits, and making sure they're small in size, which will make them all the more valuable. Sometimes, refusing to learn a particular lesson is non-negotiable, especially if you're working on recall commands or other lessons needed to ensure your dog's safety.
If prepackaged treats intended for training just aren't working for your dog, you can also look to other high-value snacks you know your dog won't be able to say no to, like small pieces of chicken breast meat, or other smelly, tasty items. Try chopped pieces of banana, dehydrated fish or diced, cooked sweet potato.
Spring Forth Dog Academy goes on to mention that, while your dog may not be motivated by a treat at the moment, all dogs are, indeed, motivated by food in some way, if not simply as a means for survival. In the case of some dogs, not working for food may be attributed to the simple fact that they just aren't hungry. If your dog is a food grazer and has access to kibble 24/7, you may want to consider putting them on a feeding schedule. This change will help you to understand when your dog is hungry, which presents a prime opportunity to get some lesson work in.
Some dogs who aren't particularly motivated by food may not place treats high up on their "things I value" scale. In this case, you'll want to consider what high-value items do make your dog's list. Sometimes, the simple act of receiving praise or physical touch is more than enough of a reward for a dog. As I Heart Dogs originally reported, sometimes, the most positive reward of all to a dog can be an approving touch or verbal reassurance from the person they aim to please the most. If your dog seeks affection regularly and isn't responding to the food you're offering her, you can try rewarding her with her favorite form of love once she's done what you ask of her, be that a rub on the belly, or an enthusiastic "good girl!" and a pat on the head.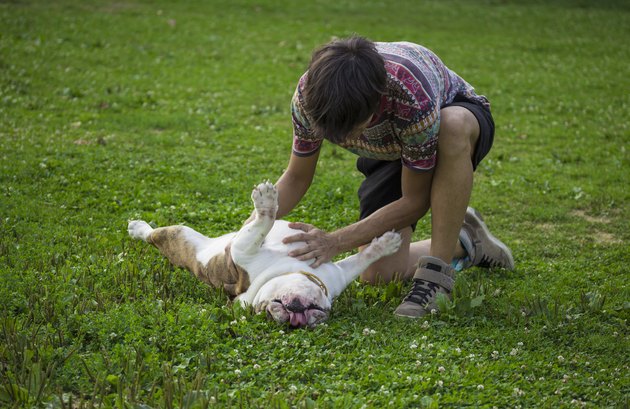 Finally, playtime is an often overlooked yet highly effective training method for many dogs, especially if yours has a seemingly endless amount of energy. If your dog seems focused on you yet anxious to get to the good part of spending time together (read: playtime,) you can try rewarding her with a fun dog toy or game in lieu of a snack — just be sure to do so as soon as she holds up her end of the bargain, just as you would a training treat, to help her associate the two.
The most rewarding toys stimulate your dog's prey drive, allowing them to chase, chew, and wrestle a dog-safe object. ASOCEA Dog Extendable Teaser Wand rewards your dog with chasing a tethered "tail." The non-slip, durable handle gives you a firm grasp on the wand and nylon tail stands up to even heavy biters.