There's nothing more fun than seeing your dog play with their favorite toy. The perfect toy satisfies dogs in a few ways — a toy they love to play with keeps them occupied and happy. It can stave off boredom when you can't play with them. Depending on the toy, it can reward a dog with food or a treat, which satisfies their desire to work for something and feel like they're catching prey. A toy can also be used for rewards or for training purposes, particularly if you're trying to stop them from chewing on things they're not supposed to chew on.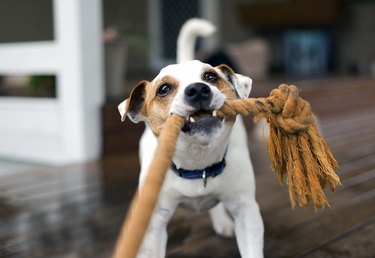 With all the important things that a toy can do, finding the right one is a big deal. Toys for a small dog need to be something special. They need to be small enough to fit into their mouth, small enough to carry around, interesting enough to make them want to keep playing with them, and not contain anything dangerous. Here are 12 toys that are perfect for your small dog.
1. Classic Kong
The Kong is a long-time favorite toy for dogs of all sizes because it's sturdy and made of natural rubber. No matter what size your dog is you're sure to find one that fits because the Kong comes in sizes from extra small to extra extra large. One thing that's great about these is that they are hollow on the inside, so you can put a dollop of peanut butter in there or stuff a treat inside and your dog will have to work at it for a little while to get the treat out. This keeps them interested and gives them a reward once they figure out how to reach the treat.
2. Kong Wubba Comet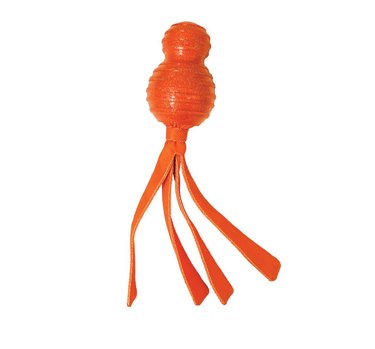 Kong makes a variety of toys in different shapes, textures, and coverings. This one has a squeaker in the round top part and floppy rubber tails on the other end.
3. Chuckit! Mini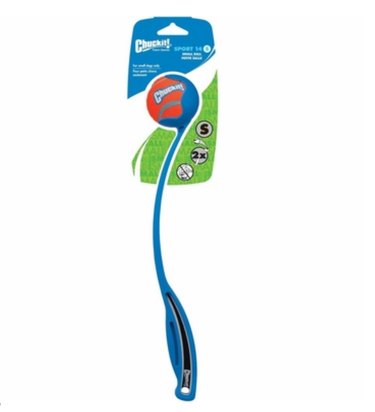 Everyone's seen the tennis ball chuckers for dogs that love to play fetch. What you might not have known is that these also come in sizes suitable for small dogs. The Chuckit! Mini ball launcher is compatible with Chuckit! miniballs that are a scaled-down version of the full-size tennis balls. The great thing about these launchers is that you don't have to touch the balls when they become slobbery (and they do become slobbery!) The Chuckit! mini balls are 2 inches in diameter.
4. Junior Hedgehog
The only thing cuter than a hedgehog is a small dog who loves chewing on their hedgehog! This hedgehog toy is plush on the outside, making it fun to snuggle with and has a noisemaker inside. The fill on the inside is made of post-consumer recycled plastic bottles. The shape of the hedgehog is not just for fun . . . it is an easy shape for most dogs to fit in their mouth and carry around. you can choose from hedgehogs that rattle, squeak, or grunt, based on what you think your dog might like the most.
5. The Busy Buddy Chuckle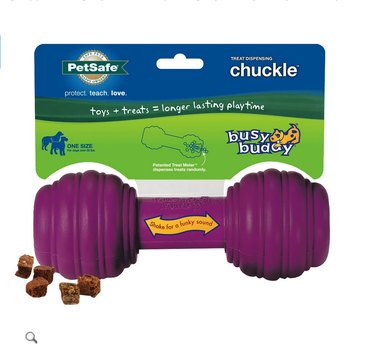 This is a toy with a tough rubber shell which makes it durable for even the strongest chewers. You can fill each round end with treats or kibble, and the "treat meter" dispenses treats at random times, so your dog can't predict it. When the treats come out, they are released with a "chuckling" sound that your dog will love! It also makes funny sounds when it is shaken or rolled around.
6. Zippy Paws Skinny Peltz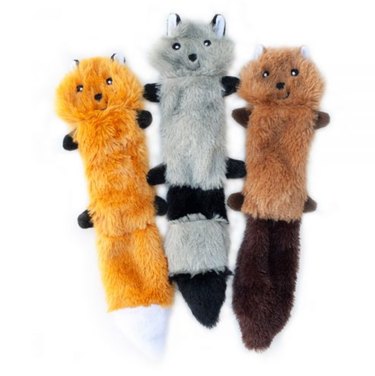 These are plush toys that dogs will love to play with and snuggle with, but they contain no stuffing that could be a hazard if they chew on them too much. These come in a pack of three that are sized for small dogs. Each pack comes with a Fox, Raccoon, and Squirrel and each toy includes two small round squeakers.
7. Go Dog Chew Guard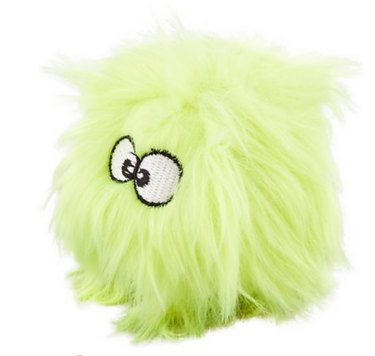 This company makes chew toys that are soft yet sturdy and can hold up to hours of chewing thanks to the strong liner that's sewn inside each toy. It has a squeaker inside and its plush covering is so easy to wash you can just throw it in the washing machine.
8. Musical Birthday Cake
Lots of toys squeak but not many play Happy Birthday! Even though your dog's birthday happens only once a year, they (and you!) can enjoy the special fun every day with this cake and candles toy. This plush covered toy plays the "Happy Birthday" song every time it's squeezed.
9. Zippy Paws Squeaky Hide & Seek Toy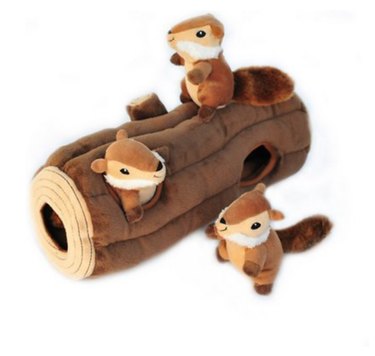 The cool thing about this toy is that there are holes your dog can burrow their nose into. It comes with small squeaky chipmunks that you can stuff into the holes for your dog to find, or play with the chipmunks on their own. The toy is 14 inches long x 5.5 inches wide x 5.5 inches high, which means it's suitable for small and larger dogs as well, but the instructions say it's not a good choice for dogs that like to chew a lot. It is also machine washable. The puzzle part of this toy means that it takes a while to get the chipmunks out of the log and gives dogs a few options for how they play with it.
10. Frisco Textured Plush Squeaking Bear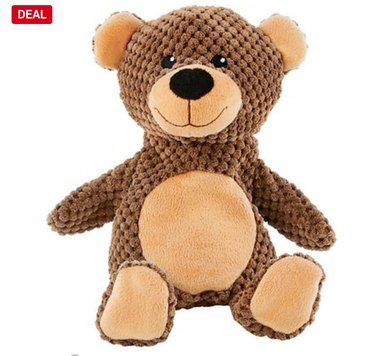 Some dogs really love to snuggle with plush toys and the fact that this toy is textured makes it more interesting. This bear contains a squeaker and while it's stuffed it does have less stuffing, making it safer for dogs who like to chew.
11. Outward Hound Invincibles Snakes Squeak Dog Toy
This snake squeak toy has super-tough fabric on the outside to make it durable for chewers, with no stuffing inside to make is safe. The squeaker continues to squeak even if it's punctured, so they can play with it a long time.
12. Ethical Pet Plush Soccer Ball Dog Toy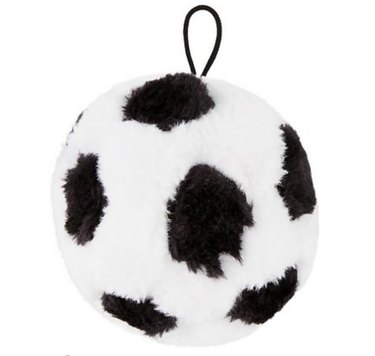 The plush covering on this small ball is fun to carry around, and since it's soft, it's perfect for indoor fetch and tossing play.