As pet owners can agree, unless your pet is of the fur-less variety such as a bird, fish or reptile, pet hair has a habit of getting everywhere. Whether you have carpet or hardwood floors, having a vacuum that can handle the hair is essential. We all love our pets, but whatever we can do to minimize the mess makes all the difference in keeping the house clean and habitable for everyone, not just our four legged friends.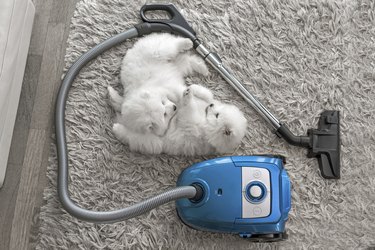 Not all vacuums are the same
Choosing the right vacuum for your needs is important, and not all vacuums suck up pet hair the same. If your pet is particularly hairy or sheds a lot, your conventional upright or handheld vacuum might not be able to keep up with the quantity of fur and hair. Some breeds of dog, for example, have hair rather than fur and will shed less often. Short-haired cats will also leave less hair around your house. But in the case of those long-haired, extra-furry fur babies, make sure to pick a vacuum that is designed to handle the hair.
Choose the best vacuum for the job
Since there seem to be an unending selection of vacuums on the market, choose the one that has the tools, suction, filters and accessibility that works best for your home. There are canister vacuums that tend to be easier to maneuver and empty, uprights that are easy to store and have great suction, or even handhelds that can tackle the tough jobs. While your vacuum should do the heavy lifting, make sure that your pet is groomed regularly to cut down on the amount of fur left around your house. If minimizing shedding doesn't work, your vacuum will come to the rescue!
Best vacuum for every day
When you feel like you're up to your ears in pet hair and fur and you just can't seem to keep up with the vacuuming, a robotic vacuum like the Eufy Boost IQ Robovac might be the vacuum that dreams are made of. This bad boy will do all your vacuuming for you and works well on hardwood, low and medium pile carpets, and will return to its charger when it's done vacuuming.
Best vacuum for hardwood floors
Shark vacuums are making a name for themselves (move over Dyson!) for power and suction, and this Rotator Powered Lift-Away TruePet vacuum is a great option for houses with hardwood floors and an excess of pet hair. This vacuum also comes with a HEPA filter to make sure you really get everything.
Best all around vacuum
Perhaps the number one pet owner pick is the Dyson Animal 2 Vacuum. Dyson vacuums are well known for their powerful suction power and maneuverability, and the Animal 2 can definitely handle even the most extensive fur situations in your home. Not only that, but it works great on both hardwood and carpet.
Best vacuum on a budget
Vacuums specifically designed for pet hair can get pretty pricey. If you can't afford all the bells and whistles, but you still want a quality vacuum that can handle what your pet is bringing, the Hoover T-series Wind Tunnel designed for pet hair is an excellent option. Storage is also a snap with this upright adjustable vacuum and no cord winding necessary.
Best handheld vacuum
The Eureka Easy Clean Handheld Vacuum is as cute as it is functional. Perfect for getting pet hair off of furniture, out of your car, and in hard to reach places when you don't want to deal with cords and canisters. The Eureka handheld is a great cordless handheld option for pet owners that won't break the bank.