​Cuteness may earn compensation through affiliate links in this article.​
Hello and welcome back to Cuteness Picks, a weekly roundup of our favorite pet products from both the internet and points beyond. This week, we turn the spotlight on totally adog-able rain protection, collapsible playsets, and a safe alternative to flimsy bike leashes.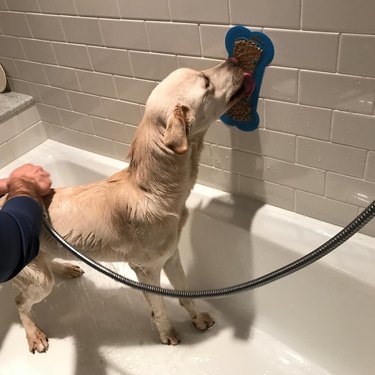 There are times when you need to keep your pup preoccupied, but you still need to keep your hands free. The solution to this conundrum? The Lick Lick Pad.
Billed as "the original dog distraction device," the bone-shaped mat cut from silicone puts an end to bath time battle royales. Smear some peanut butter (or spread of choice) on it, stick it to almost any flat surface (tile, porcelain, granite, glass, etc.) and watch as Spot laps it up, leaving you (or the vet/groomer) otherwise unobstructed. Trim their nails, dry them after a shower — the possibilities are multitude.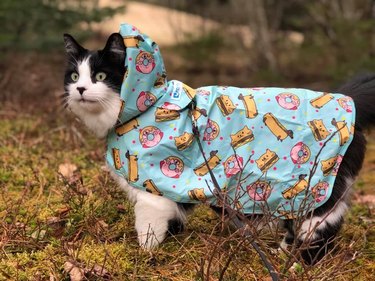 With the arrival of fall, comes the ​RAINY​ ​SZN​. And with that comes the need for an outer layer to lock the elements out. But any old slicker just won't do. No, what is required is something with a little flair.
Enter RC Pet Products' Packable Pet Rain Poncho​.​ With 17 styles to choose from — everything from sorbet-striped zigzags and paneled rubber duckies to more subdued but still stylish solids — and about as many sizes, there's one for every doggo (and kitto!) out there. Even better, the form is paired with function: The water-resistant shell includes an adjustable Velcro waist band, leash access hole, and lightweight hood for additional coverage.
Dirty paw prints tracked everywhere through what was an otherwise gleaming kitchen? That's objectively funny — when it's the 2nd act highlight in a screwball romcom about an opposites-attract-couple overcoming the odds while family members feud at their wedding. But IRL? Heck & no. Put a hard stop to the mess with the Mudbuster Paw Cleaner, whose ingenious, tumbler-shaped design is matched only by its simplicity and portability.
After adding some water, glide your pup's paw into the opening where "soft silicone bristles" await. Twist the chamber and — ​voilà!​ — the peets are clean as a (dog) whistle.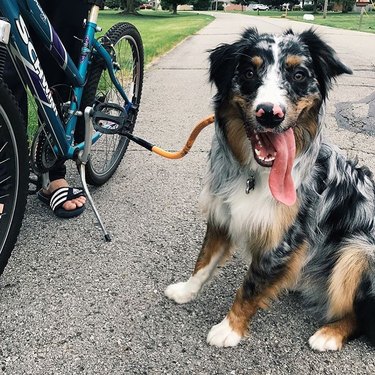 Must love jogs. That was our first thought when we stumbled across the Bike Tow Leash, an alternative to noodle-like leads.
While active pups love to trot alongside humans on bikes, said leashes can get tangled in wheels and pedals, creating a hazard for both rider and runner. The 2.0 solution: A curved bar that clamps to the frame. Designed by a mechanical engineer and service dog trainer, the Bike Tow Leash "gently communicates bike direction and speed changes" and trains four-legged companions to run alongside in the heel position.
Bonus points: It can also be used with wheelchairs and mobility scooters!
Constructed from crinkle paper and shaded in bright, anime-like colors, it's been designed to draw — and keep — your feline's attention. Between its bookending cubes, the tunnel linking the two and assorted peepholes, there are endless opportunities for cats to play, hide, wrestle and stalk. Plus, it'll make your living sitch look good on the 'Gram ... so there's that.
6. I Work On Computers T-Shirt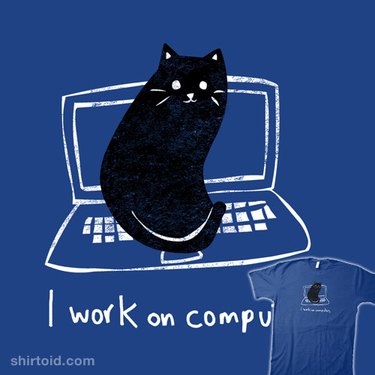 File this next entry under 5-for-them, 1-for-me because this column isn't just for pets — it's for the people that adore them too.
And as any human with both a laptop and cat knows, the struggle is very much real. And relatable. And relatably real.
Anyhoo, if situational humor is your bag, then you have no choice but not to cop this hilarious shirt.
​Got a cool pet product you think we should know about it? Tell us about it on Facebook or bounce it to me via Twitter!​