National parks are our country's national treasures. Our country's Congress established Yellowstone as the first national park in 1872, and the purpose was "preservation of our most magnificent and meaningful places for the purpose of public appreciation and recreation."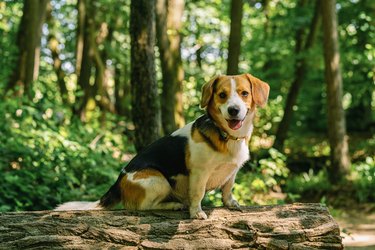 If you're an animal lover, naturally, you want to bring your dog with you while you explore our country's most beautiful areas. However, the sometimes sensitive natural environment in national parks means that they have to be extra careful about our pet visitors.
The National Park Service has been around since 1916 (created by an act signed by President Woodrow Wilson) and is entrusted with the care of our country's national parks. That means the service's 20,000 employees and countless volunteers manage more than 330 million visitors each year. Many of these visitors want to bring their animals with them, however, the sensitive plants and wildlife of the parks means that it may not be a dog-friendly environment.
If you're on a road trip and want to bring your dog to a national park, be aware of the rules before you take him out of the car. The National Park Service does have rules about animals, in particular, dogs and service animals.
Can you bring your dog to a national forest?
While there's no better companion when you're hiking, camping, or otherwise enjoying a beautiful scenic and wild area like a national park, each of the country's 419 national parks has its own rules about where well-behaved pets on leash can go. Many national parks allow dogs on certain trails, in some campgrounds, some lodging, or other public areas provided that they are on leash at all times. Federal regulations require all pets to be restrained on a leash no longer than six feet. One further warning: Animals such as bears may be attracted to pet food, so store pet food out of reach of wildlife.
Yosemite National Park in California allows pets in developed areas, on fully paved roads, sidewalks, and bicycle paths (except when signed as not allowing pets), and in all campgrounds except walk-in campgrounds and in group campsites. And, of course, pet waste must be cleaned up and properly disposed of. Pets are not allowed in Yosemite on trails, on unplowed roads covered in snow, or in buses, nor in lodging, among other areas.
Everglades National Park in Florida has some similar rules. There, pets also must be on leash at all times, and they are allowed in campgrounds and picnic areas, roadways, and private boats. Before you go to any national park, check the rules for the specific park you plan to visit to learn what parts of the park are dog-friendly.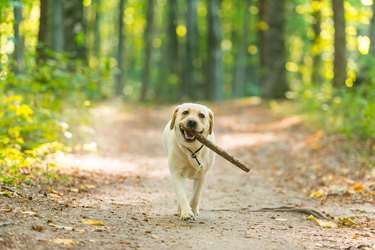 Service dogs
Animals that perform a service to their owner are considered service dogs. In October 2018, the National Park Service updated their policy on service dogs in national parks. The revised policy states that only dogs that are classified as service animals are allowed in national parks. These dogs must perform a service, and can not be simply emotional support or comfort animals.
All dogs are allowed in certain dog-friendly areas which each park should mark with signage. Service dogs are allowed even in places that aren't marked as dog-friendly, but they have to be trained service dogs for this to apply, for example, not comfort animals or simply pets. Each park can have different areas where pets are allowed based on the layout and the features of the park.
Damage to sensitive environments
You may be traveling on a cross-country road trip with your best friend and companion, your dog, with you in the car, and decide to stop in at a national park. However, be aware that your dog should either be left in the car or should only be taken to areas designated as dog friendly. The National Park Service says that pets that are in areas where they should not be are in danger of predation by the wildlife that is protected by the park.
Our pets can also pose a threat to the park's wildlife. The National Park Service publicized a 2018 incident in which two domestic dogs running off leash killed a juvenile North America river otter in Acadia National Park in Maine. Keep your dog on leash and under control at all times, because an unleashed dog, no matter how well-behaved, can disturb nesting areas of ground-nesting birds, for instance. Dogs can "mark" their territory in the park, which can make the area less appealing to the wildlife.
Dogs can pick up and spread invasive plant seeds or other material. The park's visitors may not appreciate an unfamiliar, unleashed dog running up on them, and there's always the possibility of a dog spreading or contracting a disease. To ensure your pet's safety and that of the wildlife, keep your pet in the car or on leash at all times.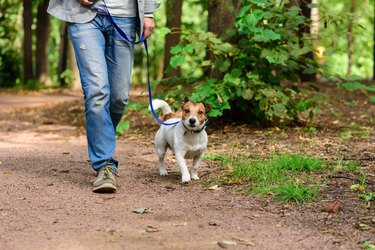 Conclusion
Service dogs (not emotional support dogs) are allowed in all national parks. If your dog is not a service animal, be sure to check each park's rules before your trip, as each national park has different rules about bringing dogs.