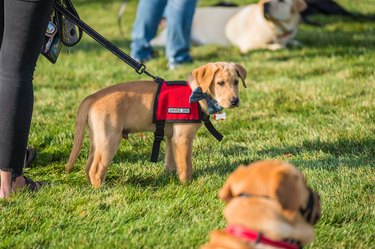 Dogs are amazing animals that can be trained to do a lot, but only really special ones become support animals, specifically service dogs for anxiety. Guide dogs for those with vision loss have been used for decades, but recently, service dogs have expanded their usefulness. Now, service animals provide support for a variety of physical or emotional issues, including anxiety.
Definition of service dog
Service dogs are animals specially trained to assist people with specific conditions, such as visual impairment, hearing impairment, or mobility limitation. Others, such as a service dog for anxiety, assist with conditions that might not be as visible, including mental health issues.
Service dogs who specifically help those with post-traumatic stress disorder have become more visible recently thanks to their association with war veterans. Dogs can even be trained to identify medical issues, such as low blood sugar reactions in diabetics, even before they are about to happen. Some are trained to retrieve medication and bring it to the people they are serving.
A service dog requires special training and certification to be an official service dog in most countries, though the exact legal requirements differ from region to region. Service dogs are rarely family pets who are then trained to perform a task or trick, though sometimes, a pet does qualify for training. Usually, dogs from a variety of breeds are selected as puppies because they exhibit specific character traits that make them candidates for service training.
Service dogs, especially service dogs for anxiety, are sometimes confused with an emotional support animal. In most places, emotional support animals don't always have the same certification and therefore the same legal rights as an official service animal. Most of these dogs are pets who provide necessary comfort to people who suffer from a variety of anxiety disorders that can interfere with daily activities, including being in a social setting. Often, a letter from a doctor is required to identify a dog as either a service or emotional support animal in certain public places, such as airplanes or restaurants.
The benefits of a service animal for anxiety might not be as obvious as the benefits provided by other service animals, such as guide dogs, but their consistent and subtle support can be life changing. For instance, one important role a service dog for anxiety plays might look like the action of any pet dog: providing tactile stimulation to distract from or disrupt a moment of emotional overload. This could be licking a person's face, climbing onto a lap, or putting pressure on a person's chest or stomach to provide stability and grounding.
Training the dog to know when to respond is key. Other complicated tasks that a service dog for anxiety might perform are bringing a person a phone, medication, and even a bottle of water during an attack. Anxiety service dogs come in all sizes and breeds depending on the needs of the person.
Benefits of dogs for anxiety
Even if your pet isn't a trained service animal, being around dogs provides a lot of support and benefits. For instance, having a dog encourages exercise and time outdoors, which can sometimes be a challenge for anxiety sufferers. Pets are great company and can help reduce feelings of isolation. Dogs can even be a source of stress relief and can boost happiness for both adults and children.
From a medical perspective, dogs have been found to lower cortisol levels — one of the body's primary stress hormones — and lower blood pressure and heart rate. Walking dogs or being in public with dogs increases positive interactions with others, which helps reduce the negative effects of social anxiety.