Cuteness may earn compensation through affiliate links in this article.
Hello and welcome back to Cuteness Picks, our weekly roundup of the best pet products from websites both big and smol.
This week, we're training the spotlight on items with a festive touch to help put your pets in a holiday state of mind. Even better, all of them cost less than $25 and make for ideal stocking stuffers!
1. Gingerbread House Cat Scratcher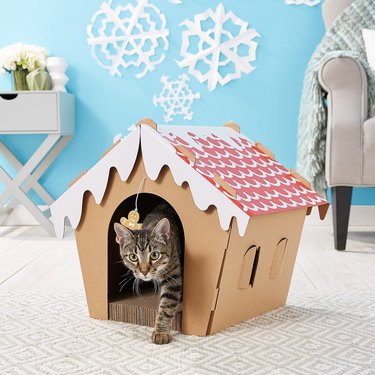 With the holidays come lots of holiday gatherings. If your cats are more "bah, humbug" than party animal, give them an enticing place to retreat to with this adorable cat scratcher formed in the likeness of a gingerbread house, complete with snowy, frosting trim on the facade.
Made with safe, non-toxic and environmentally friendly corrugated material, your cat will be instantly drawn to the scratcher's porous texture—especially after you sprinkle catnip (included) over it. Expect lots of Christmas Eve batting, pouncing, and ambushing to ensue.
2. Holiday LED Antler Headband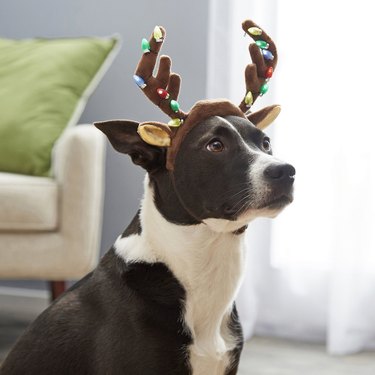 Trip the holiday light fantastic with these plush reindeer antlers that give your pup ia sleigh-pulling Santa makeover.
Dotting the headpiece are a dozen bulb-shaped LED lights that "put the bright in 'Merry and Bright.'" Four settings—Fast Flash, Slow Flash, On, and Heck Yeah Holidaze! (j/k, I made that last one up)—let you determine just how lit things will get. A touch of elastic makes them to take on and off, while gold ears lend an element of seasonal style to match sparkly stuff like wrapping paper and ornaments.
3. Scuba Pickle Aquarium Ornament
Fish haven't gotten any love as yet here in Cuteness Picks, an oversight I'm happy to report comes to an end right freaking now.
Enter this cool-as-a-cucumber aquarium ornament posing as a pickle outfitted with a stocking, scarf, and scuba gear (that's a sentence I never, ever could have imagined myself writing in a million years). It's whimsical holiday decor, yes, but it'll give your fishies something to be merry about this December.
Made with 100% resin and hand painted with colors that won't fade or harm your fish, the scuba pickle is compatible with both saltwater and freshwater tanks and safe to use in any aquarium habitat. Plus, it doubles as a territorial marker, curbing aggression and fish stress by providing shelter and enrichment. Complete the LOLs with matching reindeer and "Merry Fishmas" ornaments.
4. Jingle Bells Dog & Cat Holiday Collar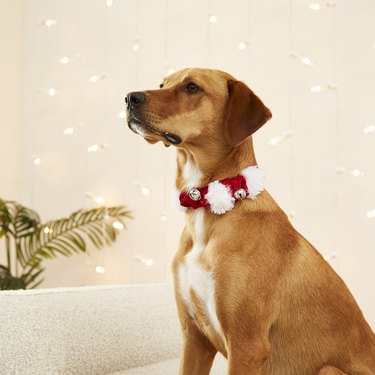 Jingles meet mingles with this collar rendered in classic Christmas colors. Stitched around the red band are white poms and 4 bells so your pup can announce their presence at family events without barking a thing.
Built-in stretch makes it a snap to layer over everyday collars.
5. Greenies Dental Dog Treats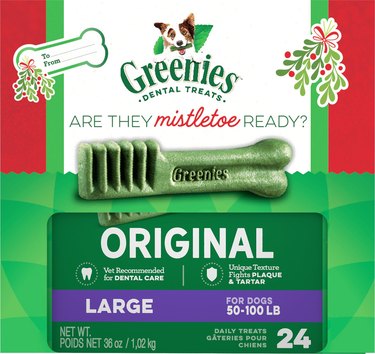 Soon or a later everyone ends up under the mistletoe—even pets. This can be great or it can be awkward as heck, especially if your good boy's breath stinks like rotten egg nog.
Made with all-natural ingredients, Greenies Dental Dog Treats pumps the brakes on said odors and are designed to control and remove harmful plaque and tartar. The gift of clean teeth, friends, is the gift that keeps on giving.
6. "Let's Get Lit" Dog & Cat Bandana
People aren't the only ones getting crunk at Christmas. Put your pooch (or cat) in the spirit (without, you know, giving them actual spirits) with this "Let's Get Lit" bandana.
Three cool fonts—one script, two all caps serifs—and a string of classic Christmas lights embroidered over a festive green fabric sell the pun and make for irresistible Instagrams.
7. Holiday Refillables Naughty Cat Toy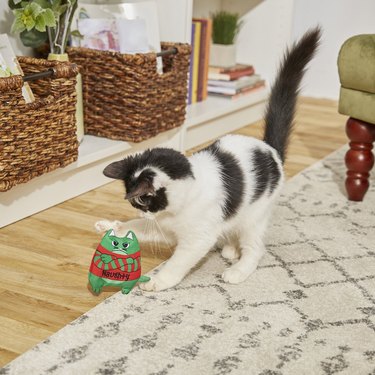 Even grinchy cats on Santa's naughty list deserve gifts. Case in point: This refillable catnip toy from KONG.
Designed with material that crinkles and a pouch that can be stuffed with sweet, intoxicating 'nip, it's guaranteed to be an instant hit—both literally and figuratively—with even the grumpiest of felines.
Also available is its "Nice" analog so you can complete the good-bad seasonal binary.
Looking for more gifts for the pets in your life? Check out last week's Cuteness Picks for more recommendations!