LGBTQ+ Pride month is here! And you might be wanting to share the season's festivities with your dog. Pride festivals and events are lots of fun, an important cultural experience and gathering space for community, but should you bring your dog with you to Pride?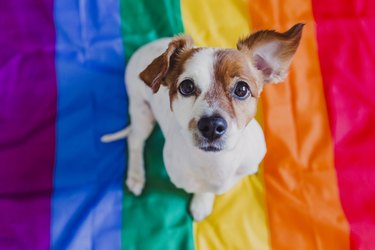 Different Pride festivities, different dogs
Not every Pride event is going to be right for every dog. When deciding if you should bring your dog to Pride, it's going to depend a lot on your individual dog's temperament, and what Pride looks like in your local area.
Look at information about what Pride near you will be like. This research will help you set you and your dog up for success by knowing what Pride in your community will be like, and if it's something your dog will enjoy.
In some cities, Pride is a quiet, low-key community gathering, whereas in other locations, it's a loud public party/protest with performances on large outdoor stages, which will be scary or overwhelming to many dogs. Most city Pride events will have a website with rules and information about attending. This will help you to ensure the event is dog-friendly, and also get a better idea of what programming will be happening and if there are certain days, or certain times of day, that will be a better fit for bringing your dog.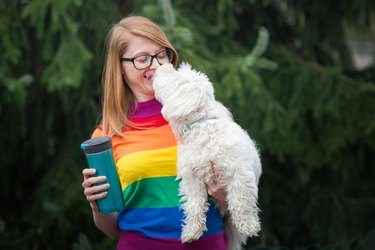 Considerations for reactive dogs
Reactivity is a common condition. Many dogs struggle with being in close proximity to other dogs, people, or moving objects like bikes or skateboards. If that sounds like your dog, be your dog's biggest ally by letting your pup stay home instead of bringing them with you to Pride.
It's important to keep in mind that not every Pride festival is the same in terms of size and how dog-friendly or dog-safe it is. Similarly, not every dog is going to be a good match for going to every Pride event.
When looking at Pride events, make sure that the structure of the event is something that your dog will be comfortable with. There's no shame in having a reactive dog or a dog who is nervous or uncomfortable around groups of dogs or people. Counterconditioning and positive reinforcement training can help reactive dogs to develop new emotional responses to previously stressful situations, but a crowded Pride festival isn't a good place to start working on those skills.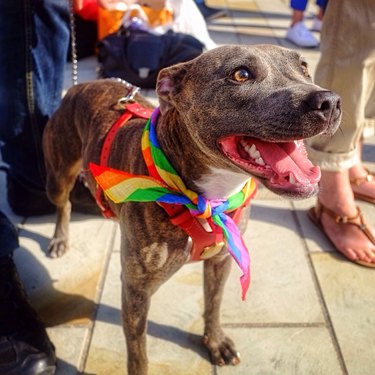 Celebrate Pride at home with your dog
Not sure if your local community pride events will be happening this year, or do you not feel comfortable venturing out in public groups yet? That's completely understandable, and that doesn't mean you and your dog have to sit it out! Celebrating at home with your dog can be a lot of fun.
These days, LGBTQ+ Pride-themed dog toys and accessories are everywhere: most major stores like Target, Petco, PetSmart, and Chewy have cute Pride-themed dog collections. You can also get Pride-themed outfits or bandanas if your dog enjoys dressing up, and have solo Pride walks in your neighborhood during June!
Prioritize your dog's comfort and needs
If you have a social, non-reactive dog and a flexible schedule for the day, Pride can be a lot of fun to bring them to. When deciding whether to bring your dog, take into account what your goals, plans, and priorities for the day are. Look at the weather forecast for the day of the festival, and where Pride is located. Is it going to be in a park on grass or will it be on hot concrete, which is dangerous for your dog's paws? What are your plans and priorities for the day? if your dog gets hot or tired, will you be ok leaving early? Are you going with the intention of partying and possibly being unable to properly look after your dog? And so forth.
Make sure that whatever your plans are, they are aligned with your dog's comfort and needs, and ask yourself if your dog would be happier or safer at home. In some cases, it might make sense to bring your dog to part of the festivities, and then go home and go back out without your dog for other aspects of the event.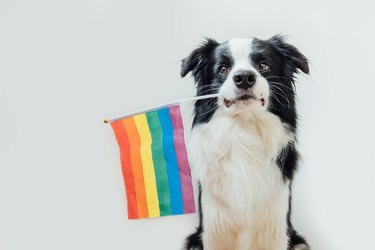 Supplies to bring to Pride for your dog
If you plan to bring your dog to Pride, you'll want to pack supplies specifically for your dog to make sure they stay cool and comfortable during the day. Check the weather forecast and make sure that the weather will be conducive to your dog's health, in addition to packing lots of water and a dog bowl. Also consider bringing a cooling coat for your dog and if your dog is accustomed to wearing them, shoes to protect their feet from hot concrete.
‌Supplies that you will need regardless of weather include:‌
‌Treats:‌ Lots of high-value treats that your dog is excited about so that you can reward your dog during the day.
‌Water:‌ Be sure to carry water bottles with plenty of cool water as well as a collapsible water bowl so you can keep your dog hydrated on your outing.
‌6-foot leash:‌ A standard 6-foot leash is best for being out in public with your dog. Avoid any kind of long or retractable leashes to keep your dog close to you to help keep them safe.
‌Optional: Rainbow or other Pride-themed bandana:‌ if your dog enjoys being festive!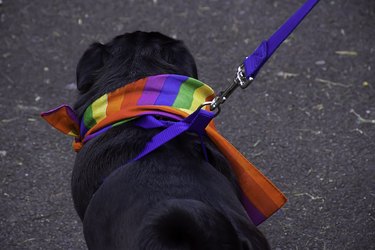 When you arrive, make sure to watch your dog closely to make sure they are comfortable and not getting stressed, overwhelmed or too hot. Don't let your dog approach other dogs at Pride unless you have asked permission of the other dog's person. On-leash greetings between dogs can be difficult for dogs. Pride is a unique environment, and so even dogs who tend to be dog-social might feel on edge or stressed.
Also, don't feel pressured to say yes if people want to greet your dog. Your dog isn't a petting zoo or part of the festivities. Unless your dog loves to greet people and you know getting to greet people would be highly rewarding, it's ok to just say no! Greeting a lot of strangers can be stressful for dogs, and it's always ok for your dog to be out in public with you and not engaging with other people.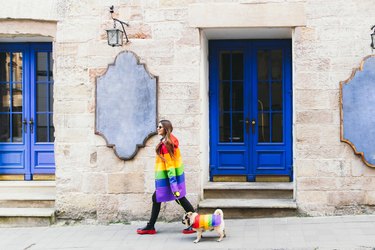 Pride festivals can be a lot of fun for people and a wonderful way to celebrate the LGBTQ+ community. If your local festival is dog-friendly, and you're confident your dog enjoys these kind of festivities, it's possible your dog will enjoy the day too. If you're considering bringing your dog to Pride, first make sure they are comfortable being around large crowds of dogs and people. If you're at all uncertain whether your dog enjoys these things, or if the weather is going to be hot, play it safe and leave them at home. There are plenty of other ways to celebrate Pride with your dog!
Additionally, if your dog is going to be at all stressed or uncomfortable with the noise and crowds, it's better to leave them at home. If you do bring your dog, make sure you are focused on your dog's comfort and enjoyment during the day to ensure they don't become stressed.