As a pet parent, keeping your house clean and fresh smelling can be a challenge that requires you to have multiple cleaning products on hand for everyday cleanups and a few super-duper specialty ones for those little disasters . . . just in case. Lysol is a popular disinfectant spray safe for pets and the Lysol Daily Cleanser is generally safe to use around pets when used as instructed. However, take care to ensure your pets don't ingest the cleanser.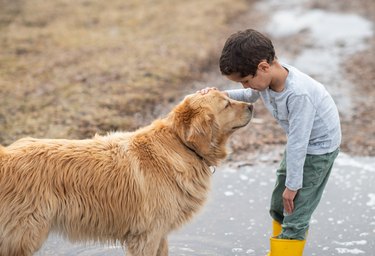 Your cleaning toolkit likely runs the gamut from floor cleaners to carpet cleaners and disinfectant sprays to enzymatic odor eliminators, and if you steer clear of harsh household cleaners, you may opt instead for a multi-purpose pet-safe cleaner that does the job with no harmful residues or noxious fumes.
Since more than 45 million families in the U.S. have at least one cat, and over 69 million have a dog or two (or more), savvy manufacturers of household cleaners, disinfectants, and air fresheners have risen to the occasion to meet the increasing consumer demand and dedicated a slew of products targeting those nasty stains and odors that are an inevitable part of life with dogs and cats.
But one popular, long-established brand, Lysol, doesn't have a specifically pet-centric product or one that is labeled as pet-safe; however, it does manufacture a number of multi-purpose cleaners, disinfectant sprays, and air fresheners that have made them the 5th most popular household and personal care brand, as of the fourth quarter of 2021. Lysol is described by fans as, a reliable, trustworthy, good quality product that is also a good value for your money. But still, you may be wondering, is Lysol truly safe to be used around pets?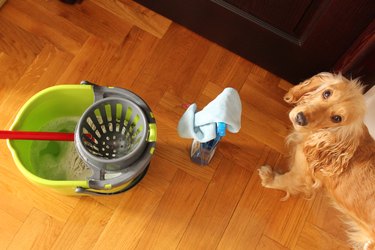 Lysol Daily Cleanser ingredients
Reckitt Benckiser North America (RBNA) makes Lysol and more than 40 other well-known brands including Easy Off, Mop & Glo, and Woolite. The company has created a website in the interest of transparency to provide full details on the safety and efficacy of all their products. Their resources include downloadable safety data sheets for each product, lists of ingredients for each product, and the function of each ingredient within the product. In addition, the website gives full disclosure of dyes and preservatives and 99.9% disclosure of fragrance components. It also lists a toll-free consumer hotline at (800) 228-4722.
On their ingredient page, the company stresses their desire for products to be both safe and effective for your entire family, including children and pets.
Lysol produces several products, but to look at Lysol Daily Cleanser specifically as an example, contains hyperchlorous acid serving as an antimicrobial active ingredient. This is the same substance your white blood cells produce to fight infection. It's as effective as bleach and kills microbes without leaving behind harmful residues. It's USDA approved for use in organic crop production and used to preserve fresh produce. The other ingredients in Lysol Daily Cleanser are water and sodium chloride, the chemical name for salt, which is used as a thickener. The label reads, "Free from harsh chemical residue."
In a nutshell, while each and every one of the Lysol brand of products bears in-depth research before using in a home with pets, breaking down the ingredients for one particular Lysol product shows that based on the ingredient list, Safety Data Sheet, and strictly used as directed, Lysol Daily Cleanser is safe to use around pets.
Alternatively, you can decide to use household cleaning and disinfecting products that are promoted specifically for their non-toxic ingredients. Green, eco-friendly, and pet-friendly products include those made by Force of Nature, Puracy, Simple Green, and many others. Another option is making your own non-toxic, all-purpose cleaner by mixing one part vinegar, four parts water, and a little bit of lemon juice together.