Cuteness may earn compensation through affiliate links in this article.
Walking a dog is a lot more fun, not to mention easier, with the right gear. For small dogs, a harness that fits well is key to both their comfort and yours. Using a too-big harness on a small dog means it's possible your pet could wiggle herself out of her harness in the middle of your walk, or when you're not looking. Avoid that scenario by seeking out one of these eight harnesses that are designed specifically to be comfortable and safe for small dogs.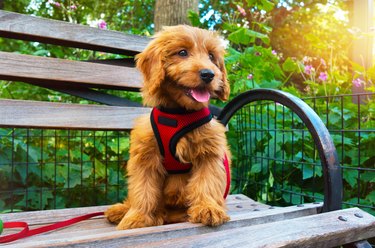 Fit is important when choosing a harness for your small dog, even if you just want a harness that looks snazzy or blingy. The harness should fit snuggly enough that they can't wiggle themselves out of it, while also being comfortable enough without digging in or putting pressure on their throat or neck. When you're shopping for the perfect harness, measure your dog's proportions and compare them with the harness for the proper fit.
1. Ruffwear Front Range Harness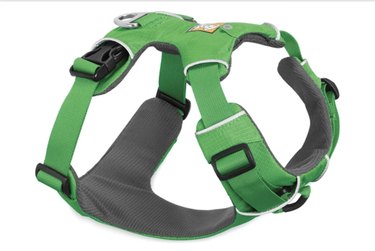 We love the Ruffwear Front Range Harness because it's lightweight, so your dog won't bark about wearing it on those all-day hikes. And it's durable, so you can relax knowing it will make it through as many hikes as you can handle. It's padded across the chest for some additional comfort, and it lets you adjust the fit in four places. There's reflective webbing on it, and a little ID pocket, where you can stash your dog's tags if you don't want to hear the jangling while you walk. There's also a matching Front Range Leash if you want the complete setup.
2. Juxzh Truelove Soft Front Dog Harness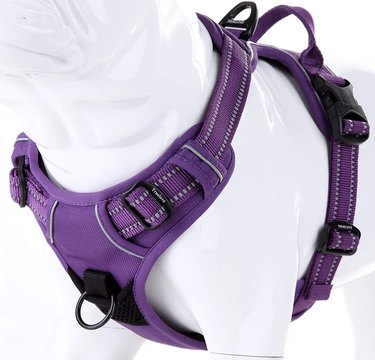 The Juxzh Truelove Soft Front Dog Harness comfortably hugs your dog across the chest, with clips for the leash on both the chest and the top of the back. There's also a handle on the top, in case you need to, or want to, quickly pick your dog up. This is marketed as a "no-pull" collar, meaning when you're guiding your dog on the leash, the harness doesn't "pull" them along because the weight is evenly distributed across the dog's body. Even though it's sturdy and colorful, the harness is made of breathable mesh, so your dog should be comfortable wearing it all day long.
3. Ecobark Classic Dog Harness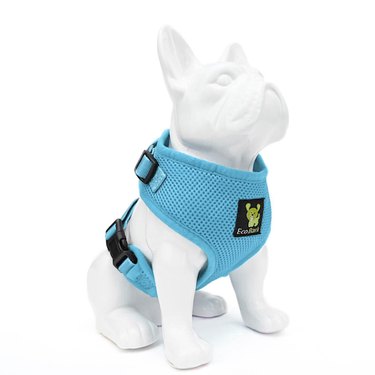 We like the EcoBark Classic Dog Harness because it's wide across the chest, which dogs agree leads to a more comfortable fit. This one has adjustable straps around both the neck and the chest, so even though it's not "custom-made" for your dog, it fits like it is! In sizes from XS to XXL, just about any dog, no matter how large or how small yours is, can fit into one. Plus, it's got double-padding, breathable mesh, and double stitching for durability.
4. Metric USA Comfort Fits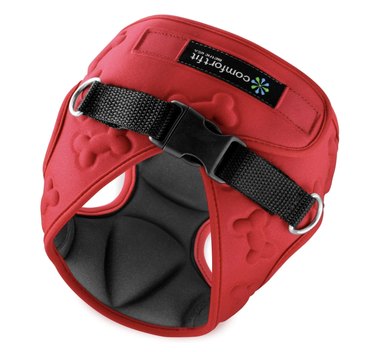 The Metric USA Comfort Fits harness has two securely locking D-rings, which should work to deter even the most hardened of harness escape artists. The high-tech material is said to be stretchy and comfortable, to give your dogs "hugs" rather than a feeling of being "harnessed." Even though it's sturdy with a lot of coverage, it only weighs a remarkably light 2 ounces. Specifically designed for extra small and small dogs, this harness is not adjustable, so measure your dog to make sure its girth fits the right size you need.
5. Ruffwear Doubleback Harness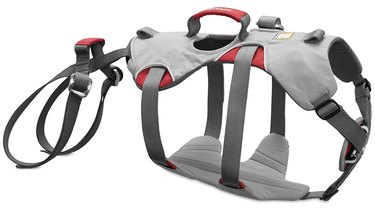 Want to take your dog on a hike to a spot where they wouldn't be able to jump up all the way? This is the harness for you. The Ruffback Doubleback harness is a belay harness that is designed to safely and comfortably lift and lower dogs. This design features a padded belly support and leg loops, with tie-ins to easily attach ropes. Even if you just want to take your dog on a nice long walk, this harness can also help with older dogs who have hip, leg or spine issues, because they can be easily supported in many positions.
6. Puppia Authentic RiteFit Harness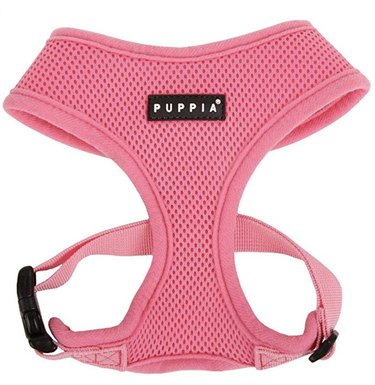 The Puppia Authentic RiteFit harness adjusts around the neck and chest, so you can ensure a comfortable fit. Two D-rings on the back allow you to connect the leash in either spot, and the mesh is both breathable and water resistant. Because of the design of this one, with a chest support and large leg loops, it's easy for your dog to just walk right into this harness.
7. Gooby Comfort X Step-in Harness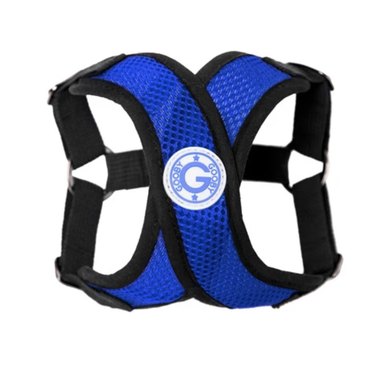 If you're looking for a very customizable fit, the Gooby Comfort X Step-in harness provides four adjustment points: two on the neck and two on the chest. It's easy for dogs to step into a harness of this design, and the quick release buckle makes it easy to take off. For dogs that don't like too much fabric rubbing on them, but that still need coverage, this harness is perfect.
8. Expawlorer Best No-Pull Dog Harness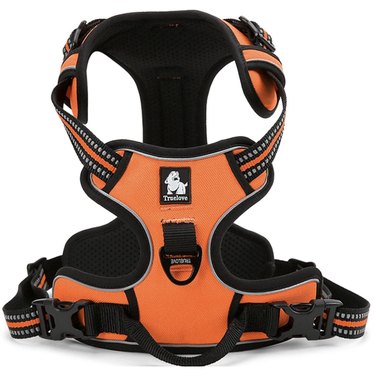 A ring on the chest is useful for teaching your dog not to pull, and the ergonomic design of the Expawlorer Best No-Pull Dog Harness distributes the weight of a leash evenly without any feeling of pulling. A handle helps you secure your dog while traveling, along with two rings for leash access on either the back or the front under the chest. Bright reflective stitching helps keep your dog visible even at night.