​Cuteness may earn compensation through affiliate links in this article.​
A well-fitting harness is crucial for enjoying good times with a large dog, whether you're just doing basic dog walking around the block or going on a mountain hike. The larger the dog, the more they can pull, which makes it important to have a harness that both gives you control and also reduces the discomfort they feel while walking.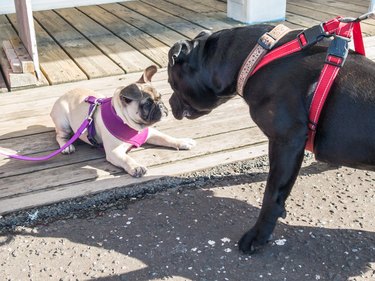 It is important that the harness fits your pooch, even if you just want a harness that looks fancy. Using a too-small harness on a large dog means it's possible your pet could be chafed or just in general feel uncomfortable and not want to put the harness on. Using one that is too big can mean that your dog could pull themselves out of it in the middle of your walk, or when you're not looking.
The best dog harness for a large dog helps support their back or legs. A no-pull dog harness is a good idea for a large dog who is a puller, because they have more power to strain against the leash, which could push on their trachea if you're just using a collar. It should be durable and sturdy, and could even have space for your dog to help you pack things on your next adventure (why should the dog owners do all the work!?) Of course, being machine washable would be nice too. Take a look at these eight best harnesses for big dogs to find a good one for your dog.
1. Noxgear LightHound Illuminated Harness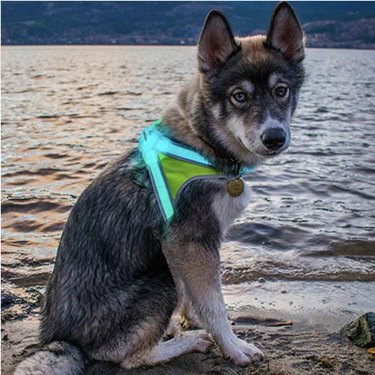 Take your dog on nighttime walks with this impressive harness that has multicolored changing LEDs and modes that include eight bright solid colors, multicolor flashing or slow-fading color modes. Visible from over a half-mile away, you'll never lose your dog in the park and cars will see him coming and going in low light or no light at all. All you have to do to make this machine washable is to remove the light unit.
2. 2PET Dog Backpack with Saddlebags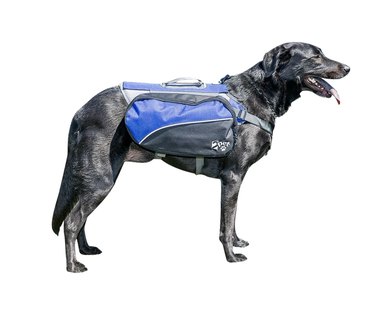 The 2PET Dog Backpack with Saddlebags is a comfortable harness with two saddlebags also attached, which lets your pet participate in the packing for their adventure. The bags can be attached to the harness with velcro and are easily detachable, and so is the adjustable harness. Perfect for your next getaway. This one is suitable only for large dogs, so check your dog's girth to be sure to get the perfect fit.
3. Coastal Pet K9 Explorer Reflective Dog Harness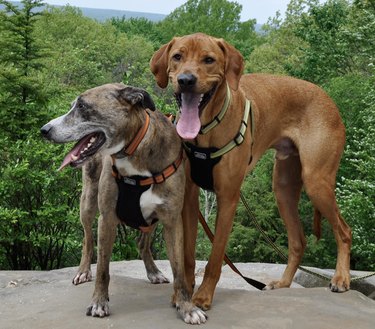 The Coastal Pet K9 Explorer Reflective Dog Harness is made of reflective material with pads on the front to keep your big dog comfortable and safe. Made with French-snap leads, which is a fancy way of saying "quick release," this heavy-duty harness is designed to be easy to step into that doesn't have to go over your dog's head. A neoprene chest plate provides a secure fit with comfort and water repellence.
4. Ruffwear Front Range Harness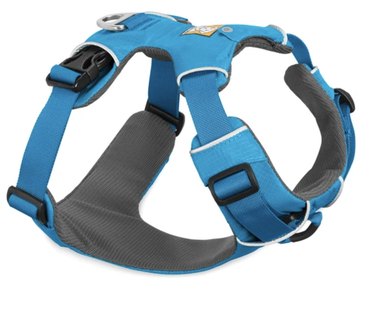 The Ruffwear Front Range Harness is highly versatile, with sizes available from XXS to XXL. It's meant for everyday use, with an easy-on, easy-off design that gives you two leash attachment points and a small storage pocket to keep dog tags quiet. The front clip harness doesn't get in the way of a dog collar, and if your dog does pull it won't hurt their neck.
5. PetSafe Easy Walk Dog Harness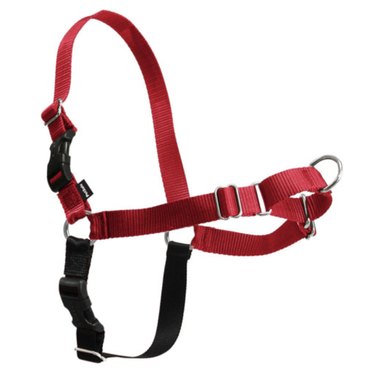 The PetSafe Easy Walk Dog Harness was created by a veterinary behaviorist specifically to help with dogs who are pullers while they're being walked. A metal D-ring in the front gives you better control of your dog, while shoulder and belly straps allow you to easily fit the harness to your dog's body. There's even a perfect-fit guarantee and optional damage-control policy which allows for replacement if your dog decides to chew on the harness instead of their favorite chew toy.
6. Rabbitgoo No-Pull Pet Harness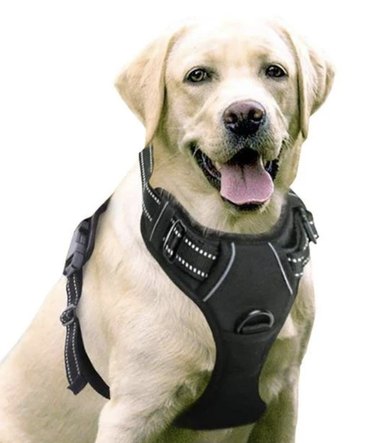 Ignore the funny "Rabbitgoo" name and check this harness out for its stylish reflective strips and durability. Designed to disperse pressure from the next and send it instead into the chest and belly padding, this is one harness your dog will actually want to wear. Its reflectivity comes from reflective piping interwoven into its durable nylon exterior. There's a ring at the dog's chest, two leash clips, and adjustable straps in four places: two at the dog's neck and two around the chest strap.
The Kurgo Dog Car Harness is an everyday harness that is also specifically designed with a 10-inch tether that can be used during car travel to safely restrain a dog that is compatible with any seat belt system. There's a front D-ring for no-pull leash training along with a back leash attachment. Five points of adjustment make this one of the most fully customizable large dog leashes and harness systems we've seen. To use in the car, just clip a carabiner to both the seatbelt shoulder and lap strap, and back webbing of harness.
8. Chai's Choice Best Outdoor Adventure II Harness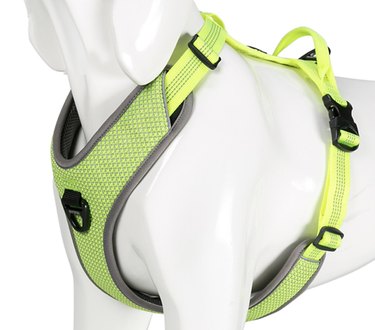 Chai's Choice is a sturdy everyday harness for active dogs with a reflective vest and a back clip for two leash attachments. Customers say it's breathable mesh is soft, and discourages escape artists. It's reflective all over, padded where it needs to be, and has a handle at the top in case you need to make a quick grab.This type of step-in harness goes right over their front legs and is easy-on easy-off.
What are your favorite harnesses for walking your big furry friend? Let us know!