Cuteness may earn compensation through affiliate links in this article.
A sleepy dog can lie just about anywhere, but when our canine companions get up there in age, their needs often change along with their bodies. Common ailments that older dogs face include arthritis, hip dysplasia, and incontinence, among others, but with the right bed, your senior dog can enjoy her golden years in comfort. When searching for the best bed for your senior pet, look for orthopedic options designed with joint support in mind, and fashioned with removable, washable covers for easy cleaning.
1. K&H Ortho Thermo Bed Heated Pet Bed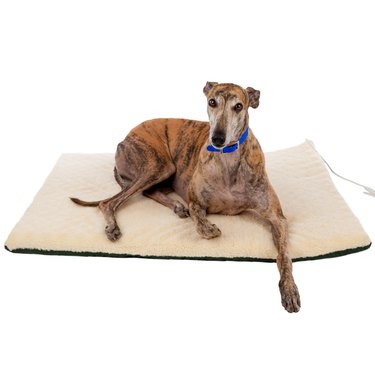 Maybe your furry friend has lost a little fur in recent months, or perhaps the aches that come with arthritis has your pet feeling a bit stiff — or maybe you have a companion who simply enjoys the finer things in life. Whatever the case may be, a heated dog bed can provide warmth, comfort, and relief to any dog, especially canines of a certain age. Available in three sizes, this heated, orthopedic bed by K&H uses a removable heather that warms to your dog's natural body temperature of 102℉ when she's laying on it. The sherpa cover is easily removable for regular washing, and covers two layers of soft, orthopedic foam for a comfortable sleep that's simple, yet stylish.
2. Serta Orthopedic Quilted Dog Couch Bed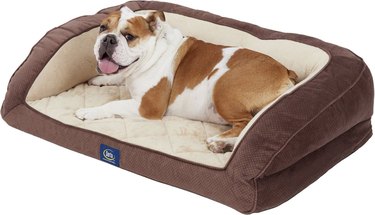 Ever thought you and your dog would be sleeping on the same brand bed? Long-running mattress company Serta offers a plush, quilted dog bed that's ideal for aging pets who may be experiencing joint pain thanks to it's four inch "egg crate" foam surface for sleeping. Three additional, bolstered sides create a couch design, offering added resting areas for your canine companions' head or legs, and a machine washable cover is available in three colors.
3. Barkbox Memory Foam Platform Dog Bed
Dogs deserve to live out their days in comfort, and granting that wish doesn't have to be limited to those who can afford to pay top dollar, and luckily, you don't need to do that to find a quality bed. For the senior dog on a budget, this memory foam platform bed by Barkbox is available in four sizes and comes with a removable, machine washable cover for easy cleaning. A gel memory foam interior offers comfortable support for dogs with medical conditions like arthritis, hip dysplasia, or other mobility issues.
4. Brindle Waterproof Designer Memory Foam Pet Bed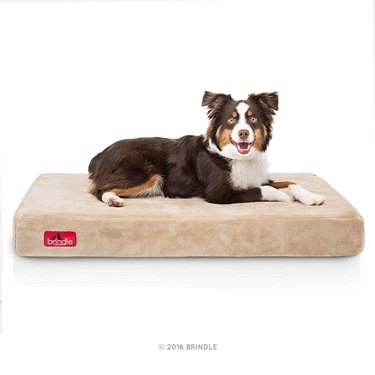 According to VCA Hospitals, most dogs who develop allergies do so a bit later in life, usually after they're about one or two years old. If your dog's allergies result in symptoms like contact dermatitis, or if your dogs is especially prone to flea or other bug bites, a hypoallergenic bed may make sleeping a little more comfortable on itchy skin. Made up of two inches each of high density support foam and memory foam, this model by Brindle offers support for aging or aching dogs. Naturally hypoallergenic, the foam bed is resistant to dust mites, which can provide relief for dogs with already itchy skin.
5. Kuranda Standard Almond PVC Dog Bed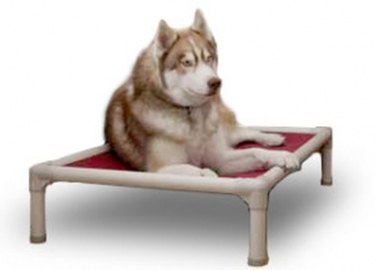 As some dogs age, incontinence can be a fact of life, be that as an unpredictable accident or a regular part of their day. Having an easily washable bed, like this one by Kuranda, can make cleaning a snap, allowing for your canine companion to get right back where he's most comfortable — in bed. Suitable for indoor or outdoor use, this suspended, spring design offers support for stiff joints, and keeps pets off of floors, which can be a treat if the temperature of your flooring drops overnight as your home cools.
6. PupRug Polar Bear Faux Hide Memory Foam Bed
As dogs age, mobility often becomes an issue, and can make even a seemingly simple task, like stepping into bed, a painful chore. For dogs better suited to a truly first-floor living arrangement, a flat surface, like the PupRug, can offer dog's comfort and support without the added task of climbing into a plush dog bed. Although it is marketed as a rug, this bed is comprised of a memory foam base to relieve pressure on joints, a waterproof liner made of memory foam, and a washable cover with a non-slip bottom to keep this bed in place.