​Cuteness may earn compensation through affiliate links in this article.​
The equation is simple: Tuggers gonna tug. So either give your dogs something durable to tug on or they'll ​find​ something to tug on (like your really expensive cycling shoes).
A natural behavior in all dogs, tugging helps reduce stress and rein in barking, digging and other destructive behaviors. So it behooves you to find a healthy outlet through which to channel your pup's nomming tendencies.
Below, we pull together 7 of our favorite tug toys for puppers big and small.
1. Frisco Rope with Tennis Ball Dog Toy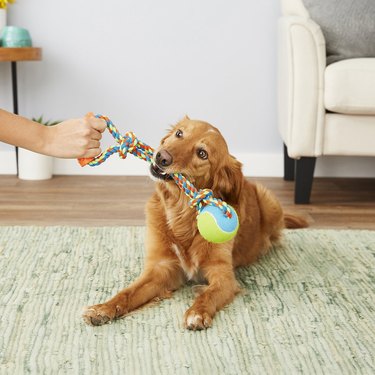 We extolled the virtues of multipurpose toys previously so this tennis ball-rope tug hybrid immediately caught our eye. Perfect for both fetch and pull play, it will help energetic pups work off stress and anxiety. Rounding out the feature set of this versatile indoor and outdoor toy is an ergonomic comfort handle molded from rubber that's easy on the hands. And at a mere $6, it's pretty easy on the wallet too!
2. Chuckit! Amphibious Bumper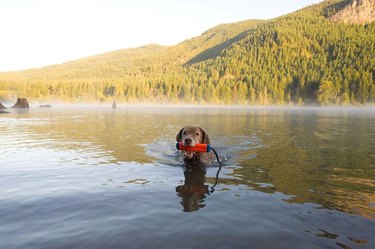 Don't let unbuoyant dog toys sink your summer fun. Made of soft-but-durable memory foam, the Chuckit! Amphibious Bumper floats on water, which instantly turns lake, river or beach into a doggie pool party. Bright color options — blue, green, and orange — ensure it won't be overlooked at the end of a long day under the sun.
3. Pet Qwerks Krinkle & Squeak Newspaper Dog Toy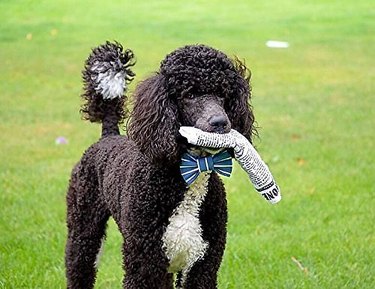 Bury the bone, not the lede: The Pet Qwerks Krinkle & Squeak Newspaper Dog Toy will pique your pup's attention with three internal squeakers and a rustling effect that replicates the sound of crinkling newspaper.
Covered with punny headlines and sewn from a lightweight canvas, this is one interactive dog toy that won't pivot to video — even if it puts your fur pal square in the spin zone.
4. Tuffy's Ocean Creatures Larry Lobster Dog Toy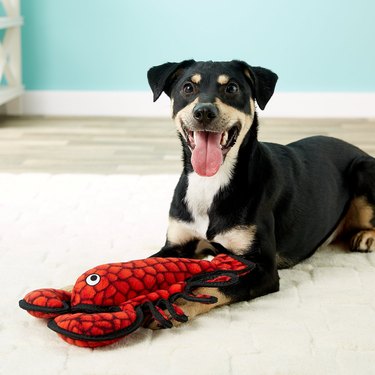 Rated an 8 out of 10 on the "Tuff Scale," the Larry Lobster Dog Toy is made with multiple layers of safe, non-toxic fiber fill for long-lasting chew, tug, and whip play.
The trim lining the edges is safe for canine gums while two internal squeakers sequestered in an inaccessible pocket will keep and hold your doggo's attench. Plus, it's red, has funny googly eyes, and lines that approximate a shell-like appearance. And like it's real world inspo, it floats!
5. Jolly Pets Tug-n-Toss Dog Toy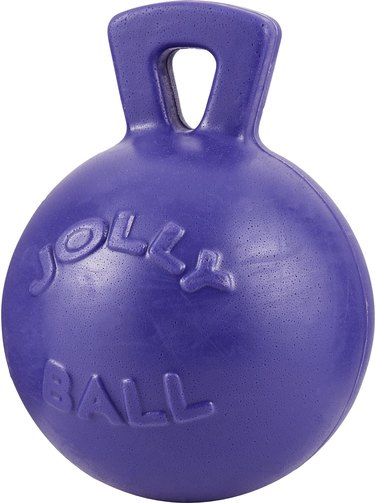 Tug, toss, bounce unpredictably, repeat. That's the blueprint (purpleprint?) behind the Jolly Pets Tug-n-Toss Dog Toy. Shaped like a kettle bell and made from a low density polyethylene, it'll give your pet something to chase, track down, and retrieve — if they can correctly guess it's landing paw-jectory (sorry, not sorry for the dad joke). Like some of the other toys above, it floats and will not deflate. So WIN-WIN.
6. Wapiti Labs Chew 'n Tug 2-Knot Dog Chew Toy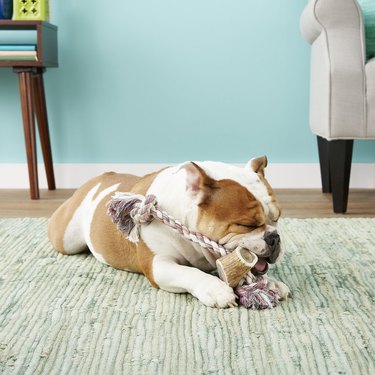 Here's a thing I could not have imagined myself typing today: There's a tug toy topped with male elk antlers, which are said to a solid source of essential minerals like Calcium, Glucosamine, Iron & Potassium and promote bone, joint and muscle health.
But lest you think these ranch-raised elk were harmed in the process, fret not: They shed their antlers annually, which makes them a perfectly renewable resource. From there, the antlers are power washed, air dried, sanded to remove sharp edges for safety - no bleaching - and affixed to a double-knotted rope. Who knew?!?
7. Mammoth Tirebiter II Rope Dog Toy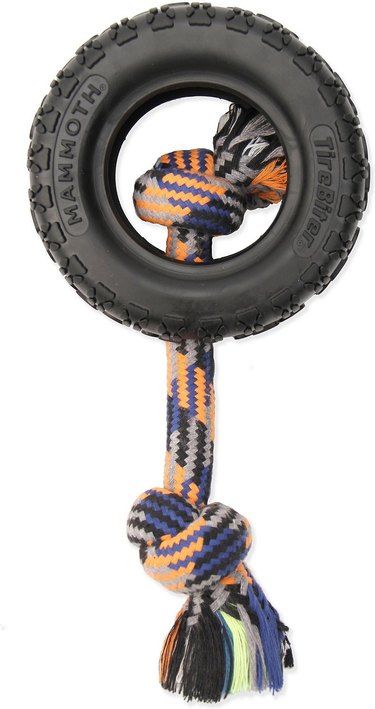 We'll end this week's column as we began it: With a rope tug that doubles as a fetch toy. But instead of a tennis ball, this one is anchored at by a treaded tire made of natural rubber that is designed and manufactured right here in the USA. Available in a range of sizes, the Mammoth Tirebiter II Rope Dog Toy will stand up to hours of jawing and pawing.