​Cuteness may earn compensation through affiliate links in this article.​
Hello and welcome back to Cuteness Picks, our hand-picked roundup of the best pet products from websites both BIG and smol.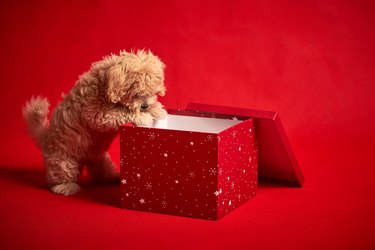 Because it's never too early to think about prezzies, we're training the spotlight this week on must-have items to help put your holiday hounds and Christmas cats in a holiday state of mind. From snacks and dog beds to something for the pet parents out there, we've got ideas for stocking stuffers and bigger gifts to go under your family's tree.
1. Greenies Seasonal Gingerbread Flavor Dental Dog Treats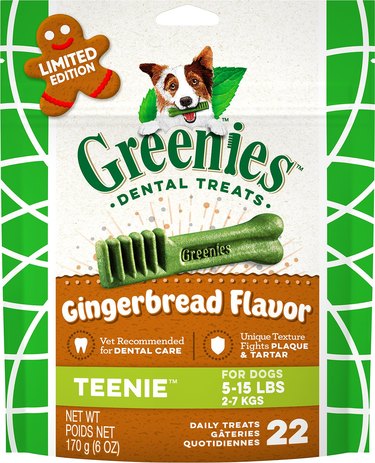 Give your four-legged friends a mouthwatering treat that boosts their dental health this ​howl-iday​ (can't stop, won't stop) season.
Recommended by veterinarians to help prevent gum disease and freshen breath, Greenies Seasonal Gingerbread Flavor Dental Dog Treats are crafted with all-natural ingredients along with vitamins, minerals and nutrients and have a yummy flavor.
2. Hallechewjah! Emoji Hands Dog Toy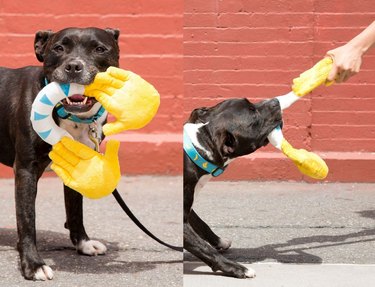 Perfect for playtime and breaking Instagram with houndy hashtag cuteness, this plush chew will keep your pup tugging and squeaking for hours upon hours. When "YASSS" and #blessed just won't cut it, reach for the Hallechewjah! Emoji Hands Dog Toy.
3. Wyze Cam Pan 1080p HD Pet Camera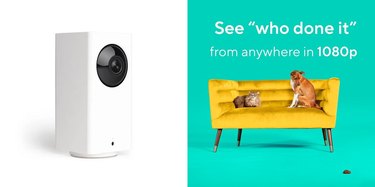 Even with millions of people working from home these days, there are still times when you need to leave your pet home alone and unattended. But technology is here to help!
With the Wyze HD WiFi Pet Camera, you can keep an eye on your furry friend no matter your location. The easy-to-setup design connects directly to your mobile device and rotates horizontally and vertically so you can track your pet across the room. It even includes night vision mode so you can snoop in dark mode.
Rounding out the feature set is two-way audio so you can tell your companions you'll be home shortly — or to get their furry butts off the couch. :-p
4. Ez Lick Portable Dog Water Bottle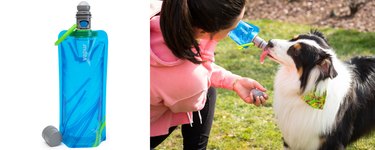 The most convenient way on the planet to keep your dog hydrated, the Ez Lick is a foldable dog water bottle that puts messy and bulky bowls to shame.
Featuring a 0.7L Wide Mouth Anti-Bottle and the patented PupCap with Lick-Activated technology, this all-in-one gamechanger delivers water to your wags around town, on the road, at the beach, or on the trail.
5. Pendleton Glacier National Park Pet Bed w/Removable Cover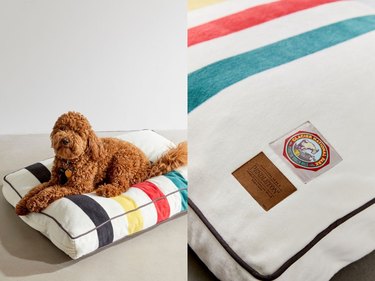 Even jetsetting doggos need a place of their own to bed down after a long day of hikes and adventures in the great outdoors.
Enter the Glacier National Park Pet Bed from famed textiler, Pendleton. Adorned with the brand's signature National Park stripes that pay tribute to Montana's snowy peaks and quiet valleys, the plush build is made from a soft, cozy polyester fleece with contrast piping and cotton canvas base.
Even better, the removable cover zips right off for easy cleaning while channel chambered liners prevent the filling from shifting around.
6. Frisco Cactus Cat Scratching Post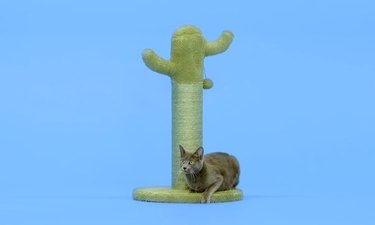 We'll never not love novelty scratching posts here at Cuteness Picks, so this Cactus design immediately caught our eye — the green adds a fun, prickle-free pop of color to any room and, well, WE JUST HAD TO HAVE IT.
Covered in sisal and moppy fabric plush material that's easy on kitty's paws, this scratching post is designed to stand up to the power of playtime, while the stable baseboard allows your cactus cat to stretch, nuzzle, paw, scratch, and climb all day with total support.
7. SureFeed Microchip Small Dog & Cat Feeder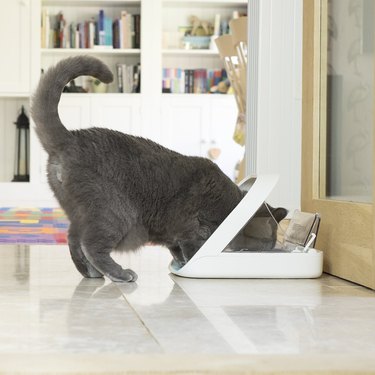 Only opening for a designated pet by picking up on a unique microchip or included RFID collar tag, the SureFeed Microchip Small Dog & Cat Feeder is the only foolproof way to stop pets from stealing each others' food. It's also great for pets who are on strict or prescription diets, or those that need to maintain a healthy weight.
Program your pet with one button, and the lid will only open for him, staying closed for unauthorized pets.
The bowl holds both dry and wet food, and keeps food fresh and pest-free. Plus, it's compatible with all microchips and can be used to program up to 32 pets with additional microchips or RFID collar tags
8. Frisco Front Walking Reindeer Dog & Cat Costume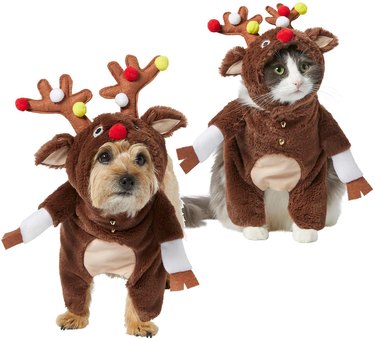 Turn your pets into Santa's little helpers with this adorable two-piece pet reindeer costume.
Hook-and-loop fasteners at the neck and belly and a wide spread of sizes afford an easy, comfortable fit for all breeds so they can spread holiday cheer and win the internet with furry photo ops.
(Remember: not all costumes are appropriate for pets, and not all pets like to be dressed up. Before you decide on a costume for your pet, read this pet costume safety checklist from the Royal Society for the Prevention of Cruelty to Animals. While your pet is wearing a costume, supervise them closely and watch their body language for any signs of stress. If they seem stressed, remove the costume right away.)
9. Frisco Plaid Dog & Cat Bow Tie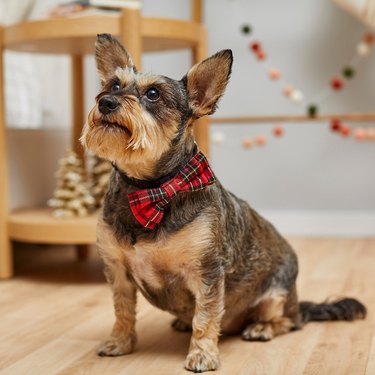 If full-blown costumes are a bridge too far but you still want your fur pal to rock a festive accent for small ​paw-ties​ (sorry, definitely not sorry) or a Christmas portrait of the fam, consider this Plaid Dog & Cat Bow Tie.
It's a chill compromise that attaches easily and quickly to their everyday collar with hook-and-loop fasteners and immediately adds a dapper, dressed-up look to your pet's winter wardrobe.
​Looking for more gifts for the pets in your life? Check out previous Cuteness Picks for more recommendations!​