​Disclosure: At Cuteness, we are committed to being the go-to resource for pet owners and animal lovers. We only recommend products we think our audience will love. If you purchase something by clicking on one of these links, we may receive a small commission of the sale and the retailer might receive some data for accounting​ ​purposes.​
If you're a rescue dog owner, you've likely encountered the inevitable question: What breed is your dog? If you don't know your dog's heritage, it can be impossible to answer. And with some dogs, you just can't tell. Unless, that is, you've given your dog a DNA test.
Most DNA tests are a simple cheek swab. You create an online account, send in your sample, and wait for the results. Knowing the results can help you plan for some specific health issues that your dog may face in the future. So if you're curious about your dog's ancestry, a DNA test is the way to go.
There are a lot of tests to choose from, so we dug through many of the tests that are available on Amazon to compare many of the tests that are available, and also look at what people's experiences were. Whether you want to participate in some dog science, you're just curious, or you're totally obsessed with your dog and want to know as much about them as possible, read on for our list of the best dog DNA tests.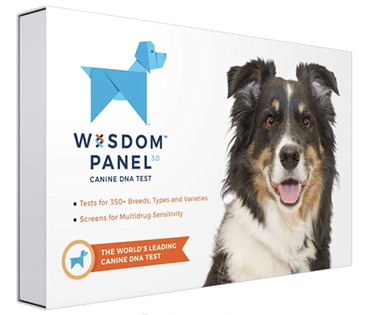 This Wisdom Panel test is Amazon's choice for the quickest response. Wisdom Panel analyzes for more than 350 breeds, types, and varieties and they say you'll get results back in as little as two weeks. It make sense to get a test from a company that has tested a large number (1.5 million and counting) of breeds because it then compares your test results with a more comprehensive breed database. Within the report you'll get breed detection and information, nutrition guidance, drug-resistance screening, and breed percentages as well as a three-generation family tree. This test has 4.5 stars after 13,323 ratings, which is great. One customer says, "The company is very communicative and clear about every stage of analysis. Can't wait to see the results!"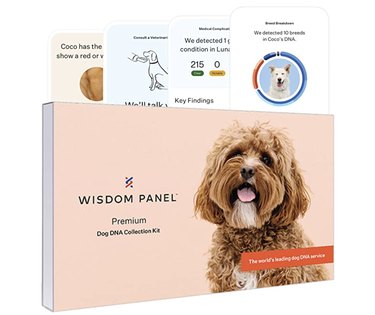 The difference between the Wisdom Panel 3.0 and the Wisdom Panel Premium is that the Premium test screens for more breed identification but also screens for more than 200 genetic conditions. So armed with your DNA results and this test, you can develop a comprehensive health plan for your dog. One reviewer said: "The results came faster than expected, loved that it showed a possible family tree, showed any health issues my dog may have and what they looked for. Would definitely recommend using." List Price: $159.99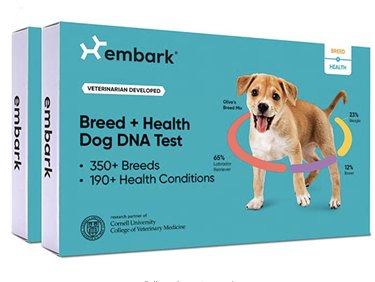 The Embark Dog DNA Test is like a "light" version of both the above-mentioned Wisdom Panel tests combined. It screens for "190+" health conditions as opposed to "200+" in the Wisdom Panel test, and also screens for more than 350 breeds. In answering questions from people on Amazon, the seller Embark Vet said Embark can test for wolf, coyote, and village dog (free range dogs) ancestry. List Price: $199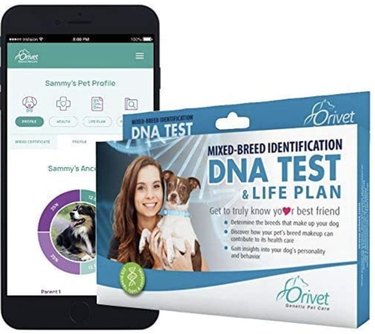 This Orivet Dog DNA Test touts that it comes with a personalized wellness plan based on the dog breeds the test determines your dog is, your dog's age, weight, gender, geographic location, and lifestyle. The other tests don't advertise that they can test for age. Along with breed info, Orivet will tell you personality traits that your dog is likely to have based on its genetics, along with a prediction of its adult weight and nutritional suggestions for your dog. One reviewer said, "I was very pleased with the breed and genetic results for my new rescue pup. I don't have needless worry now over pre-existing genetic disorders or diseases. The breed typing also helped me to understand her intelligence and wonderful disposition." List Price: $91.95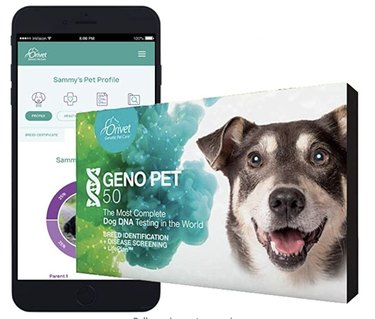 The Orivet GenoPet 5.0 says it is the most complete DNA test in the world. It includes all of the features that other tests make available only as add-ons. For instance, this test reveals your dog's breed plus screens for more than 200 health conditions, and includes a life plan for health and nutrition. You can access the results through an interactive online account where you can add and update your pet's health records. This is a newer test with only 28 ratings as of this writing, for an average of 3.5 stars. Reviewers say they loved the results, it was easy to use, and one said, "Overall, this is a valuable resource for dog owners who want to make sure their pet is healthy for years to come." List Price: $144.95