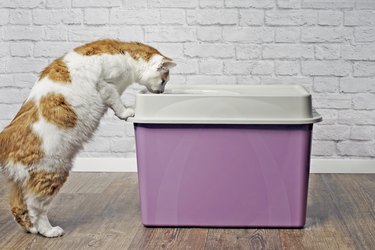 ​Disclosure: At Cuteness, we are committed to being the go-to resource for pet owners and animal lovers. We only recommend products we think our audience will love. If you purchase something by clicking on one of these links, we may receive a small commission of the sale and the retailer might receive some data for accounting purposes.​
Choosing the best cat litter doesn't always boil down to what's most economical or tried-and-true brands that worked well with cats in the past. If your cat takes exception to its bathroom box, its contents, or even where it's placed, it could inspire it to relieve itself in other areas of your home. You should also consider your lifestyle and physical limitations when selecting litter.
Stopping bad bathroom habits
Inappropriate elimination — depositing urine and feces outside the litter box — is the number one reason cats are surrendered for adoption according to Washington State University College of Veterinary Medicine. It's also a primary complaint heard by veterinarians from clients with felines living in their home.
If your cat is cleared by your vet from any health problems that might be causing the issue, it's likely something about the litter box that's bugging him, according to Cornell Feline Health Center. The cat box should be placed in a quiet, out-of-the-way area to let her do her business in peace. If that doesn't solve the issue, it's time to re-evaluate whether you have the best cat litter for your kitty's needs.
Choosing the best kitty litter
Cats were originally desert dwellers that buried their waste in the sand. For many years, people with indoor cats used sand mixed with ashes to provide their pets a place to potty. Modern kitty litters work to absorb moisture, reduce odor, and make cleanup as easy as possible for the pet owner. They come in a variety of textures, fragrances, and materials to make life easier for both you and your cat.
Best clumping clay litter
Clumping clay litter feels the most like the rough sand used by feline ancestors, so if your cat is choosy what goes beneath her paws in the potty box, this might be the best cat litter for her. Dr. Elsey's Premium Clumping Cat Litter is the No. 1 bestseller on Amazon, with 69% of customers giving it a five-star rating.
The veterinarian-formulated clay litter is designed to clump into hard balls, eliminating the tendency of some clumping litters to fall apart and disintegrate into the box. Cats take exception to using litter boxes that are too soiled, so the ability to remove more urine in hard clumps can prevent them from turning their nose up and going elsewhere.
The medium-grain clay is 99% dust-free, making it an optimal choice for families or pets with allergies or respiratory issues. This litter also works with automatic cat boxes that rake the litter. Customer comments on Amazon praised the low-dust, no odor, and firm clumping properties of the product.
Although designed to work with the reusable tray of the company's automatic litter box, PetSafe ScoopFree Premium Crystal Non Clumping Cat Litter is effective in any traditional box as well. The product is made from silica, the primary ingredient in sand.
The silica crystals absorb and lock away urine, eliminating odor. Sold in a two-pack, each bag can last up to 30 days for one cat. Make sure the litter box is in a dry area; placing it in the bathroom or other humid zone will cause it to absorb moisture from the air, shortening its effectiveness.
Going plant-based in the box
If you struggle with lugging heavy bags of soiled cat litter to the trash when you change the entire box of litter, you might try a lighter-weight material such as corn or wood. Don't worry about sawdust or other particulates. The best plant-based cat litter is 99 percent dust free and promotes clumping.
Always check with your veterinarian before changing your pet's diet, medication, or physical activity routines. This information is not a substitute for a vet's opinion.
The World's Best Cat Litter is lightweight, scoopable, and flushable for both septic and sewer systems, meaning a lot less weight to carry on box-changing day.
Although the litter comes in both scented and unscented varieties, Amazon customers express a preference for the multi-cat formula even if they have only one cat. Customer reviews verify the dust-free and odorless properties of the product. The World's Best Cat Litter also includes instructions on the best way to get your cat on board with using the product successfully.
When it comes to wood-based products, ökocat Premium Natural Wood Clumping Cat Litter makes Amazon's Best Seller List with it's odor-absorbing, clumping litter available in several varieties. The high absorbency and scoopable quality of the wood litter make it possible to go up to 7 weeks before you have to fully replace the litter.
The product comes from 100% reclaimed wood and processed without chemicals. That means you could feasibly compost the litter and return it to the earth to grow your flowers or lawn.
Although traditional wood- or paper-based products tend to stick in the fur of long-haired cats — migrating the stuff all over the house — the ökocat Premium Natural Wood Clumping Cat Litter solves the problem with a special formula. Order the long-haired cat variety to get a pelleted version of the product that won't get tangled up in long fur. The product also comes in regular and super-soft variations.