​Cuteness may earn compensation through affiliate links in this article.​
So you're bringing home your new puppy! Congrats to both of you! It can be so easy to become overjoyed by the searching and eventual arrival of a new companion, but you don't want to be overwhelmed by what you need for your pup after you bring her home. You can make those early days easier on you both by having a few basic necessities at home and waiting for your new arrival.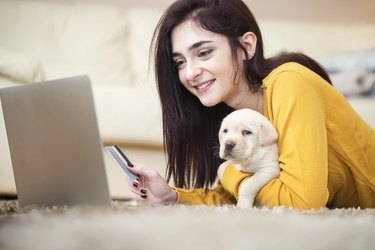 Building a new puppy checklist
When it comes to covering your bases, making a checklist of necessary items is one way to shop smart and invite your puppy into a prepared home. Every checklist will look a little different depending on your dog, his age, any special needs he may have and your own lifestyle, but there are some basics that almost every dog can't go without. One easy way to make a checklist is to ask any dog guardians in your life what their canine friends use on a daily basis. Additionally, you can imagine an average day with your dog and think of the things that your dog will do. Generally, feeding and drinking, walking, sleeping and training are all parts of a regular day in the life of a dog, along with health and wellness maintenance.
Everyday items for a puppy
Like the rest of us, puppies have certain needs to be met every day, like food, water, and exercise. Having a few things ready before your pup arrives, like a collar, leash, and ID tags, can make those early days easier on both of you.
When searching for the perfect collar, find one that will be comfortable on your pup like the one from Blueberry Pet Essentials. It comes in more than 20 colors like light and dark blue, hot pink, yellow, green, and purple, and is made of nylon and eco-friendly plastic buckles. For the leash, you'll need something sturdy. You could try the JesPet Bungee Reflective Standard Dog Leash, which will keep you and your puppy safe when you're walking him at night. Plus, it has two control handles so you can keep your dog closer to you in crowded areas, as well as a belt clip that can move from side to side, which reduces tangle and tripping.
Your ID tags should include your dog's name and microchip number, as well as your address and phone number. You can get the GoTags Personalized ID Tag, which is in a cute bone shape and comes in pink, grey, blue, and purple.
Hydration is an essential part of keeping any dog healthy and happy. Having a sturdy bowl that's easy to clean and won't spill easily, like the Ethical Pet Stoneware Crock Pet Dish, comes in a variety of sizes, from one cup to nine.
Similarly, meal times are an important part of any dog's day. To keep things simple, a stainless steel bowl, like the FRISCO Heavy Duty Non-Skid option offers a sleek design at a fair price, and it won't rust, stain, or collect bacteria when washed regularly.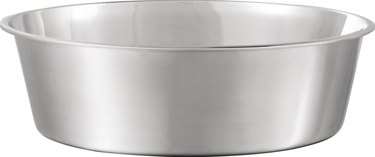 Of course, a food bowl is nothing without something delicious in it, and your growing canine friend. Generally, an all-purpose puppy food will suffice for most dogs, but talk to your veterinarian if you notice allergy symptoms, or a disinterest in eating. One highly-rated and reasonably-priced puppy chow choice is Purina ONE Natural Dry Puppy Food, which is available at many grocers and includes real meat as it's first ingredient.
There probably isn't a single dog owner out there who enjoys buying these, but as a consideration to those around you, and to potentially help keep other dogs safe, scooping the poop is a must. If you're already going to lengths to keep your immediate environment clean, might as well make the conscious choice to pick up some compostable bags, like this option from UNNI. 270 bags and 100% biodegradable.
Food, water, and exercise are just one element of a pet's health to take into consideration. Dental care, flea, tick and heartworm prevention, and daily rest are all part of puppy parenting.
A puppy's teeth usually begin to fall out at around the 12-week mark, but just because they will be replaced by adult teeth in another three months doesn't mean they shouldn't be cared for. Dental care can never start too early, and acclimating your puppy to a toothbrush, like the , can make brushing easier into adulthood. Additionally, a chew toy like the Nylabone Puppy Chew Dental Dog Bone can help ease the pain associated with teething, and can serve as a nice distraction for playful pups (just make sure it's not so small it could get swallowed if you have a large breed puppy.)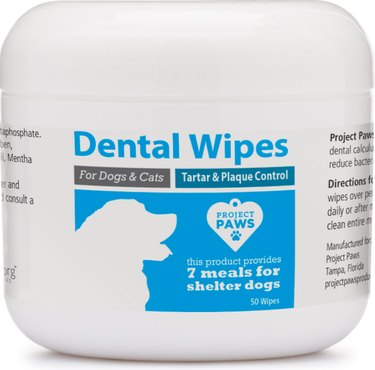 Everyone needs a place to retire at the end of the day, or in your puppy's case, several times a day. The Best Friends by Sheri Original Calming Fur Donut Cuddler is available in sizes small to extra large, allows for burrowing, and is machine washable for long term use despite daily wear and tear.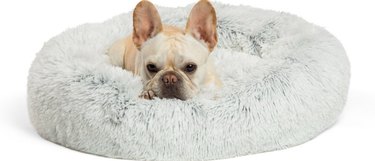 Part of keeping a happy puppy, and a happy home, is keeping your little friend busy and offering plenty of dog-appropriate toys to chew on and play with. This is one of the ongoing elements of training, which should start fairly soon after bringing your puppy home.
Always check with your veterinarian before changing your pet's diet, medication, or physical activity routines. This information is not a substitute for a vet's opinion.
The right chew toy will depend on your dog and his interests and tastes, but it is recommended that you have something available for your pup to help them through boredom and teething. Having some toys that are designated for chewing, like the cult classic Kong, can also help puppies and dogs learn what is appropriate to put in their mouths, and what isn't (read: your shoes, houseplants, furniture, etc…)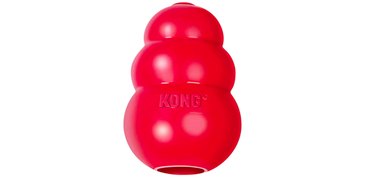 Crate training is recommended by many dog trainers and pet owners, and for good reason — not only can a crate help establish a sense of boundaries, it can get your dog on a schedule, and assist with potty training. Your new dog shouldn't stay in the crate all the time, however, a playpen, like the Animaze Adjustable Exercise Pen for Dogs, can still keep them confined to one area of the home.
Puppies can be a lot of work, but by lining up these items ahead of time, you can make your first week at home with your new puppy go more smoothly for both of you. Happy adopting!