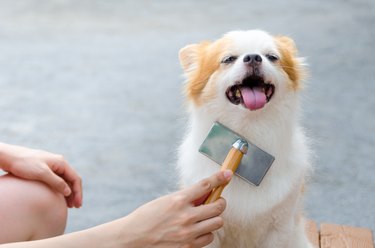 When you take your dog to the groomer, he goes in looking shaggy and matted and comes out looking like a whole new, handsome canine. You wonder: What goes on at your groomer? How did they make him look so much better? What kind of tools are they using and can you purchase some?
If you could, then you'd be able to groom your dog at home in between visits, keeping him looking fresh and clean all the time. Thankfully, you can buy the products that professional groomers use and have them at your disposal at home so you can utilize them whenever you want.
Here are some recommendations for the best dog brushes for each coat type, as well as where to find them, and information on why grooming your dog is so important.
If you have a dog with hair that continues to grow and must be trimmed, then you'll need a slicker brush, says Emily Woods, a professional pet stylist in Utah who shows off her cuts on her Instagram, Pawsitively Divine By Emily. A slicker brush "is a paddle brush with metal bristles," she said. "[It] comes in different types such as hard, medium or soft. They also come in a variety of sizes. When selecting a brush, first pick the right size."
For example, a Shih Tzu is a small dog and will need a small brush, but for a Golden Retriever or Border Collie, you'll need something bigger.
Next, you need to select the hardness of the brush bristles. Woods recommends starting with a soft slicker brush and then as you gain experience, move onto a harder brush if it's necessary for your dog.
Among all the slicker brushes out there, Woods says she recommends Paw Brothers Universal Type Slicker. This brush has hard pins to penetrate the coat and remove loose hairs without doing any damage, and has non-slip, comfortable grips.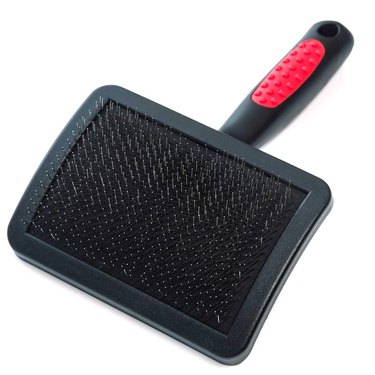 Woods also says that Andis Pet Tool, which is anti-slip, eliminates tangles and matting, and reduces shedding up to 90%, is an excellent slicker brush. Above all, she says, "My absolute favorite slicker brush is the Chris Christensen Coral slicker [the Chris Christensen Baby G Coral Slicker Brush]," which has miniature slickers designed to comb through hard to reach areas and rid of tangles and matts.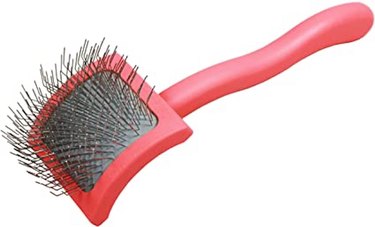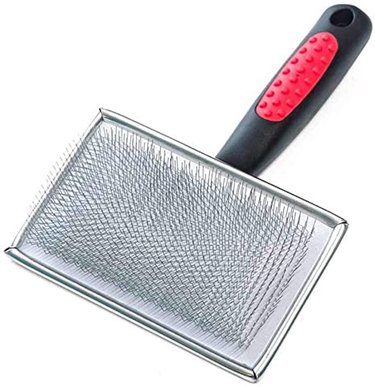 If your dog has a longer coat, you'll need to combine the slicker brush with a rake, says Burton. "For dogs with a double coat, you should use a medium slicker brush, and undercoat rake. The dog's coat length (long, short, medium) will determine the length of the bristles of the rake."
Ani Corless, a professional dog groomer and owner of Luxury Groomer in New York City, loves the Master Grooming Tools Ergonomic Slicker Pet Brush. "This is my favorite. It has a nice ergonomic handle as well as a curved back to assisted using the brush properly. [It's] a very affordable price and [it] lasts forever. This is an all around detangling brush for any breed with hair over an inch."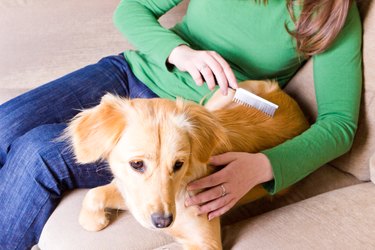 If you have a medium-coated dog like a Golden Retriever, Cavalier King Charles Spaniel, German Shepherd, or Border Collie, then you're going to need something more heavy-duty. Corless recommends the CHI For Dogs Double Sided Shedding Rake and Blade. This product helps reduce static in hair as well as remove loose hair from the topcoat, ensuring it's healthy and shiny.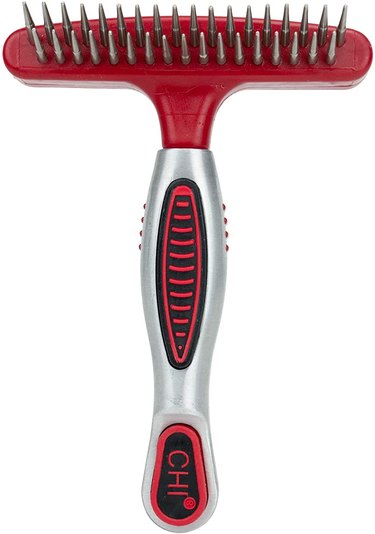 "This affordable brush by [CHI] combines two tools in one," she says. "Both are common tools used for shedding. One side is the blade used for carding out dead coat and the other is called an undercoat rake. These are deshedding tools for shedders with more of a medium length coat."
Is your dog a shorthaired breed like a Boston Terrier, Great Dane, Boxer, or Chihuahua? Then you could get a simple curry brush to groom them, says Burton. She recommends Le Salon Essentials Rubber Curry Grooming Brush with Loop Handle, which you can use for sudsing and cleaning at bath time and to remove loose and shedding hair when grooming.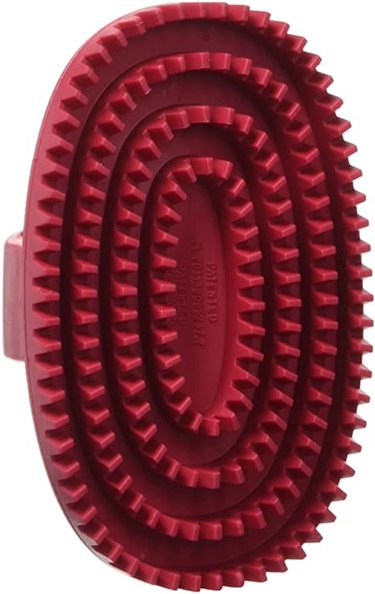 If you have a drop coat dog like a Shih Tzu, Yorkshire Terrier, or Maltese, you should get a pin-style brush. Corless says the Chris Christensen Breezy Large Oval Brush is perfect for a drop coat dog and "is a great all-around [brush] that works well on multiple lengths." Additionally, this brush is made with durable, lightweight beechwood handles, and it can be easily stored when you're traveling. Business Insider said, "This brush lived up to the standard I've come to expect from the brand's grooming tools."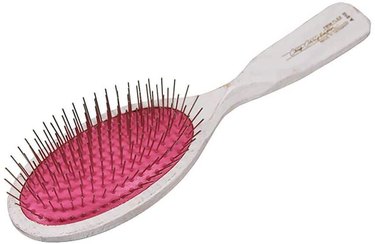 If your dog sheds a lot, then you should get the FURminator Undercoat Deshedding Tool for Dogs, according to Woods. "This brush is a metal brush that helps to remove dead undercoat that is close to the skin," she says. "It works on a variety of dog coat lengths. If your dog sheds, chances are, a FURminator would work great for you."
The Chicago Tribune also named this tool "our top choice and unequivocally the best brush for removing loose hair from your dog."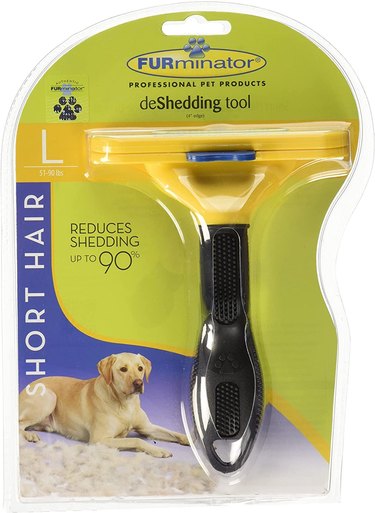 Woods says not to use the FURminator more than once a week, and not to use it too much in the same area on your dog. It can cause irritation to your dog's skin if you use it too much in the same area or with too much pressure. "When used correctly, this tool works wonders. Be sure to start small with this brush in short increments of time, like five to 15 minutes."
Grooming tips from the pros
Now that you know which products to buy, you'll need to brush your dog one to three times a week if he has a short or medium coat, and three to five times a week if he has long hair or a double coat. "Brush coat in the direction the hair grows one small section at a time," says Burton. "Also, be sure not to brush for more than one hour for each session as to not cause brush burn. Brushing should be something you and your pup look forward to every week."
According to Woods, regular brushing is crucial to your pup's health. And when you do it, make sure you sweeten the deal.
"It creates a bond between owner and pet," Woods says. "I recommend providing treats for your dog as you brush. This creates a positive association with brushing."