Many dogs enjoy cooling off from the summer heat with a dip in a cooling pool, lake, or stream. If your dog is a strong swimmer and you're equipped with a well-designed dog life jacket for safety, bringing along a toy or two to play with in the water can be loads of fun—and great exercise, too. You and your dog can have an interactive game of fetch, or you can keep their quiet attention while you relax at the water's edge.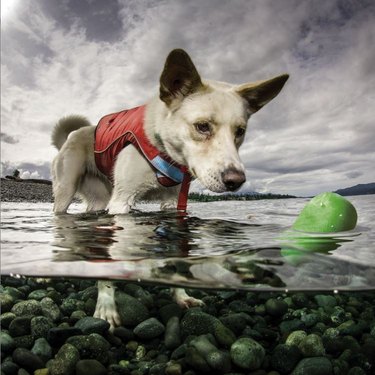 What to look for in a floating dog toy
While floating dog toys for the pool or beach may not be the most serious of products you might buy for your dog, there are still some things to consider and some aspects that separate certain toys from the rest of the pack.
‌Buoyancy‌: This one's a given when looking for dog toys that float, but we had to say it. Some toys may be made from materials that float at first, but as they absorb more water, soon become too dense and heavy and begin to sink. Toys that are especially designed to float won't take in as much water, if any, so they can endure hours of water play without becoming lost to the depths.
‌Color:‌ The toy's color scheme can also make a difference in whether it becomes easily lost (especially in a lake or ocean), or not. Bright, vibrant colors will better command your dog's attention and be easier for them to spot. Toys that camouflage with the water your dog is playing may be more difficult to find once you've tossed it into the water.
‌Grip‌: Some toys have a tendency to become slippery when wet, so look for toys whose design makes them easier for your dog to grip in their mouth. These design elements might include special textured surfaces, nubs, ropes or other gripping mechanisms that are easy for your dog to grab onto.
‌Versatility‌: While some floating toys might be intended for water play, the best toys will be fun for your dog on land or in the water.
With that said, here are some super fun dog toys that not only will float, but keep your dog entertained: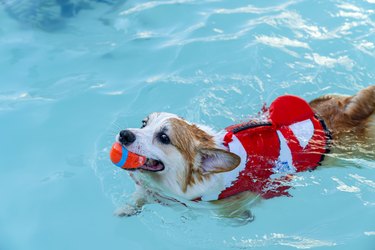 1. Kurgo Skipping Stones Dog Toy (3-Pack)
Who doesn't love to skip stones into a lake on a summer's day? If you're tired of your dog's look of disappointment as she paddles around looking for rocks that have long since sunk, this toy's for you. These colorful floating "stones" have a flat bottom just perfect for skipping across the top of the water. The Kurgo Skipping Stones Dog Toy comes in vibrant colors you can see easily from a distance.
2. Outward Hound Floatiez Narwhal Floating Dog Toy
The Outward Hound Floatiez Narwhal Floating Dog Toy will look adorable floating around your backyard pool. Your dog will also love the easy-to-fetch shape. It's made with a durable yet soft material that encases small foam noodles inside to help it float. The vibrant pink and purple color scheme (with a bright yellow tusk) provides easy visibility, and the toy contains a squeaker that makes a fun giggler to keep your dog engaged.
3. KONG CuteSeas Octopus Dog Toy
Part of the fun of this octopus-shaped floating dog toy is its eight legs, giving your dog multiple pieces to grab onto with their teeth, in addition to its goofy, bulbous head. Its soft, plush corduroy body is cozy and snuggly outside of the water (so it works as a dry dog toy, too), and inside is a squeaker and crinkle sound to keep your dog entertained while you chill on your beach blanket. The toy comes in three sizes for small to large dogs, so it's easy to find one that's well-suited to your dog.
4. Chuckit! Hydro Roller Dog Toy
Toss the Chuckit! Hydroroller Dog Toy in the pool or lake for a game of fetch. When your dog brings it back, hold it under the water to fill the internal reservoir. Roll it across the beach or deck and watch the fun as it wobbles and squirts water as your dog pursues it. The durable rubber toy stands up to lots of play and comes in easy-to-see bright colors.
Consider pairing this Chuckit! water toy with another Chuckit! favorite: the Chuckit! Amphibious Bumper Dog Toy, which looks sort of like a chewy, oversized handle on a jumprope. It floats magnificently and is a comfortable fit for your dog's mouth.
5. Spunky Pup Fly & Fetch Fish
Pull the built-in bungee cord of the Spunky Pup Fly & Fetch Fish and launch this toy up to 100 feet. Watch the stares as your dog swims to shore with a sizable fish in his mouth! The ballistic nylon fish is lightweight and quick-drying, yet stands up to lots of play. This floating toy is also easy to use for a game of fetch on dry land.