Although most dogs are natural swimmers, not all breeds take to water easily, according to Hill's Pet. Bulldogs, for example, have heavy bones and muscles that make it harder to stay afloat, making it necessary to outfit them with a life jacket. Poodles, spaniels, Labrador retrievers, and other "water dogs" tend to have light bones, webbed toes, and other adaptations conducive to moving through the water.
But even the most enthusiastic swimmers can get tired while swimming against a strong current in a river or falling off the boat in the middle of the lake. A bright life jacket with reflective areas also lets you see your pet easily and handles help you guide your pup to safety or lift her out of the water.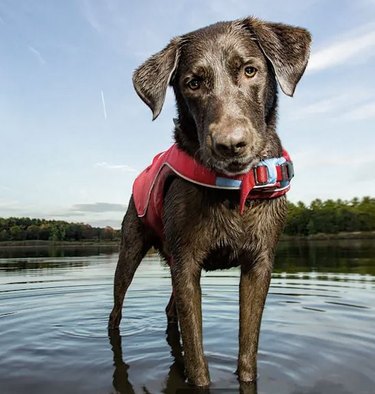 Shopping for a dog life jacket
Dog life jackets online are numerous, and it can be overwhelming to make a decision if this is your first time buying one. Buying the cutest or least expensive one can be tempting, but make sure to consider these important attributes noted by the American Kennel Club when making your choice.
​Proper flotation​ — If your dog is a water dog, she won't need as much buoyancy as a solid, non-swimming breed. Look for neck flotation and chest support to make sure your dog is properly supported to breathe while in the water.
​Visibility​ — A rousing game of fetch, strong currents, or suddenly disembarking from your watercraft are all ways your dog could get more than a short distance from you. Bright orange, red, and yellow colors will be the most visible from a distance. Shades of blue, khaki, and drab hues will be harder to see from a distance.
​Connection​ — D rings to attach a leash and handles to lift your dog out of the water are crucial elements to keep your dog under your control.
​Proper fit​ — Make sure the sizing is correct for your dog. A too-tight jacket will be uncomfortable for your pup to wear, and they could end up sliding out of a life jacket that runs too large for their size.
Best for Camping Trips: Kurgo Surf-N-Turf Red Life Jacket
Maximize your pup's camping gear by packing the Kurgo Surf-N-Turf Red Life Jacket. Just as the name implies, it pulls double-duty for adventures on land and in water.
The jacket has wide cutouts for your dog's shoulders and thighs, so it won't interfere with his running and playing in and around water. Take out the foam flotation inserts and your dog can use the waterproof shell as a raincoat.
The reflective piping and high visibility red color contrast with the earth and sky tones of outdoor environments, making it easy to keep track of him at a distance. Multiple D rings and handles let you keep control of your dog on a leash or by hand.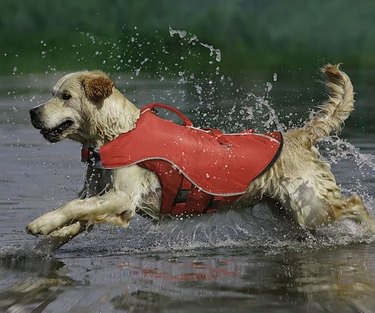 Best for Visibility: Kuoser High Visibility Dog Life Jacket
Your dog will swim like a fish and look like one too with the Kuoser High Visibility Dog Life Jacket. The cute costume has shining scales that reflect sunlight and a tail fin that projects above the water to help you see your dog at a distance. Reflective stripes add to the vest's high visibility.
The jacket comes in six sizes. Quick-release adjustable buckles let you adjust the belt to fit perfectly. The hook and loop magic tapes on the belly and neck add to the comfort and security of your pet.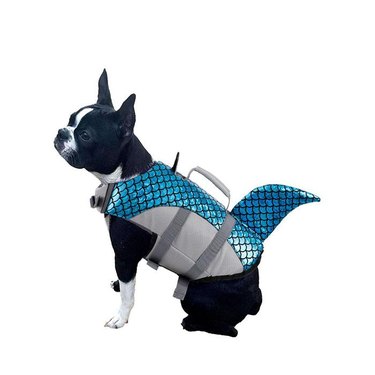 Best for Bulldogs: Fragralley French Bulldog Life Jacket
French bulldogs and English bulldogs can have a particularly tough time in the water. With stocky, short legs, short snouts, and heavy bodies, their swimming abilities can match that of a stone. The Fragralley French Bulldog Life Jacket was made to specifically address the floatation needs of brachycephalic breeds.
The jacket supports your dog's head with a removable neck float, reducing the chances of her inhaling water and relieving pressure on the neck. Human-grade materials offer your dog ultimate comfort with EPE pearl cotton and 600D ripstop Oxford cloth.
The life jacket has a sturdy D-ring to hook on a leash without the need for a collar or harness, and a top handle lets you lift your bulldog out of the water easily.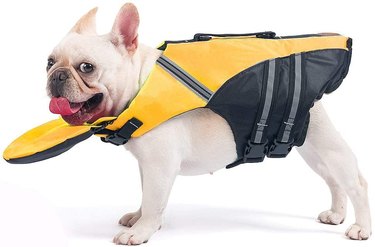 Best for Large Breeds: Ruffwear Float Coat
Although the Ruffwear Float Coat comes in sizes ranging from XXS to XL, it is the best choice for large dogs. Large breeds such as Rottweilers and Great Danes aren't natural swimmers, so it's important to have sufficient floatation to support them in the water.
The Ruffwear Float Coat has closed-cell foam pads that support a natural swimming position for your large dog and will help him right himself should he get flipped over. The telescoping neck support has an adjustable closure to get the right fit for your dog's breed. The durable outer shell is machine- or hand-washable, and the side-release buckles make it easy to get the garment on and off.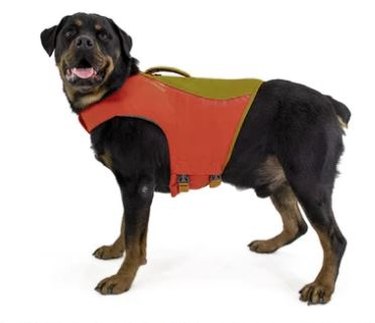 Best for Small Dogs: Paws Aboard Dog Life Jacket
Life jackets can be bulky and especially cumbersome for the smallest dogs, making it hard to find the right fit for your pocket pet. The Paws Aboard Dog Life Jacket's lightweight materials and cute designs let you find the perfect floatation vest for your tiny pet.
The jacket's quick-dry fabrics keep your little buddy from staying chilly after a dip in the water. Cute fabric designs like pink polka dots, red polka dots, or flames let you keep your cutie looking fashionable while keeping your doggie safe.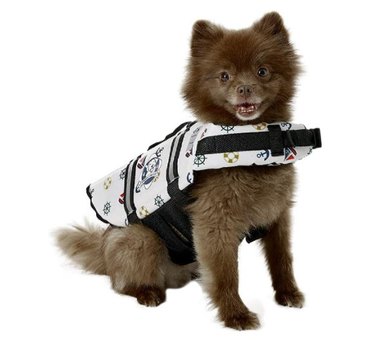 The Best Cold-Weather Life Jacket: Avery Boater's Dog Parka
Canine hypothermia is a real threat when you're out on the water. Air temperatures under 40 degrees, water temperatures below 55 degrees, or winds in excess of 20 miles per hour can strip your dog of its body warmth in a hurry.
The Avery Boater's Dog Parka is made from neoprene to help hold in body heat. An internal webbing harness adds strength and stability, while a full-length covered zipper lets you get your fur-buddy in and out of the jacket easily.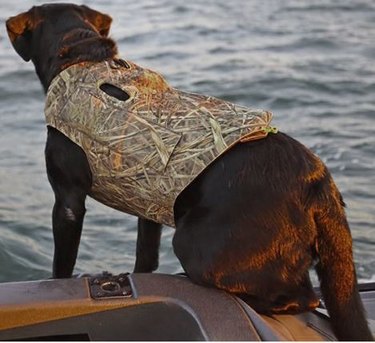 Best Economy Life Jacket: Outward Hound Neoprene Dawson Swimmer Dog Life Jacket
If you don't take your pup to the water often, it can be tempting to pass on the expense of getting a life jacket. But when you can pick up a quality dog life jacket for an affordable price, it makes sense to have one you can keep on hand.
The Outward Hound Neoprene Dawson Swimmer Dog Life Jacket features neoprene side panels that offer maximum buoyancy and insulate your dog from chilly waters. A front float supports her head to keep it above the water. The jacket also has reflective piping, comes in high visibility red, and includes a lifting handle and fully adjustable straps.
When buying a life jacket for your dog, keep important attributes front of mind. Ensure the jacket has the right amount of floatation for your dog's weight and swimming ability.
Measure your pup precisely to make sure you get the correct size. Choose a color and design that you like; however, make sure that it will be visible from a distance so you can easily find your pet should she get separated from you.